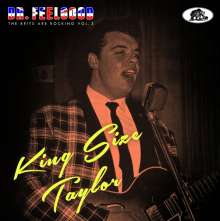 King Size Taylor – Doctor Feelgood – – The Brits Are Rocking, Vol.3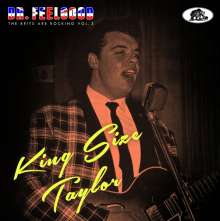 Bear Family BCD17603 [2020]
Heeby Jeebies – All Around The World – Dr. Feelgood – She Said Yeah – Hippy Hippy Shake – Hello Josephine – Slow Down – Sweet Little Sixteen – Never In A Hundred Years – Money – Bad Boy – Sherry Baby – Whole Lot Of Lovin' – Stupidity – Long Tall Sally – Domino Twist – Short On Love – Memphis, Tennessee – Mashed Potatoes And Hot Pastrami – Lipstick, Powder And Paint – Slippin' And Slidin' – Twist And Shout – Dizzy Miss Lizzy – I Can Tell – Fortune Teller – You Can't Sit Down – I'm Late – Sad And Blue – Saw My Baby With Another Guy – Matchbox – Good Golly Miss Molly
For their third volume in their series The Brits are Rocking, Bear Family decided to put the spotlight on King Size Taylor and his band the Dominoes. It's somewhat surprising as one could expect more familiar names like Marty Wilde or Wee Willie Harris. But it's also an excellent thing since Taylor needs to be rediscovered.
If you, like me, think that the Beatles never sounded so good than when they were five angry (and hungry) lads struggling in Hamburg, this cd is sure to please you.
This compilation covers the period 1963-1964 and contains all his recordings made for Philips, Polydor, and Ariola. It also includes four demos from 1958. Except for these four songs, the tracks were all recorded in Hamburg, Germany, in the studio or on stage.
Associated with the Beat bands of the Merseyside, King Size Taylor and the Dominoes developed a more aggressive sound than many of their counterparts and stayed true to Rock'n'roll and Rhythm'n'Blues. Unfairly they never reached commercial success in their own country.
Except for their first single, which was more pop-oriented, King Size Taylor and the Dominoes were a beautiful war machine, blasting killer rhythm'n' blues tunes with a rocking edge one after another. Whether in the studio or on stage, they took no prisoners. Ted "Kingsize" Taylor was probably one the best British singers, but sadly remains one of the unsung heroes of the period. He had a powerful and expressive voice that was ideally suited for material by Larry Williams, Fats Domino, Little Richard, and Solomon Burke. The band was equally amazing with sharp guitar parts and for the live recordings two saxophones blowing scorching riffs and solos.
With all those qualities, why didn't they achieve international success? Maybe they lacked a good manager to get them a good contract. Probably they were too busy in Germany to develop something ielsewhere. And perhaps the fact that they didn't have originals didn't help either.
Anyway, this well-deserved cd (and the 36-page booklet that comes with) is the perfect object to rediscover this artist. Maybe Taylor didn't have originals, but I wouldn't trade the 2 minutes and 14 seconds of his version of Short On Love (way better and meaner than Gus Backus inoffensive original version) for any of the LSD influenced stuff that their most famous counterparts later recorded.
https://www.bear-family.fr/king-size-taylor/
Fred "Virgil" Turgis