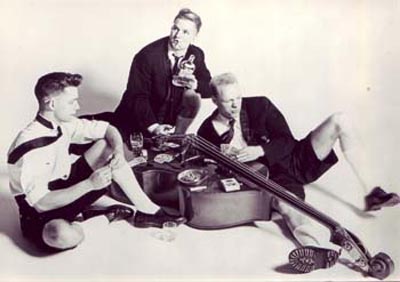 Scam
Country: Holland – Genre: Psychobilly / Neo-rockabilly
Marcel van den Berg: vocals,guitar
Arie Versteeg: double bass
Raymond Fitsch: drums
Scam, formed around 1986. They recorded their first demo in the winter of that same year which caught the attention of Eddie and Johnny of Count Orlock. In October 1988, they recorded « Gamblin' Fever » their debut album which is very representative of the sound of the day: light drums, slap bass and a clean electric guitar, influenced by Restless and fellow Dutchmen Batmobile. The sound is good though a bit thin at places. They have solid original (Hangover, Captain Caveman, Ready Willing & Able) but the long distance (12 songs) tends to disadvantage the band and the album sounds a bit repetitive, they could have reduced it to eight solid songs.
The album was well received and Scam supported big acts and played bigger gigs and festivals (the Rockhouse Psychobilly meeting, Night of the longknives) and doing national radio performances. They soon received demand for a second album. Not having enough material for a new album they decided to re record old songs from the first demo together with some covers.The mini album called "Infant Years"was released on Tombstone Records in 1990. Despite an ugly cover, this mini lp shows an improvement. There's not a big departure in term of sound but the band is tighter and the songs less repetitive.
Their last album (to date) came in 1991. Released on Rockhouse, A Million Dollar Scam marks a new step for the band. They add a good dose of rockin' blues with harp, saxophone and slide guitar to their usual brand of light psychobilly/neo-rockabilly,. The set is varied and the song inspired. A guest singer is present on a couple of tracks. A very good album that shows the evolution and the maturity of the band. The cd version contains four bonus tracks.
They kept on playing but disbanded around 1993. Marcel remained active on the music scene. playing with the Penguin (Batmobile's bassplayer side project) and can now be found in 69Beavershot, Triple Dynamite and Dee Ann & The Nightcaptains.
In 2005 they did a one of reunion show in original line up. A new album was announced but nothing materialized untill now.
Discography
Gamblin' Fever – Count Orlock – ROCK V (1988)
Infant Years – Tombstone – Tomb-disc 679 (1990)
A Million Dollar Scam – Rockhouse – lp9114 (1991)