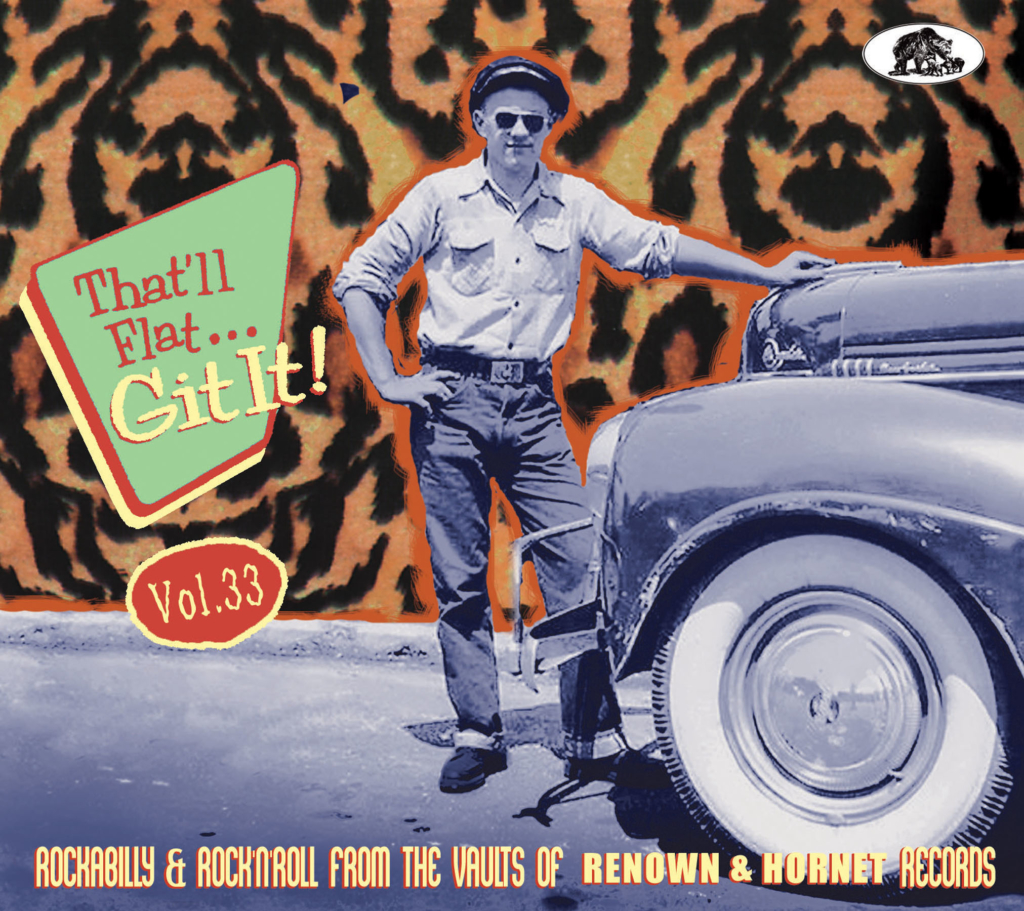 That'll Flat Git It – Vol. 33 – Rockabilly And Rock' n' Roll From The Vaults Of Renown & Hornet Records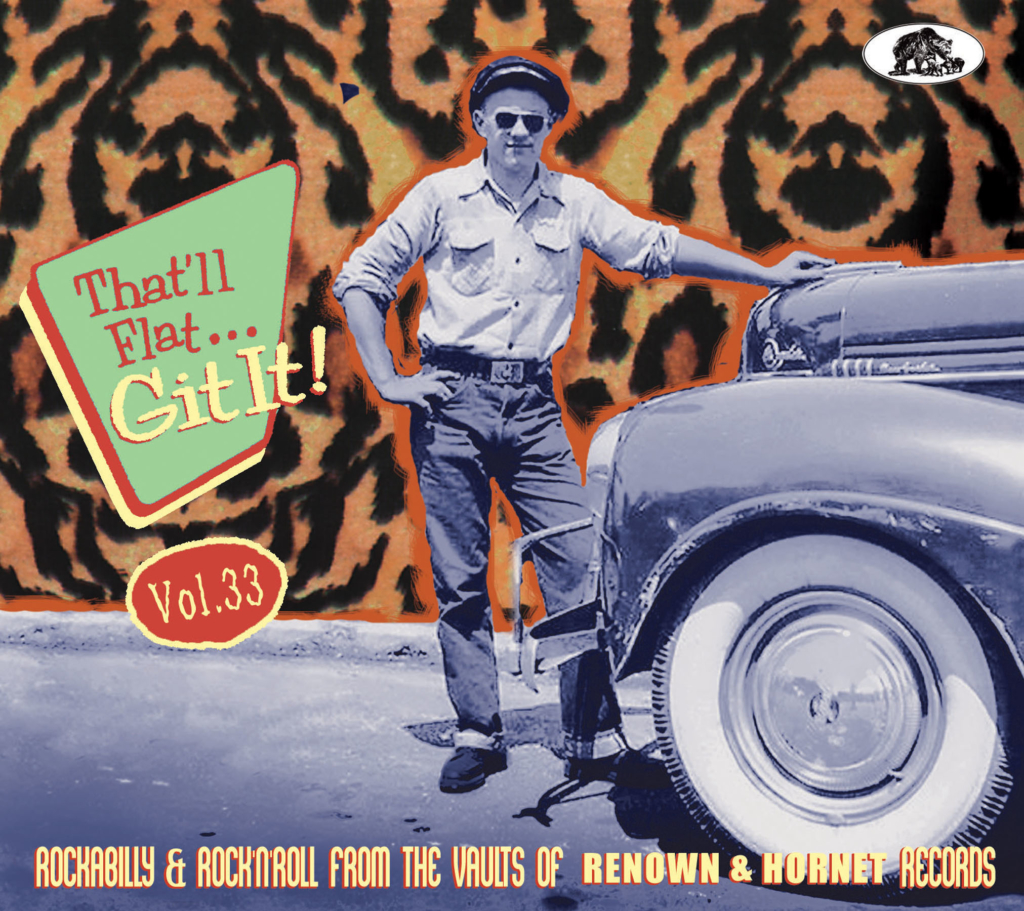 Bear Family Records – BCD 17589 [2020]
Betcha' Didn't Know Wayne Handy – I Want Everything My Baby's Got Jim Thornton – Buzz Me On The Telephone Irving Fuller & The Chorvettes – That Other Woman Buck Tickle – Somethin' Special Don Duncan – Stop Walking All Over Me Harold Pope – Bad Boy Steve France with The Hornets – Say Yeah Wayne Handy – Silly Dilly Don Ray with The Hornets – Upturn Eddie Smith with The Hornets – Cold North Wind Lonnie Dee – Who Put The Pep In The Punch Joe Franklin & The Hi-Liters – The Pad Bobby Strigo with The Blue Notes – Do You Ever Think Of Me Clyde Moody – The Day I Die Daryl Petty – I'm Going Home Hughie Owens with The Blue Notes – Problem Child Wayne Handy – Our Southern Way Of Living Jim Thornton – Tears Falling Down, Down, Down Harold Pope – Border Beat Eddie Smith with The Hornets – Dream Boy Steve France with The Hornets – Traveling Blues Dannie Maness – Making Fun Of Me Bobby Rose – True Blue Joe Franklin & The Hi-Liters – I'm Not Ashamed Lonnie Dee – I'll Never Be The Same Wayne Handy – Baby Let Me Powder Your Nose Jim Thornton – Flaming Love Daryl Petty – Love Is A Flame Ken Willette with The Blue Notes – Hobo Bill Dannie Maness – Seminole Rock'n Roll Wayne Handy & The Melody Masters – Dance Me To Death The Hi-Liters – I Think You Oughta Look Again Wayne Handy – You Turn Me On Steve France & The Varatones – Repeto The Varatones
Launched by Bear Family many moons ago, this series chose the quality over the exhaustivity; thus, each album contains all killers and no fillers. By volume 27, they expanded the "Rockabilly from the vault of" subtitle to "Rockabilly and Rock'n'roll from the vault of." And here we are, with the 33rd volume, dedicated to Renown and Hornet Records (the latter being a subsidiary label of the former) from North Carolina.
Wayne Hardy is the Renown artist who was the closest to have a hit with "Say Yeah." Paradoxically, this is not the best of his six songs included here, but the guitar solo is worth the inclusion of the song. More interesting are songs the blues-oriented stuff like "I'll Never Be the Same" or the Indian-tinged Seminole Rock'n'Roll.
By the time he recorded for Renown, Jim Thornton could be considered as a veteran. Nevertheless, his "I Want Everything My Baby's Got" is a fantastic Rockabilly stomper, whereas his other two sides are more in a Hillbilly vein, though with some Rock'n'Roll in it for "Our Southern Way Of Living."
Another veteran is Clyde Moody, who played with Bill Monroe in 1940. He revives the old 1920s standard "Do You Ever Think Of Me," also covered by Jimmie Davis and turns it into a pop-rocker with sax, prominent bass, and galloping guitar.
Also on the rural side of the label is Dannie Maness. Both songs, a cover of Jimmie Rodgers and an original waltz in the style of the early Ernest Tubb, sound quite anachronistic here. Harold Pope seems slightly more modern. His two songs mix timeless hillbilly with a sixties sounding pedal steel for great effect.
In a more country-pop manner, Lonnie Dee contributes with two superb songs. "Cold North Wind" evokes the great Roy Orbison while "I'm Not Ashamed," and its Spanish guitar leans more toward Marty Robbins.
Buck Thickle also shows some Orbisonian influences, but more from the Sun period, combined with a hot rocking saxophone. Also worth noting is the sharp guitar solo.
Don Duncan's "Something Special" is really, well, special. The kind of weird Rockabilly that one can find on "Songs the Cramps Taught Us."
Darryl Petty's sixties rocker "The Day I Die" conveys the same kind of strange atmosphere. By comparison, his other tracks, a good, albeit classical, doo-wop, seems a bit tame.
Petty also played piano and occasionally sang with Joe Franklin and the Hi-Liters. "Who Put The Pep" could be just another rocker before a wild and frantic piano erupts and takes the song to a whole new level. The same piano can be found on "Dance Me To Death" that lives to its title.
Steve France is one of the most exciting artists in this collection. His "Dream Boy" has hints of Elvis' Money Honey but with a severe dose of angst and gloom. "Bad Boy" is a threatening Rock'n'Roll with a mean guitar. He also recorded a single with the Varatones in a Surf vein. The B-side, "Repeto," also included here, is an instrumental drenched with reverb and screaming saxophone.
That leads us to Eddie Smith, who recorded with the Hornets, one instrumental single. "Upturn" is a fast-paced number that kicks off with a similar intro than "Beat Out My Love" and then evolves into a half surf/half garage terrific tune. The flip, featuring a superb snare part, is a medium-paced instro that shows the influence of Link Wray.
The remaining tracks contain pop-rocker (Don Ray) Rhythm' n'Blues with juicy sax in the style of Fats Domino (Hughie Owens with The Blue Notes) and, yes, even a song with a Cha-cha beat (Bobby Rose.)
Except if you don't listen to anything beyond 1958, there's plenty to discover and enjoy in this compilation.
Order it here.