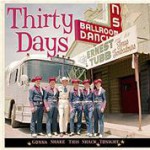 Bear Family BCD 16866
Thirty Days / I'm A Long Gone Daddy / Mean Mama Blues / Jimmie Rodgers' Last Blue Yodel / Walking The Floor Over You / I Ain't Goin' Honky Tonkin' Anymore / Filipino Baby / So Round So Firm So Fully Packed / My Tennessee Baby / You Nearly Lose Your Mind / Tomorrow Never Comes / Tennessee Border #2 / Drivin' Nails In My Coffin / So Doggone Lonesome / Let's Say Goodbye Like We Said Hello / Don't Forbid Me / Don't Brush Them On Me / The Same Thing As Me / Counterfeit Kisses / Two Glasses Joe / Kansas City Blues / Have You Seen My Boogie Woogie Baby / This Troubled Mind O'Mine / My Hillbilly Baby / I'll Get Along Somehow / Do It Now / Mister Blues / White Silver Sands / Crazy Arms / Tennessee Saturday Night.
Bear Family has released numerous boxed sets covering the whole career of the Texas Troubadour and I dream about them at least once a month but it may be a bit too much or too pricey (or both) for the casual listener. Fortunately, they have launched the "Gonna Shake This Shack" serie which is more affordable. This release gives a good overview on Tubb's recording from the early 40's to the early 60's and focuses on his uptempo sides.
The selection is very well done and you won't find any filler here. This album includes some Jimmie Rodgers (his first idol) inspired songs (Mean Mama Blues), his early hits (Walking the Floor Over You; You Nearly Loose Your Mind), honky tonk classics and succesfull attempst at mixing rock'n'roll to his own style (Chuck Berry's Thirty Days). Listening to this side you realize the major role of Tubb in setting the standard for post-war country, instrumentation (electric guitar, steel guitar, fiddle, bass, rhythm guitar) that'll pave the way to Hank Williams to name the most famous.
Needless to say that as usual with the German label it comes with a superbly designed and fully illustrated 32 page booklet that tells you all the details you want to know (and even more). A nice addition to your collection.
Fred "Virgil" Turgis