Colin Hicks – Sexy Rock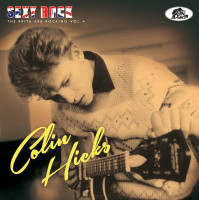 Bear Family – BCD 17582 [2020]
Giddy Up A Ding Dong – Empty Arms Blues – Wild Eyes And Tender Lips – Sexy Rock – MeanWoman Blues – Oh Boy! – Love's Made A Fool Of You – Whole Lotta Shakin' Goin' On – Hanging Around – Tallahassee Lassie – Jambaylaya (On The Bayou) – Blue Moon Of Kentucky – That Little Girl Of Mine – lea lea – Robot Man – Put Me Down – Lovin' Up A Storm – A Teenager In Love – Book Of Love – Hallelujah, I Love Her So – Brand New Cadillac – All Because Of You – Impazzivo Per te – Johnny B. Goode – Tutti Frutti – Twenty Flight Rock – Hung Up My Rock And Roll Shoes
Here's volume four of this excellent and exciting new series on Bear Family. This time, you have a full album dedicated to Colin Hicks covering the period from 1957 to 1961. Some of you may not know him, and to be honest, until I received this cd, I had never heard about him. Colin Hicks is none other than Tommy Steele's little brother, who is also part of this series, but his name seems to be reduced to a footnote in British music history.
The reasons are multiple. Hicks never achieved the same degree of success as his older brother at least in England. Both looked very similar, and even sometimes their voices could sound the same. So maybe England was too small for two Hicks/Steele. And when success knocked upon his door, it was in Italy.
It has to be said; Hicks didn't have the talent of his brother. Some of the songs recorded here are pretty average. He also lacked original material, and most of his covers are very well known. It probably didn't allow him to create a personnal sound. And if his approach of Blue Moon of Kentucky is very original, one can forget in the minute his version of Johnny B. Goode. But the curious listener and the amateur of British Rock'n'roll will find pretty to enjoy here. If Hicks is not Steele, it doesn't mean he's an average singer. Far from that. He can rock like none other, and, to pursue the comparison with his older brother, he seems more free, even wilder, in his approach.
Like on many of Bear Family reissues,you'll aso find rare tracks. Among them are Hicks debut single for Pye Nixa recorded by Joe meek in 1957, or Impazzivo Per Te that was released as a flexi disc in an Italian magazine in 1960.
This compilation is an excellent occasion to rediscover an artist that should receive more credit. Taken separately, this one is maybe not as essential as the first three volumes, but as a whole, its place is fully justified.
Available here.
Fred "Virgil" Turgis