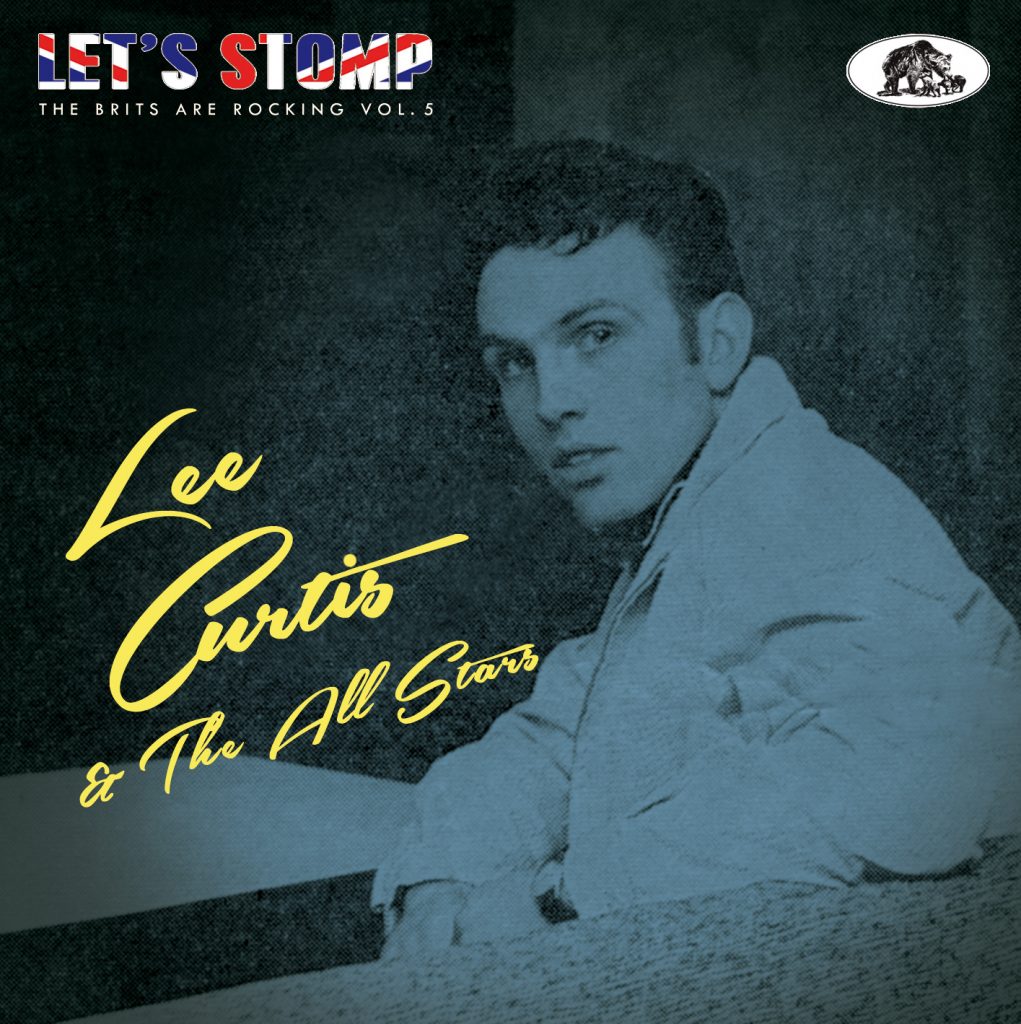 The Brits Are Rocking Vince Taylor – Brand New Cadillac
Bear Family BCD17646
Brand New Cadillac – Long Tall Sally – Rocky Road Blues – What'cha Gonna Do (Southern Love) – I Like Love – Sweet Little Sixteen – Endless Sleep – Baby Let's Play House – Jet Black Machine – Shaking All Over – Ready Teddy – Move Over Tiger – So Glad You're Mine – Lovin' Up A Storm – My Babe – Right Behind You Baby – Twenty Flight Rock – Blue Jean Bop – I'll Be Your Hero – C'mon Everybody – Don't Leave Me Now – Mean Woman Blues – B. B. Baby (Big Blond Baby) – There's A Whole Lot of Twistin' Goin' On – Love Me – Rip It Up – Have I Told You Lately That I Love You – Mimi – Peppermint Twist – Part I – Peppermint Twist – Part II – Pledging My Love – Don't Ever Let Me Go
Vince Taylor had an undeniable charisma and the magazines knew how to exploit his half-angel, half-demon image. This same charisma, combined with a good dose of energy gave dazzling stage performances. Unfortunately, all this does not necessarily show through on his recordings.
His recording career begins with a very good Rockabilly-inspired single, the excellent Right Behind You Baby coupled with I Like Love on the B side. This one benefits from the presence of Tony Sheridan on guitar and Brian Benett (Shadows) on drums. Benett is renewed for the next session in February 59, and was joined by the excellent Joe Moretti on guitar. The result gives the dazzling Brand New Cadillac (the only composition by Vince Taylor on this compilation). This single piece would be enough to leave him a place in the pantheon of Rock'nroll. Success did not come, Taylor changed label and after Parlophone joined Palette for which he recorded another excellent single I'll Be Your Hero with the wild Jet Black Machine on the B side. But already, we can see an evolution in the sound. After another solid single for Palette, Taylor found refuge in France and signed for Barclay. If the accompaniment always remains of quality, the inspiration seems to disintegrate and very often the listener has the impression of hearing an imitator of Gene Vincent or Eddie Cochran without the flame of genius that makes the difference. Taylor sings well, sometimes overdoes it, but too often settles for the bare minimum. The last period covered by this CD, corresponding to the year 1962, sees Taylor evolving towards Twist and a rather uninteresting pop-Rock.
The Brits Are Rocking Lee Curtis & the All Stars – Let's Stomp
Bear Family BCD17626
Boppin' The Blues – Let's Stomp (1st Version) – I've Got My Eyes On You – Jezebel – Boys – Irresistible You – Nobody But You – Memphis Tennessee – It's Only Make Believe – A Mess Of Blues – My Baby – Sticks And Stones – Stupidity – Hello Josephine – Stand By Me – Slow Down – Shot Of Rhythm And Blues – When I Get Paid – Can't Help Falling In Love – Let's Stomp (Second Version) – Little Egypt – Blue Suede Shoes – One Night – Exstacy – Wooly Bully – Mohair Sam – Jezebel (Live At The Cavern) – Skinnie Minnie (Live At The Cavern) – Um Um Um Um Um
The fifth volume of this excellent series sheds light on Lee Curtis (real name Peter Flannery), a minor hero of the Mersey scene. His band once featured Pete Best, who almost became a Beatle and was signed to Decca. The label that refused the Fab Four probably tried to find a band with a similar potential. Lee Curtis and his All Stars were once voted second in a music poll, just behind the Beatles, but one must admit that today, except for true amateurs, his name is almost forgotten.
There are many reasons for that: some missed opportunities from Decca, a lousy schedule and poor management. And the material was also a problem. If Curtis was a good singer, he didn't write his own songs and thus, stuck to covers.This album gathers the best sides recorded for Decca and Star Club. There's a good dose of danceable and uptempo numbers. Though enjoyable, they are not all that original, and the similarity of repertoire with King Size Taylor is not always in favour of Curtis. But Curtis had a magnificent and powerful voice that shone through some slower tunes. He's perfect on Exstacy, It's Only Make Believe, Stand By Me, Irresistable You, and Little Egypt. Even Jezebel, albeit a tad emphatic, is perfect. This song, along with Bill Haley's Skinnie Minnie, also appears in live versions recorded at the Cavern. Both are excellent, and one can regret that more live recordings don't exist. Lee Curtis and the All Stars were a terrific live act by all accounts. Anyway, if you're not a real completist of the British scene of the early 60s, 29 songs might be a bit too much. But if you're curious and open-minded, you'll find some good tunes on this volume. As usual, the booklet is quite impressive, with a biography, press clips and plenty of photos.
---
The Brits Are Rocking Colin Hicks – Sexy Rock
Bear Family – BCD 17582 [2020]
Giddy Up A Ding Dong – Empty Arms Blues – Wild Eyes And Tender Lips – Sexy Rock – MeanWoman Blues – Oh Boy! – Love's Made A Fool Of You – Whole Lotta Shakin' Goin' On – Hanging Around – Tallahassee Lassie – Jambaylaya (On The Bayou) – Blue Moon Of Kentucky – That Little Girl Of Mine – lea lea – Robot Man – Put Me Down – Lovin' Up A Storm – A Teenager In Love – Book Of Love – Hallelujah, I Love Her So – Brand New Cadillac – All Because Of You – Impazzivo Per te – Johnny B. Goode – Tutti Frutti – Twenty Flight Rock – Hung Up My Rock And Roll Shoes
Here's volume four of this excellent and exciting new series on Bear Family. This time, you have a full album dedicated to Colin Hicks covering the period from 1957 to 1961. Some of you may not know him, and to be honest, until I received this cd, I had never heard about him. Colin Hicks is none other than Tommy Steele's little brother, who is also part of this series, but his name seems to be reduced to a footnote in British music history.
The reasons are multiple. Hicks never achieved the same degree of success as his older brother at least in England. Both looked very similar, and even sometimes their voices could sound the same. So maybe England was too small for two Hicks/Steele. And when success knocked upon his door, it was in Italy.
It has to be said; Hicks didn't have the talent of his brother. Some of the songs recorded here are pretty average. He also lacked original material, and most of his covers are very well known. It probably didn't allow him to create a personnal sound. And if his approach of Blue Moon of Kentucky is very original, one can forget in the minute his version of Johnny B. Goode. But the curious listener and the amateur of British Rock'n'roll will find pretty to enjoy here. If Hicks is not Steele, it doesn't mean he's an average singer. Far from that. He can rock like none other, and, to pursue the comparison with his older brother, he seems more free, even wilder, in his approach.
Like on many of Bear Family reissues,you'll aso find rare tracks. Among them are Hicks debut single for Pye Nixa recorded by Joe meek in 1957, or Impazzivo Per Te that was released as a flexi disc in an Italian magazine in 1960.
This compilation is an excellent occasion to rediscover an artist that should receive more credit. Taken separately, this one is maybe not as essential as the first three volumes, but as a whole, its place is fully justified.
---
The Brits Are Rocking King Size Taylor – Doctor Feelgood
Bear Family BCD17603 [2020]
Heeby Jeebies – All Around The World – Dr. Feelgood – She Said Yeah – Hippy Hippy Shake – Hello Josephine – Slow Down – Sweet Little Sixteen – Never In A Hundred Years – Money – Bad Boy – Sherry Baby – Whole Lot Of Lovin' – Stupidity – Long Tall Sally – Domino Twist – Short On Love – Memphis, Tennessee – Mashed Potatoes And Hot Pastrami – Lipstick, Powder And Paint – Slippin' And Slidin' – Twist And Shout – Dizzy Miss Lizzy – I Can Tell – Fortune Teller – You Can't Sit Down – I'm Late – Sad And Blue – Saw My Baby With Another Guy – Matchbox – Good Golly Miss Molly
For their third volume in their series The Brits are Rocking, Bear Family decided to put the spotlight on King Size Taylor and his band the Dominoes. It's somewhat surprising as one could expect more familiar names like Marty Wilde or Wee Willie Harris. But it's also an excellent thing since Taylor needs to be rediscovered.
If you, like me, think that the Beatles never sounded so good than when they were five angry (and hungry) lads struggling in Hamburg, this cd is sure to please you.
This compilation covers the period 1963-1964 and contains all his recordings made for Philips, Polydor, and Ariola. It also includes four demos from 1958. Except for these four songs, the tracks were all recorded in Hamburg, Germany, in the studio or on stage.
Associated with the Beat bands of the Merseyside, King Size Taylor and the Dominoes developed a more aggressive sound than many of their counterparts and stayed true to Rock'n'roll and Rhythm'n'Blues. Unfairly they never reached commercial success in their own country.
Except for their first single, which was more pop-oriented, King Size Taylor and the Dominoes were a beautiful war machine, blasting killer rhythm'n' blues tunes with a rocking edge one after another. Whether in the studio or on stage, they took no prisoners. Ted "Kingsize" Taylor was probably one the best British singers, but sadly remains one of the unsung heroes of the period. He had a powerful and expressive voice that was ideally suited for material by Larry Williams, Fats Domino, Little Richard, and Solomon Burke. The band was equally amazing with sharp guitar parts and for the live recordings two saxophones blowing scorching riffs and solos.
With all those qualities, why didn't they achieve international success? Maybe they lacked a good manager to get them a good contract. Probably they were too busy in Germany to develop something ielsewhere. And perhaps the fact that they didn't have originals didn't help either.
Anyway, this well-deserved cd (and the 36-page booklet that comes with) is the perfect object to rediscover this artist. Maybe Taylor didn't have originals, but I wouldn't trade the 2 minutes and 14 seconds of his version of Short On Love (way better and meaner than Gus Backus inoffensive original version) for any of the LSD influenced stuff that their most famous counterparts later recorded.
---
The Brits Are Rocking Billy Fury – Wondrous Place
Bear Family Records – BCD17583
Gonna Type A Letter – Baby How I Cried – Comin' Up In The World – Wondrous Place – Don't Leave Me This Way – Colette – Keep Away – Running Around – Bumble Bee – Nothin' Shakin' (But The Leaves On A Tree) – My Advice – Don't Say It's Over – Unchain My Heart – Sticks And Stones – Twist Kid – Push Push – Baby Come On – What Did I Do – If I Lose You – One Kiss – Play It Cool – Sweet Little Little Sixteen – Don't Knock Upon My Door – That's Love – Don't Jump – Tell Me How Do You Feel – Talkin' In My Sleep – I'd Never Find Another You – I'm Moving On – It's You I Need – Phone Call – Turn My Back On You – Alright, Goodbye – You're Having The Last Dance With Me
After Tommy Steele, the second volume of this series is deservedly dedicated to Ronald Wycherley, better known as Billy Fury. I personally hold "the Sound of Fury" as one of the best pieces of Rockabilly ever recorded. Billy Fury had it all, the look, the voice, and above all, he could write his own songs (and he was good at that!). This 34-song collection focuses on Fury's most upbeat material and avoids the hits and the well-known songs like "Halfway to Paradise" or "Maybe Tomorrow" (which is a good thing if you ask me.)
To compose a varied compilation, Bear Family chose to present the songs randomly, but for this review, we'll take them chronologically in the order of the recording sessions.
"Gonna Type Me a Letter" was originally the b-side of Maybe Tomorrow. It's a solid rocker, though the typewriter gimmick can be slightly annoying.
Asked about his influences, Fury answered, "I was most of all an Eddie Cochran fan. I was an Elvis Presley fan second, and then I liked Dion." If you can, without a doubt, hear some of the latter two throughout this collection, "Don't Knock Upon My Door" is pure Cochran.
"Colette" was obviously written with the Everly Brothers in mind. "On Baby How I Cried," a plaintive ballad, his voice channels the best of Gene Vincent while the Vernon Girls enhance the performance with their backing vocals. "Turn My Back On You," recorded during the same session, is a pure Rockabilly masterpiece and will appear on "The Sound of Fury." Eight out of ten songs of that essential album are included here. From the Buddy Holly tinged "My Advice" to the bluesy "Phone Call," those songs are worth the price of that compilation alone. They also benefit from the superb guitar work of Joe Brown. For the anecdote, Andy White, the session drummer, is best remembered for having replaced Ringo Star during the recording of "Love Me Do" (and he also married Lyn Cornell one of the Vernon Girls.) Also, since the art of the slap bass was yet to be discovered in Albion, two basses were used: one electric bass to play the notes and an acoustic to record the slap.
In June 1960, Billy Fury cut his masterpiece, Wondrous Place, an eerie ballad with sparse backing, sounding like a mix between Elvis' "Heartbreak Hotel" and "Crawfish." Even more provocative, listen to that breath just before he drops 'Wondrous Place.' Bear Family made an excellent choice by including the first version rather than over-arranged one recorded in 1963.
By comparison, "Push Push" with its semi Calypso beat seems pale while "You're having the Last Dance With Me" adds nothing to the glory of Fury.
Penned by Gene Pitney, "Talkin' In My Sleep" brings a little more blues, and "Comin' Up In The World" offers a superb contrast between the singer's voice and the screaming sax.
Backed by a Duane Eddy sounding twangy guitar and an ethereal female vocal at the right moment, "Don't Jump" is a splendid melodramatic tune. "I'd Never Find Another You" is another highlight thanks to Billy, of course, but also to the arranger who kept it simple despite the presence of strings. Just compare to Paul Anka's version to see how a poor arrangement can waste a good song. From the same session comes "If I Lose You," a soulful ballad that shows the other side of Fury's voice, the rough one.
The next pair of songs, both written by Norie Paramor, are far less successful. On "Play It Cool," the mix between strings and Rock'n'Roll doesn't work very well, whereas "the Twist Kid" proves that even Fury couldn't turn lead to gold.
The Presley-esque "Running Around" finds him in better form with a song more suited to his voice. "One Kiss" sees him returning to his idol Eddie Cochran, in a laid back jazzy manner.
"On Keep Away" and "What Did I Do," the singer is backed by the Tornadoes of "Telstar" fame. The former shows the inspiration of Elvis' "Stuck On You."
After a session without the Tornadoes to record Laverne Baker's "Bumble Bee," the band returns to record the live-in-the-studio album "We Want Billy." Five songs are lifted from that album (Sweet Little Sixteen, Baby Come On, Sticks and Stones, Unchain My Heart, and I'm Moving On.) The singer is wild and more rhythm 'n' blues than ever, and the Tornadoes are excellent throughout.
"Tell Me How do You Feel," recorded in 1963, continues with the rhythm 'n' blues vein with organ, sax, and a trumpet solo.
The compilation ends with "Nothing Shaking (But The Leaves On The Tree)" on which one can hear some Mersey echoes.
As usual with Bear Family, it comes with a thick 40-page booklet containing photos, informative liner notes, record covers, and detailed sessions. Highly recommended.
---
The Brits Are Rocking Tommy Steele – Doomsday Rock
Bear Family BCD17581
Rock Around The Town – Giddy-Up A Ding Dong – Teenage Party (LP version) – The Trial – Tallahassee Lassie – Give! Give! Give! – Build Up – Knee Deep In The Blues – Rock With The Caveman – Take Me Back, Baby – Time To Kill – Hair-Down Hoe-Down – Swaller Tail Coat – Drunken Guitar – Kaw-Liga – Elevator Rock – Grandad's Rock – Puts The Lightie On – On The Move – Cannibal Pot – Hollerin' And Screamin' – (The Girl With The) Long Black Hair – Rebel Rock – Two Eyes – Hey You – Happy Go Lucky Blues – Singing The Blues – Butterfly – Doomsday Rock – Razzle Dazzle – Come On Let's Go – Honky Tonk Blues – Young Love – You Gotta Go
2019 saw Bear Family launching a new series called The Brits are Rocking dedicated to the British pioneers of the '50s and 60s.
They couldn't choose a better artist than Tommy Steele (real name Tommy Hicks) to begin this series with. If he wasn't the best nor the most rocking, Steele was one of the first – if not the first – and he had a strong British identity to boot. Above all, unlike Tony Crombie, who was already 30 when he jumped on the Rock'n'roll bandwagon, Steele was a teenager singing for the teenagers.
Steele began his musical career by singing Hank Williams tunes and playing guitar various bands. George Martin signed him. He later recalled: "We sat with our coffee and watched this genial young man bounce on to the stage with his guitar over his pelvis, and my immediate impression was that he was a blond cardboard imitation of Elvis Presley. Tommy had a lot of energy, but he didn't sound too great."
Fortunately for the young lad, people at Decca saw some potential in Tommy and, following his test audition, they almost immediately signed him. Two days later, Steele was in the recording studio to cut his debut single "Rockin' with the Caveman / Rock Around the Town."
This 34-song/71 minute compilation album spans the years 1956 to 1960. It shows how versatile Steele was, playing styles as various as pop-tinged stuff, country and western, novelty songs, and more. But, of course, the most exciting songs, were his Rock'n'roll sides. Steele was a credible rocker, and tunes like Teenage Party, Rock With the Caveman, Doomsday Rock, Two Eyes are small classics. This album also proposes good live versions of Freddie Bell's Giddy Up Ding Dong and Haley's Razzle Dazzle and the weird and Link Wray sounding semi-instrumental Drunken Guitar.
At first, I was surprised that the songs were not in chronological order, but it happened to be a good idea. It avoids the problem of too many compilations, especially when they are copious like this one, to have ten solid rockin' tracks at the beginning and, as the years pass, you find mellower material. This is not the case with this compilation, which alternates styles and paces as well as studio and live recordings.
As usual with Bear Family, it comes with a 40-page booklet richly illustrated, though, for some reason, there's no sessionography.
This album definitely proves that the Brits, and Tommy Steele, could easily rock like their American counterparts.
Hopefully, this is the beginning of a long series.
Available at Bear Family