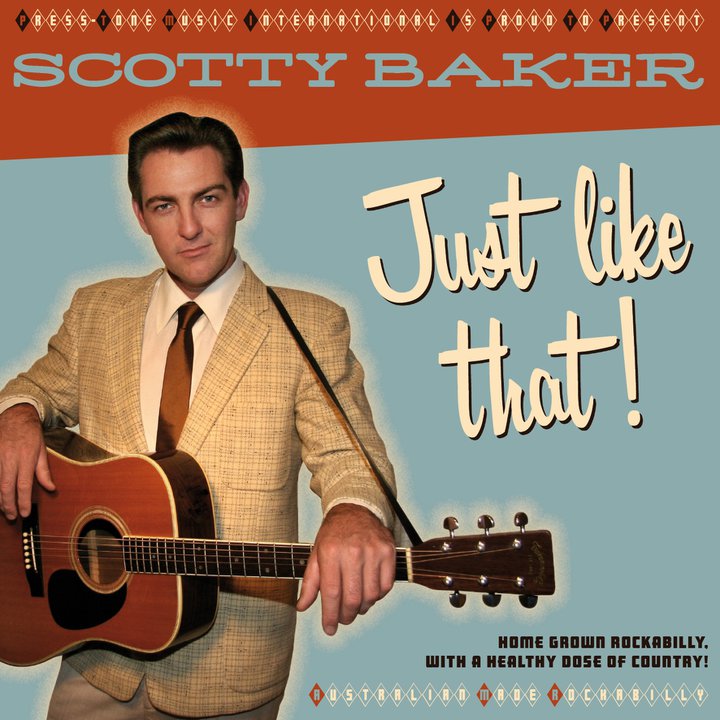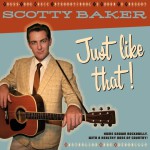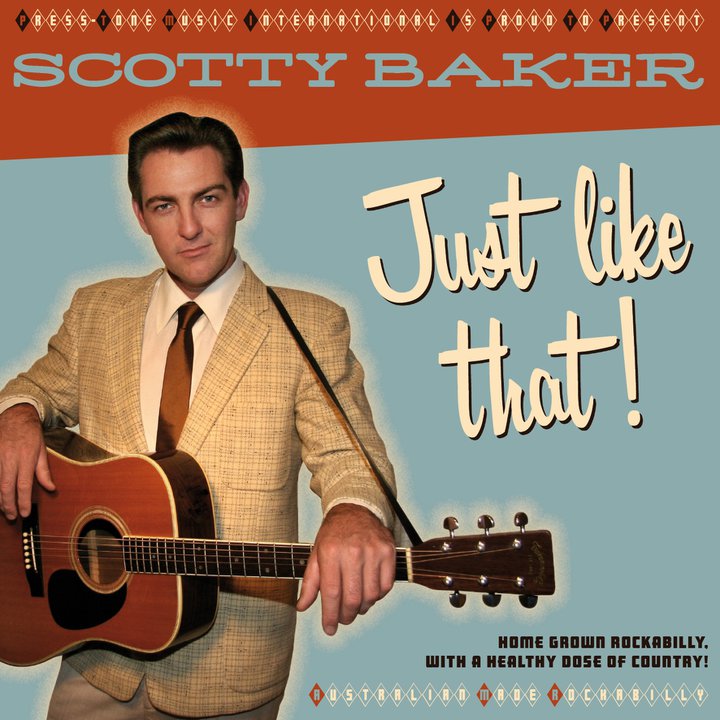 Scotty Baker – Just Like That
Press Tone Music [2011]
50 Buick – C'Mon And Fight Me – Broke On payday Again – Just Like That – Tell Me Why You Love Me – Tyre Kickers – Suddenly Alone – Just Can't Style My Hair – Jacky And Dave – Not Today – I'm Past My Prime – Set Me Loose On That Blonde – That's The Way I Like It – Doin' Time On The Passenger Side
Scotty Baker is, after Pat Capocci, Ezra Lee and the Rechords (to name but three) Australia's latest Rockabilly sensation. With his warm and deep voice, his capacity to write solid originals and a strong backing band, this guy is dangerous! His debut album, features 14 self penned songs and covers a wide range of style.
One can hear a bit of Johnny Cash influences with the boom-chicka-boom Rockabilly of C'Mon and Fight Me or Just Like That, a talkin' blues ala "Boy Named Sue". Next to that one will find straight Rockabilly (Jacky and Dave, Set Me Loose On that Blonde), honky tonk with steel guitar (Broke on Payday Again), pumpin' piano rock'n'roll (Tell Me Why) and bluegrass with (Tyres Kickers). Believe me, the whole album is flawless but if I had to pick some highlights it would be the hilarious "Just Can't Style My Hair" (with the memorable "I'd rather look like Yul Brynner than David Hasselhoff"), "Not Today" (something like a cross between Hank Williams and Johnny Jano), "Suddenly Alone" that captures the spirit of Elvis' early ballads like Harbor Lights or Tomorrow Night and "Doin' Time On the Passenger Seat" a five-minute stroller that closes the album with class.
I really hope to hear more from that guy soon.
Fred "Virgil" Turgis