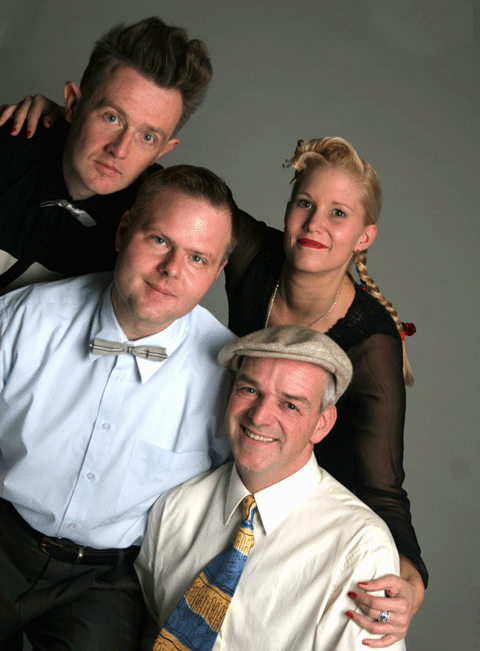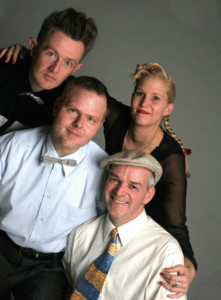 45 rpm
[archive from 2007]
Even if you haven't heard about 45 RPM before, the name of Thorsten (aka Schroeder) and Jurgen may be familiar to you. They both were members of the neo-rockabilly trio The Javes and had a few records out in the mid 80's. A few years later, well decided to take over the world but this time with a more authentic sounding rockabilly (I don't like the term but I haven't found a better one yet), they found the secret weapon to team with in the person of Sandra : a cute little girl with a rockin' Patsy Cline voice.
Their second album has just been released, it contains 16 tunes and 9 are written by the band.
by Fred "Virgil" Turgis

How did you meet and how did 45 rpm form?
Sandra – The beginning of 45 rpm was ca.2002/2003. After a few changes of some different bandmembers we´re playing in this constellation since July 2005.
Many american artist discovered rockabilly music with their parents or in a family context. What about you. What led you to this music.
Sandra – My Mom and Dad kept me hearing Mr. Johnny Cash since I was a little "Anything" as she was pregnant with me. As I behold the world I knew that I was looking in 6 really good rocking eyes. MY MOM; MY DAD AND MY BEAUTIFUL SISTER!!!!
Thorsten and Jurgen, you were members of The Javes back in the mid-80's. One word about that?
Thorsten – Yes, we did! (wow, that's what I call "one word" – Virgil)
Didn't The Javes work with Boz Boorer? Are there any unreleased recordings from that period?
Thorsten – Wow, we did work with Boz Boorer in England indeed. But almost no one did know that. We cut 4 songs for Ray Frenshaws Northwood Records, none of it has been released so far. And one of these is a smash hit ( Soldier in the night), promised.
Before joining this guys, Sandra, have you heard about their dark past?
Sandra – Not really – smile- Did they have a dark past, wwooow…
Sandra, when did you start singing? Is this your first band?
Sandra – I enjoy singing since I was a little girl sitting on mummys lap.
In the late 90´s I start singing in my first band. That time I´d been singing in a soul band. But I left that band a few month later. Very strange band – the bassman was in a relationship with the girl on the sax. He was 47 years old and she was 17 – ooops!
Could you tell us about your influences?
Sandra – Since I listened music I was interested in "Old Style Music".
It started with 60´s – northern-soul-, Rocksteady, Ska, you know?
Approximately 1995 I listened to my first Stray Cats, Restless, Rattlers and (oho) Nekromantix LP. (Shame on me that I´ve never heard this good rocking sound before) And now, here I am ;o)
Mr. Bass Jürgen and Trixomatic don´t say any word – they always slap, and slap, and slap…
Thorsten – I dig very early Neo-Rockabilly, Django Reinhardt, Charlie Christian, T-Bone Walker, Chico Hamilton. Songwise I go for the "pop"songs, tracks with a catchy melody!
What about your drummer? I've heard he joined the band in an impromptu way.
Sandra – Yes, indeed. The "old" drummer didn´t show up for a gig. So we needed to find a new drummer, quick! DJ Rollin´Danny (Trixomatic Olliver) was available at this time and we knew it from the very first gig that he fits perfectly in the band.
Schroeder, you have your own studio and have just recorded a solo album, tell us about that please.
Thorsten – Songs I recorded over the past 16 month, twiddling the knobs in my studio. Played all guitars, drums, handled the vocals and asked two friends of mine to help out with the bass playing. Jürgen did one half of the songs; It´s a mixture from swampy roots rockabilly to voodoo neorhythms to swinging rockabilly tunes. So far, I have not tried to find a label, and give some of them away for free on the homepage.
Does your nickname, Schroeder, come from the Peanuts?
Thorsten – Yes, Schroeder comes from the Peanuts: Sandra once said I would remind her of this piano player character and ever since…
Are you crazy about Beethoven like him?
Thorsten – Personally I go for J.S. Bach, absolutely brilliant. Beethoven is too heavy for me. He was deaf, anyway…
Are you full-time musicians or do you have a day jobs?
Sandra – I´m working ( rocking and rolling, too ) in a day-nursery. Everywhere I am I hear tunes in my head! No voices – TUNES!!!
Thorsten – I´m a full time student ( hehe) ( psychology and sociology), but I live on making music.
You recently backed Rayburn Anthony. It must have been a big thrill to you. Tell us about that.please
Sandra – BE SIMPLY SPEECHLESS!!
It was THE big thrill and the audience was captivate us and we could captivate, too. Is there anything better?
A last word?
Sandra – Hope, we see us and rock the house together!
Best wishes from Fortyfive rpm!!!