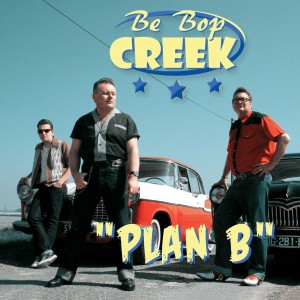 Be Bop Creek – Plan B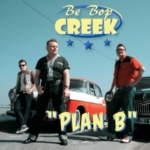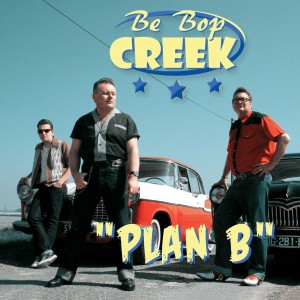 Cherry Doll – Emelynn Gal – Waiting for Summer – Alone and Crying – You'll Be Gone – Free as a Breeze – Homesick Bop – No Squares Allowed – To Win Your Heart – GI Blues – Jilted Again – Bye Baby Bye
This French band returns with a new album and a refurbished line-up. The band is now Rocky on double bass, Nico on guitar and Larry who joins Steve Bongo of the Deltas and Dana Stewart of the Racketeers in the club of the singers/drummers.
Be Bop Creek have some pretty cool original numbers penned by Larry in which one can hear the influence of the great figures of the genre. Emelynn Gal evokes the sound of mister Blue Suede Shoes hiumself, Carl Perkins and Waiting For the Summer, one of my favourites if that interests you, nailed that Eddie Cochran attitude perfectly. Elsewhere you can hear a bit of Johnny Burnette or some Elvis and the Blue Moon Boys
The covers are rather obscure and not your usual Sun/Meteor stuff. It's good to hear a band that digs a bit to propose something new and finds tunes that you've not heard a zillion times. As much as I like this song, I guess I couldn't hear another version of "All I Can Do Is Cry." The most original being probably the cover of Some Kinda Earthquake's You'll Be Gone morphed into a hillbilly bop with additional lyrics from Larry. This also proves that those guys are open minded which is always a good thing.
They're also a good dose of blues with Homesick Bop, a mean blues bopper with maracas, and No Squares Allowed more in the Chuck Berry vein. Although the later is not that original, Nico on guitar turns it into a great tune. This young guy sure knows how to use those six strings while Larry and Rocky lay down a perfect beat. Larry also has a mean and very good voice with no French accent.
Last but not least, Bob Butfoy of Jack Rabbit Slim / Bob and the Bearcats fame wrote the laudatory liner notes.
Be Bop Creek on the web.
Fred "Virgil" Turgis