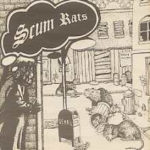 Scum Rats
S/t
Rumble records – Gang 003 [1990]
I See Your Face – Too Much Pain – Blood In Your Face
Led by Charlie Fallensteller's fast slap bass and vocals, this quator from Germany delivered a powerful three tracks ep of self-penned tunes on the extreme side of the Psychobilly genre with hard core influences. If you prefer they were closer to band like Demented Are Go or the Krewmen (when led by Tony McMillan) than the Long Tall Texans.
In addition to the supersonic bass, the ingredients are Fallensteller's rasping voice, hard hitting and thud drums (with barely no cymbals) and fine arrangements that rely on the different sounds and textures of the two guitars. All in all an excellent ep.
---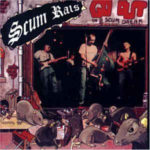 Scum Rats
Go Out Into a Scum Dream
Rumble records – RUMBLE001 [1990]
Scum Rats – Go Out – Scum Of The Night – I Love Rock & Roll – Money – Runaway – Die To Be Free – My Baby Is Alone – Come On Little Sister – Scum Love – Cryin To Be Satisfied
The Scum Rats debut album doesn't differ much from the ep in term of sounds (and show no sign of amelioration in term of cover design either).
The same ingredients can be found to serve solid and powerful originals and two covers (Joan Jett's I Love Rock'n'roll also released on single and Del Shannon's Runaway sung by the guitar player, probably not the band's best moment).
Once again the way the two guitars interact is worth noticing, one with a distorded sound and the other with a clean sound. All of this makes of Go Out… one of the best Psychobilly album of the the early 90's.If my memory serves me right the first pressing was on green vinyl.
It was later reissued on cd with their second mini album.
Fred "Virgil" Turgis