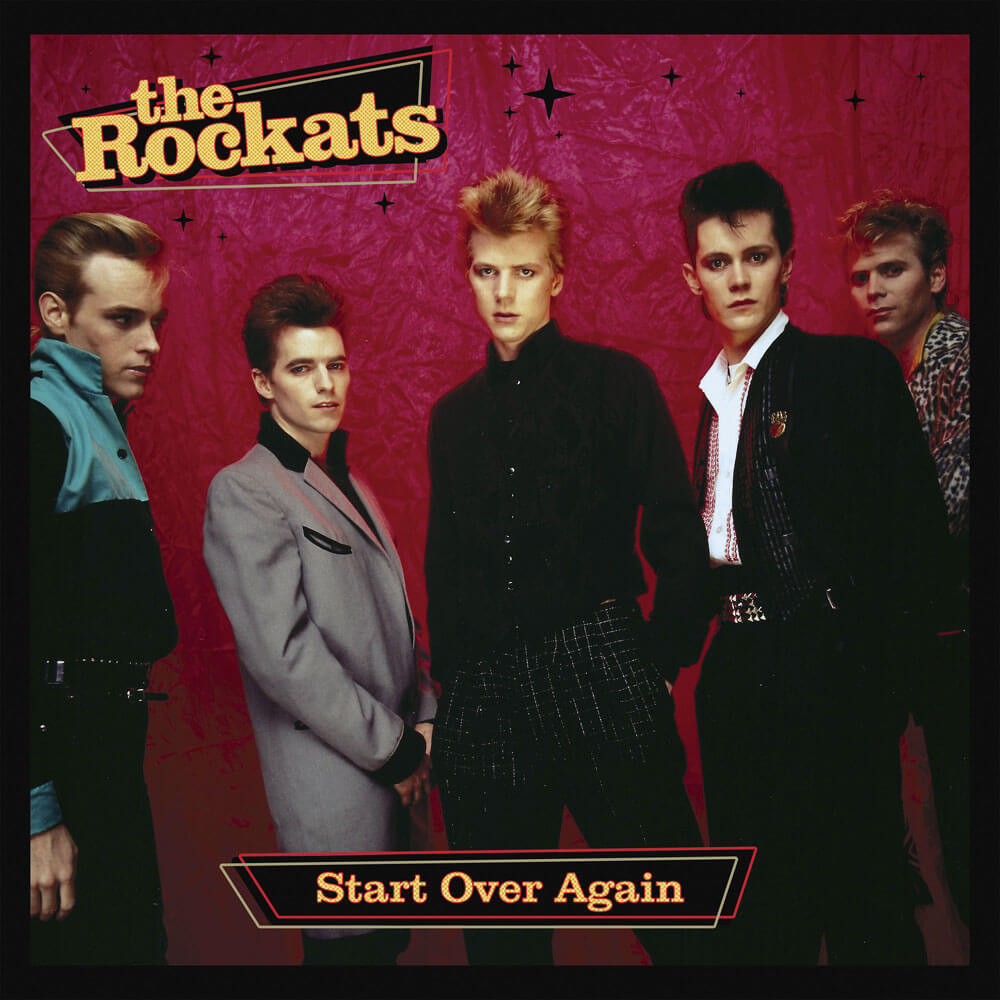 Rockats (the) – Start Over Again
Cleopatra Records CLO3052CD [2022]
Nervous Breakdown – This Is The Night – You\'re My Baby – 50 Miles From Nowhere – Rock Baby Rock (All Night Long) – Rockabilly Swamp – Start Over Again – Lucky Old Rockabilly (Walking Down The Pike) – Rock Around With Ollie Vee – Working Man – Rockabilly Doll – Tanya Jean
Good things come to those who wait, they say. The latest Rockats album (Rockin' Together) was released in 2013. Since then, there have been rumours of new recordings, but nothing has materialized. Finally, when fans were losing hope, the Rockats got together, or so to say, and recorded this fantastic new album. The recordings took place between August and November 2021. Due to the pandemic and the fact that each member lived in a different state or country, the musicians recorded their parts separately.
Start Over Again contains ten new tracks and a remastered version of their single from 1980. Each member of every classic Rockats line-up is present—Dibbs, Barry, Smutty and Danny, of course, but also Mike Osborn and Lewis King. Tim Scott and Tony Darnell can be heard with the reissue of the single, and Jerry Nolan's spirit floats on the album with the new version of Start Over Again, a song he co-wrote. A picture shot by Mike Rock, who took some of the band's best photos and sadly passed away in 2021, is used for the cover. Clem Burke, of Blondie's fame, completes the line-up.
It's an excellent album containing new songs, covers (Cochran's Nervous Breakdown, Buddy Holly's Rock Around With Ollie Vee, Bob Luman's This Is The Night and Roy Orbison's You're My Baby) and re-recordings of songs that first appeared on the Live At the Ritz album. The sound and the production are perfect, and special credit must be given to Danny Harvey for this. It's a powerful Rock'n'Roll album with a singer on top and two guitars that trade hot and inventive solos one after another.
Most of all, they managed to give a breath of fresh air to these well-known covers. Once given the Rockats treatment and become Rockats songs.
With Brian Setzer's recent stuff (Gotta Have the Rumble), Start Over Again is the best thing modern Rockabilly can provide. Maybe we had to wait for nearly a decade, but it was worth every minute.
Available on vinyl and digipack.
---
The Rockats – Rockin' Together
Lanark [2013]
Why The Doubt – Rockin' Together – Bad Love – Road To Hell – Kitten With a Whip – Old Hickory Road – Pink and Black Cadillac – Reckless – Red Headed Rockin' Gal – Sweet Sweet Charlotte – Tear The Roof Off – Why Do You Love Me
For many young Rockabilly fans who, like me, discovered this music in the 80's, Levi & the Rockats' Live At the Louisiana Hayride and the Rockats' Live at the Ritz were almost as important the Stray Cats debut album for their rockin' education. They influenced countless bands (including a certain trio from Masapequa) and still continue today. So what was my surprise when I heard that after a 10 year hiatus the Rockats were back with a brand new studio album. Not a best-of, not a live, but 12 brand new sparkling songs written by the band (and their producer Quentin Jones who made a terrific job). And believe me cats, you should hide your kittens for this boys are still full of energy and they claws are sharper than ever.
Rockin' Together kicks off with The Doubt a superb modern rockabilly that sets the pace of the album: Dibbs' vocal on top, solid guitars and rhythm section and top notch production. The title tracks lives to its name. Why Do You Love Me (If I Don't Treat You Right) is a superb modern number that a strong commercial appeal without selling itself. Next is The Road to Hell a pure Rockabilly with an Elvis feel and featuring what Brian Setzer calls in his liner notes "the twin rockabilly guitar attack" of Barry Ryan and Danny Harvey.
Another highlight for the guitars is the surf tinged instrumental Kitten with a Whip penned by drummer Mike Osborn. With the next tune, they prove to be more than able on the honky tonk side with Olde Hickory Road featuring harmony vocal, piano and pedal steel effect on the guitar. They definitely should do more like this (actually you should try Dibbs' solo album for more in that style). By comparison, Red Headed Rockin' Gal is more on the blues side completed by finger snaps for that late 50's rock'n'roll feel. You can find the same feel in Sweet Sweet Charlotte a rockaballad with echo not far from Gene Vincent.
Then the album ends with a string of three rockers. Starting with Tear the Roof Off (very appropriate name), going harder with Bad Love (not that far from a rockin' Morrissey) and climaxing with the hot rocker Reckless Rebel again featuring strong guitar parts.
As a result, this is a great album and one thing is certain: the Rockats will continue to inspire many more bands!
More infos at www.lanarkrecords.net
---
The Rockats – Plays Elvis
Heartbreak Hotel – Baby Let's Play House – Blue Moon – Good Rockin' Tonight
This four-track mini cd was a Japan bonus sold with Downtown Saturday Night. I don't think it was available separately.
The title says it all, what you'll find are four Elvis Presley covers. Being the excellent singer he is, Dibbs has no problem to revisit the King's repertoire.
Barry Ryan plays two hot and bluesy solos on Heartbreak Hotel (which also, like the original, features a piano.) Back to straight Rockabilly with Baby Let's Play House. Though they remain respectful to the originals, the band bends the songs to make them fit in their style. This is by no mean a sterile act of recreation.
The highlight of this EP is the cover of Blue Moon. The band had an excellent idea to blend the melody with Sleepwalk. The result gives a very atmospheric mood, almost like a dream while Preston flies over this version with class and elegance only attained by Chris Isaak (and Elvis) before him.
The closing number is a smoking rendition of Good Rockin' Tonight.
Though it's not easy to find, it definitely worths the hunt.
---
Rockats (the) – Make That Move
RCA [1983]
Burning – One More Heartache – That's the Way – Go Cat Wild – Never So Clever – Make That Move – Be Bop A Lula – Woman's Wise
With Make that move the Rockats slowly departed from their neo-rockabilly sound to explore new territories. It was recorded in two sessions; the first one with Lewis King on drums for the title track and Marvin Gaye's One More Heartache and the second with new drummer Mike Osborne. Both were produced by Mike Thorne of Soft Cell's Tainted Love fame.
The result is a mix of all the things that influenced the band at the time. Never so Clever and their cover of Buzz and the Flyers Go Cat Wild are straight rockin' tunes though with a modern sound. On the other hand That's the Way (with keyboards) and One More Heartache have a strong new wave influence. And right between those two extremities you have Make That Move, a modern rocker with a catchy melody and the excellent Burnin' that wouldn't be out of place on Billy Idol's Rebel Yell.
The cd reissue contains two bonus tracks recorded for the movie Where the Boys are.
---
Rockats (the) – Live at the Ritz
Island – ILPS 9626 [1981]
Rockin' Baby – Rite Time – My Way – Go Kat Wild – (Don't Treat Me Like A Dog) Love This Kat – Start Over Again – Krazy Baby – 50 Miles From Nowhere (A 1000 Miles From Home) – (Knockin') At My Front Door – Wrong Rite Reason – Room To Rock – All Thru The Nite – I Wanna Bop
Signed to Island records, the next and natural move for the Rockats was to release a lp. After a failed attempt to capture their energy in studio, the label decided to record them in their natural environment: the stage. The result was Live at the Ritz, recorded, mixed and pressed in 48 hours. After an enthusiastic and drunken introduction by Billy Idol, the gang kicks off with Rockin' Baby, a boppin' rockabilly with fine Gallupin' guitar. With the second song, Rite Time, the doubt is no longer possible: we are in 1981 not 1956. The Rockats don't re-create, they totally make the genre their own by including elements of their era like Punk, as proved by their rendition of Cochran's My Way, covering contemporary bands like Buzz and the Flyers (Go Kat Wild) and writing their own originals (All Thru The Nite; 50 Miles From Nowhere…).
Sure, their youthful exhuberance can sometimes lead to confusion but much to the chagrin of some purists, this bravado is closer to what Gene Vincent or Billy Lee Riley should sound on stage and despite some minor flaws the full platter is a neo-rockabilly rollercoaster. Culminating with the wild Krazy Baby, it contains just a few slower numbers to let you take your breath like the torrid Love this Kat (written by Bobby and Larson Paine who later wrote stuff for Brian Setzer and Stray Cats) and the bluesy Start All Over Again, quite close to the early Rolling Stones.
Listening to this album more than 30 years later, it is impossible not to aknowledge the huge influence the Rockats had on the whole rockin' scene.
As the time of writing this it hadn't, to my knowledge, been properly reissued on cd, except maybe in Japan.
Fred "Virgil" Turgis
Read the whole Rockats story here.