Scared Stiff – Dark Streets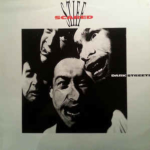 Link Records Link LP104 [1989]
Johnny Cynic – The Untouchables –My Babe – She's So Fine – Tear It Up – Dark Streets – Scared Stiff – Ghost Hunter – One More Bite – Elvis O'Leary
In late 1988 / early 1989 Chuck Flintstone contacted Dave Finnegan in order to release an album of Irish Psychobilly legends Shark Bait but the band had already split.
Finnegan hastily recruited some musicians (Ciaran Murphy on guitar, Johnnie Bonnie on drums and Willo O'Brian on bass as well as a couple of guest) to record this album containing songs from the Shark Bait catalog.
The album contains its share of very good songs, all originals being from the pen of Finnegan. From the psychobilly sound of Johnny Cynic and She's so Fine (both with wild double bass) or Ghost Hunter to the title track that sounds like what could be described as Psycho-folk. Quite different – but very good – is One More Bite featuring an accordion or the Untouchables that starts with a jazzy mood before evolving into a furious neo-rockabilly.
Next to those very good songs, their covers are totally useless and are only here to release a lp rather than a mini album.
The album also suffers from a poor production (or the absence of production should I say) and a poor mastering .
Two songs (Ghost Hunter and One More Bite) were later reissued on Long Lost Psychobilly Vol. 1 (Treasures From The Vaults Of Link Records).
Shortly after the release of the album Scared stiff disbanded and Dave Finnegan appeared in the Alan Parker's movie the Commitments before fronting his own Commitments band for a while.
Fred "Virgil" Turgis