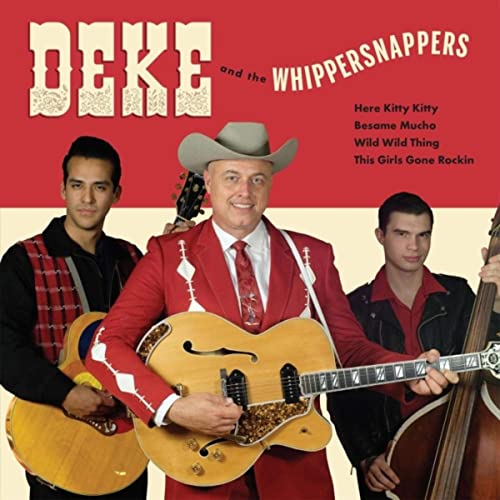 Deke and the Whippersnappers – Deke And The Whippersnappers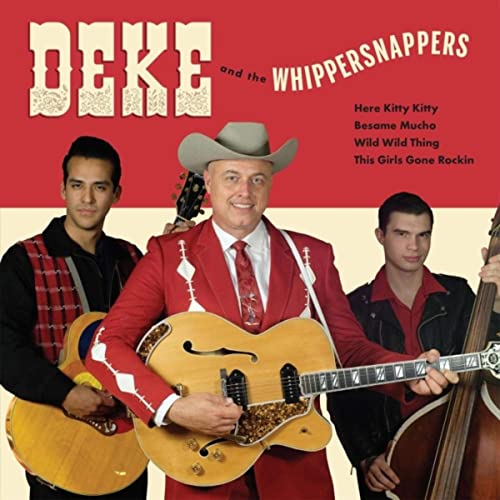 Pig Baby Records – PBR-018 [2020]
Here Kitty, Kitty – Besame Mucho – Wild Wild One – The Girls Gone Rockin'
With just two guitars and one double-bass, it's back to basic for Deke Dickerson on this new EP.
The Whippersnappers are Bert Avalos (the Moontones) on rhythm guitar and Zander Griffith (Reckless Ones) on double-bass.
They take Jimmy Murphy's Here Kitty Kitty at the same pace than the original, but they muscle it a bit, and the result is a superb Rockabilly with fine pickin' and a slap bass solo in the middle.
Besame Mucho sounds halfway between El Cumbachero and Walk Don't Run.
Wild Wild Thing, a cover of Billy Golden's 1968 Starday single, is a solid country tune with twangy guitar, tailored-made for Dickerson's voice.
Surprinsingly, the sole original comes from the pen of Avalos and Griffith. It's a frantic Rockabilly, very classic in its form but the musicianship makes the difference.
Hopefully, this line-up will soon record an album very soon.
Deke Dickerson & The Sex-Phonics – Morocco Twist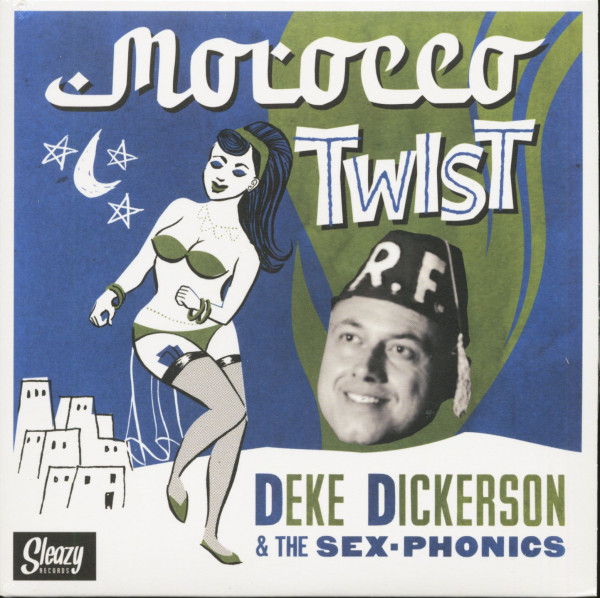 Sleazy Records – SR172 [2019]
Morocco Twist / Barefoot Blues
During one of his tours of Spain, Dickerson teamed up with a bunch of Spanish musicians to record this single.
Side A is an instrumental with twin guitars and Hammond organ. It's a surf tune with an Oriental vibe and a touch of twist.
The B-side is a Rock'n'roll number in a Chuck Berry vein with vocals.
---
Big Sandy vs. Deke Dickerson – Jesus & Gravy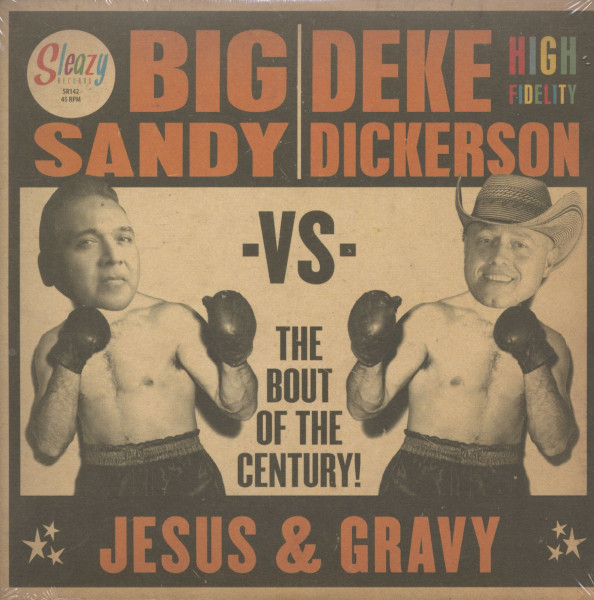 Sleazy Records SR142 [2018]
Make A Little Time For Jesus / Get The Gravy Hot
This release is a split single between Big Sandy (side A) and Deke Dickerson (side B).
Fellow Fly Right Boys Ashley Kingman and Kevin Stewart back Big Sandy, helped by Chris Sprague on drums and Ernie Vargas on tambourine. Make A Little Time For Jesus finds him, with no surprise, in full-gospel mode. The man who penned songs like Between Darkness and Dawn, Thru Dreamin', and many others, has been more inspired in the past.
You'll find the same musicians backing Deke Dickerson, but Kingman switched to 6-string bass, and Stewart plays electric-bass. The song, a cover of Shotgun Red, is an excellent country rocker that suits Deke's voice and style to a T.
---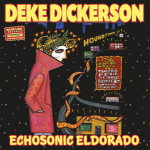 Deke Dickerson – Echosonic Eldorado
Major Label MLCD 006
Little Innocent – I'm Gettin' Your Message, Baby – Sneakin' All Around – Forbidden Love – My Baby Don't Love Me Anymore – Bop Wax – Don't That Prove I Love You – Big Guitar – My Eyes On You (with Duane Eddy) – Cut Loose – Echosonic Eldorado – Deke's Boogie Blues – 40th & Plum – I've Lived A Lot In My Time
Whereas Deke's latest studio album, King Of the Whole Wide World, blended together rockabilly, western swing, rock'n'roll, country soul, honky tonk and more, Deke Dickerson's Echosonic Eldorado stays within the boundaries of rock'n'roll and rockabilly.
One can hear the influences of Johnny Burnette (Little Innocent), Gene Vincent (Bop Wax sounds like a mix between Bop Street and Crazy Legs) and a lot of Sun sound, helped on that by guest pianist Carl Sonny Leynand in full Jerry Lee Lewis mode. Another Sun connection is the presence of Scotty Moore who introduced via an answer machine the instrumental Echosonic Eldorado. The term Echosonic came from the amplifier used by Moore on the early Elvis recordings and that's no surprise to find Moore inspired riffs in that instrumental but with the Dickerson's touch. Another guest is none other than Duane Eddy who lays his instantly identifiable twangy guitar on "My Eyes On You". With lyrics like "I got a shiny Cadillac car, I got Duane Eddy on guitar" I can easily imagine the smile upon Dickerson's face during the session. Another highlight is Deke's Boogie Blues, close to Frogman Henry's Ain't Got No Home. As usual with Dickerson, the vocal is, throughout the album, perfect and no need to say that the guitar is hot. Beside the already mentionned Carl Sonny Leyland and in addition to Dickerson on guitar, bass and some piano, Chrsi Sprague sings some backing and harmony vocals and Crazy Joe completes the line-up on drums.
Needless to say that you must have it.
---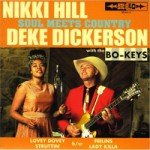 Deke Dickerson – Soul Meets Country
Major Label Records MLCD-007 [2013]
Lovey Dovey – Feelins – Struttin' – Lady Killa
Hot off the press here comes Deke Dickerson's newest ep, available on both cd and vinyl format (downloads available too). If you liked his previous single cut in Memphis with the Bo-Keys, no doubt that you will LOVE this one. Not only Deke Dickerson reunited with the Bo-Keys for four sides of juicy Memphis soul but he also had the good idea to team with rock'n'roll and rhythm'n' blues diva Nikki Hill. Side A features two Hill-Dickerson duets, Otis Redding and Carla Thomas' Lovey Dovey and Conway Twitty and Loretta Lynn's Feelins. Country meets Soul or what? Side B contains Struttin' sung by Nikki Hill alone and a new country funk version (with Wah-wah) of Deke's Lady Killin' Papa named here Lady Killa. Superb.
www.dekedickerson.com/shopping/merch3.php
---
Deke Dickerson and the Bo-Keys – Country Meets Soul

Love man / hello Darlin'
Major Label ML45-1
Country soul anyone? Deke recorded this new single with the mighty Bo-Keys and featuring the no less talented Joel Paterson on pedal steel guitar. The result is a killer double A sides (Otis Redding's Love Man and Conway Twitty's Hello Darlin') sounding like a mix between a 60's country band with a bit of Charlie Rich in it and backed by the Mar-Keys or Booker T. Beautiful 180gr sleeve too.
---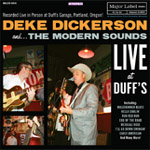 Deke Dickerson – Live At Duff
Intro and Mexicali Rose – Snatch It and Grab It – Early American – Run Red Run – I'm a Lover Not a Fighter – Ain't No Grave Deep Enough – Good Time Gal – Misshapen Hillbilly Gal – I'll Go Down Swingin' – Honky Tonk Nighttime Man- Make Way for a Better Man – End of the Road – Lover Come Back to Me – Hello Darlin'- I Never Cared for You – Muleskinner Blues – El Cumbanchero
Live albums are pretty rare on the "reviva" rockin' scene. I don't know why , maybe the reason is that it gets tough to release albums nowadays and artists want to concentrate on studio stuff, or because some of them, touring a lot, want to propose something different on wax.
Anyway, Deke's latest output is a live album. And not only this stands as one of the best live album I've heard, it could possibly be Deke's best album. Nothing less.
It was recorded when Dickerson was on tour with the excellent Chicago combo The Modern Sounds (they now have a couple of cd of their own and one backing Eddie Clendening – all excellent check them out!). The Modern Sounds are guitar wizard Joel Paterson who also plays steel and harp, slap bassist Beau Sample and drummer extraordinaire Alex Hall who doubles on piano too.
Dickerson and band play a storming set of rockabilly/rock'n'roll (Jerry Lee's End of the Road features Hall on piano and Dickerson giving his best Jimmy Van Eaton impersonation). He also takes good advantage of Paterson's skills on steel guitar to delve further into country and western sounds whether it's classic honky tonk (Porter Wagoner's I'll Go Down Swingin', Conway Twitty's Hello Darlin), western swing (Misshapen Hillbilly Gal) or Willie Nelson (Nelson is a genre of its own).
There's also two instrumentals, Deke's El Cumbachero and Joe Maphis and Larry Collins' Early American (with a second guitarist like Paterson it must be hard to resist I guess)
But this album has more to offer. Dickerson once joked – it was on West Coast Ramble I guess – that he was "the whitest man in show-business. Whenever I try to sound like Louis Jordan I end up sounding like Bill Haley". Of couse it's wrong but the Modern Sounds allow him to explore style he rarely ventured in. It was a total blast to hear him play Lazy Lester's I'm A Lover Not A Fighter (with Paterson on harmonica) but most of all he felt confident enough to sing a classic jazz tune like « Lover Come Back to Me », seriously and not as a joke. And he's right cause he never sounded that well as a singer.
It's a joint release from Deke's Major Label and Paterson's Ventrella and like all Ventrella albums it's superbly designed and comes in a beautiful digipack.
---

Deke Dickerson – King of the Whole Wide World
Major Label Records MLCD-003
King of the Whole Wide World (introduction) – Deep River – I Can't Wait To See You (Go) – Misshapen Hillbilly Gal – Put Me Down – Boone County Blues – Make Way for a Better Man – Itchin' for My Baby – Do You Think of Me – Fool's Gold – Trumpet – Early for the Bell – Bomb Shelter (for My Heart) – Double-Clutchin'- King of the Whole Wide World (reprise)
When you think about it, there are only a couple of things that never deceive you . Deke Dickerson's ability to craft some of the best roots inspired albums is one of these things. But that doesn't mean he's predictable, far from that.
Gathering an impressive cast of musicians (as he says himself it could have been called "with a little help from my friends") like Crazy Joe, Jimmy Sutton, Pete Curry and his partner in crime Chris Sugarballs Sprague, Deke (who plays guitar, bass, drums, baritone sax in addition to his fine singing) adds to a discography that is already faultless one of the richest album of his career and probably my favorite (if you're interested). He offers a musical journey into american music proving that the label "rockabilly" is by far too restrictive for such an amount of talent.
The title track features just Deke and his guitar in a Jimmie Rodger's mood with 78's crackle for good effect. It then kicks off with "Deep River" (an old bluegrass number turned into a straight ahead rock'n'roll) and Dickerson's "I can't wait to see you go" featuring the great Carl Sonny Leyland on piano in a Jerry Lee's mood. Carl also plays on Lewis' "Put Me Down", "Bomb Shelter (For My Heart)" another fine country-rocker, "Trumpet" a Malcom Yelvington cover and "Early For The Bell" a song that'll make every King Cole Trio or Slim Gaillard afficionados happy. Talking about swing, The Lucky Stars (with Crazy Joe) back up Deke on the hilarious western swing number "Misshapen Hillbilly Gal" which is a reason good enough to buy this album.
Mitch Polzak (from the Royal Deuces) guests on banjo for the bluegrass inspired "Boone County Blues", with top class harmony vocals. Man, as I write this, I realize that I'll soon run out of superlative anyway, let's continue. "Make Way For A Better Man" is a Wille Nelson song, but Dickerson adds a heavy dose of soul in it and turns it into a Charlie Rich tune. The basic track of the Honky Tonk "Do You Think Of Me" was recorded in Austin with Dave Biller, Billy Horton and Lisa Pankratz. The always talented Crazy Joe plays a mean 6-string bass solo on this one and to complete this masterpiece Mary Huff from Southern Culture On The Skids adds "ethereal high vocals" (like she did on "Rumors Of Surf"). The album ends with "Double Clutchin'", an instrumental co-written with Crazy Joe (think Les Paul meets Joe Maphis) and a reprise of "King Of the Whole Wide World".
Now you've understood that this is an absolute "must have" and your next click will lead you to Deke's website to order it.
---

Deke Dickerson – Deke Down Under !
My Baby Don't Love Me Anymore – Cut Loose – Eefin' Rock – Hey Worm
Deke is back with this EP with both the cd and the vinyl version. It has been recorded in Australia in 2004, while Deke was on tour there, at the legendary Preston Studios. Preston provided great rockabilly and blues on their label (remember the "Aussiebilly" comp on Nervous or more recently Benny & The Fly-By Niters). Back to the record now. The sound and the variety of songs (even if there are only 4) are not that far from "The Melody". The opening is a Johnny Paycheck tune but is given a rock'n'roll treatment with a good piano drive played by Deke himself. You can easily imagine Jerry Lee playing it like this. "Cut Loose" is a good rockin' song, with frantic piano and savage guitar and probably one of the wildest tune Dickerson recorded under his name. With a name like "Eefin' Rock" you know what to expect from this song. Imagine some Link Wray instrumental with handclaps and right in the middle "eefin". Little Jimmy Dickens's Hey Worm closes the set. His version is more western swing and less rural than the original. Great guitar solos supported by a swingin' rhythm section. This one should be in every collection, but hurry folks it's a limited print of 1000. You'll find it on Deke's website (www.dekedickerson.com).
---

Deke Dickerson – The Melody
Major Label MLCD-002
Broken Heart – Good Time Gal – Right or Wrong – Looks Like I'm in Trouble Again – As Long as I Live – Safely In Love – Love Is Like a Song – Someone Used to Love Me – Mister Cheater – Waitin' on My Baby – Give Me All Your Love – Tell Me How – Double Naught Spy – Lookin' for Money – I Never Cared for You
Here's the new record from this very prolific and multi talented guy. Deke has now a bunch of records behind his belt but this is really the first to give me that feeling : a real album (you see, in the 60's meaning of the term) more than a collection of singles. It doesn't mean all the songs sound the same. Deke is too talented to stick on one style. So you'll find some rockabilly (The moonlighters's Broken heart, Buddy Holly's Tell me How), country music with Good Time Gal and Willie Nelson's I never cared for you (I've always thought that Willie Nelson was like the Rolling Stones : far better when they were covered by other artists), a great instrumental that could be the original score for a B-movie. You also find a lot of Roy orbison inspiration behind songs like Mister Cheater and Safely in Love. And this shows what a good singer Deke is. We all know he's a great guitar player, but now he seems to do what he wants with his voice. Musicians don't have to be forgotten too : Chris Sprague on drums (The Sprague Brothers) and Jimmy Sutton (Four Charms) on bass (acoustic and electric) with appearances by Carl Leyland (who else?) and Dave Berzansky (Hacienda brothers). In the liner notes you can read «This album is a concept album». Sure, but Deke always makes concept album, and the concept is always the same: quality.
---

Deke Dickerson – Live on the Radio
Well, this one is a very limited edition as it seems that only 50 copies were made and you only found it on Deke's website. Too bad that it hasn't a bigger distrisbution cause it's really a must have. First the band : the Ecco-fonics here are Chris «Sugarballs» Sprague (from The Sprague Brothers) on drums and some vocals and Wally Hersom (do I need to introduce him?) on bass. Then the songs. Apart those that are almost classics in Deke's repertoire (Red Headed Woman, I might not come home at all, Mexicalli Rose) you find Dave and Deke Combo songs (Tally Ho, Chrome Dome) and what makes this record valuable : covers not on records (All I can do is cry, flight on the bumble bee twist, Stray Cats Strut played like Louis Armstrong) and songs that will be on Deke next album. And believe me, if the other songs are like the ones you find here, it's gonna be a killer ! They play all those great tunes in a semi-unplugged sound (it's live on the radio) and the whole show comes with ads between the songs and you have a great interview to end.Try Deke's website at www.dekedickerson.com, maybe he still have a spare copy, cause if you haven't heard Sugarball's campaign song, you haven't heard nothing.
---

Deke Dickerson – In 3 Dimensions
Major Label MLCD 001
I Might Not Come Home At All ~ Top Of The Line ~ Ain't Got A Reason ~ I Get So Lonely ~ Sittin' And Thinkin' ~ Wear Out The Soles Of My Shoes ~ Take The Long Way Home ~ It Would Be A Doggone Lie ~ Let's Go Wild Tonight ~ Bitter Tears ~ You've Been Honky Tonkin' ~ Too Hot Too Handle ~ Knoxville Boogie ~ Gambler's Guitar ~ Pinball Boogie ~ Gentlemen Prefer Blondes ~ I'm Gonna Live Some Before I Die.
This is Deke's fourth album and the first on which he's not backed by the Ecco-Fonics, whoever they can be. As the title says, Deke cut himself in three, playing three different styles with three different bands: Rock'n'roll, Rockabilly and Western Swing.
The Rock'n'roll part is the occasion to hear the swing of veteran Earl Palmer (Little Richard, Ritchie Valens, Eddie Cochran, Willie Nelson and so many others) on drums. He really adds something else to the tune. Bust most of all, what hits you is Deke's voice. Album after album his voice has matured and he proves he's a subtle and classy singer with Charlie Rich's Sittin and Thinkin. The rockabilly segment follows with 5 songs. It's the more predictable part but contains the excellent Wear Out the Sole Of My Shoes and Bitter Tears closes the set on a high note. For the last part, "Hillbilly Deke", Dickerson gathered the super hillbilly band with no less than Dave Biller (guitar), Jeremy Wakefield (steel), Bobby Trimble (drums) and Billy Horton (double bass). It's a festival of swing, guitar and steel (Pinball Boogie), always sung with taste (Gentlemen Prefer Blondes) and Bob Wills' Fat Boy Rag as hidden track.
Deke Dickeson in 3 Dimensions means three times more of pleasure.