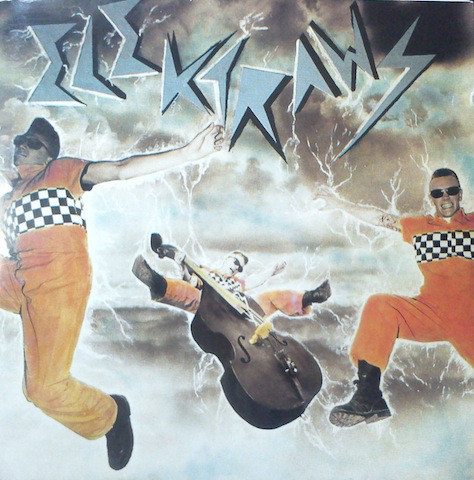 Elektraws – Shock Rock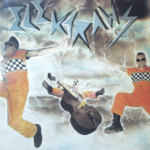 Nervous records NERCD083 [1996]
Lost In A Time Vortex – Raving Mad – Elektones – Heartless Man – Fist Fight – Mad Man – Get Tattooed – I`m Gone – Let`s Cry Out – Delirious – Hell`s Bent On Rockin' – Gallows Birds – Thurdering Love – Shock Rock – Lost In A Time Vortex (#2)
French Psychobilly band the Elektraws first started as a Rockabilly band under the name of the Bobkatz in 1991. They recorded some demos with covers of 50's classics like Something Else, Rockhouse, Long Blond Hair but also tunes like Gary Glitter's Rock On which was also recorded by the Happy Drivers on War.
Around 1993/1994 they decided to change their sound and morphed into a psychobilly band called the Elektraws. From the beginning, the line-up remained steady: Nicolas Hervier on double bass and vocals, his brother François on drums and Georges Defretiere on guitar.
The Elektraws first appeared on the compilation album "Banana Juice Kongpilation." They then sent a demo tape to Roy Williams of Nervous records and the result was not only an appearance at the Big Rumble but also a record deal with Nervous. In October 1995 they recorded their debut album "Shock Rock" with Alan Wilson (of Sharks fame) engineering and producing.
In a period (the mid-nineties) when more and more bands were adding metal elements to their psychobilly (Nekromantix, Krewmen…) the sound of the Elektraws was quite refreshing. One could hear the influence of Frenzy (both versions of Lost in a Time Vortex could easily figure on Hall of Mirrors), early Meteors, Sharks and they Ricochets (both bands cover Jimy Wages Mad Man.) On Elektones, an instrumental tune, one could also hear a bit of surf. But the most obvious influence of all, both musically and vocally, is the one of Batmobile.
Of course, the album is not flawless. The main problem being the drums that are not always in place. But it's only on a couple of songs and the whole album remains a very enjoying experience.
In 1996 they recorded songs for a possible second album with a more agressive sound but split soon after. These recordings can be heard on "Alive" on Klub 333 label.
Nicolas went on to join the Hellbats. Sadly in 2006, he was shot in the street after a fight and died.
The Radioactive Kid