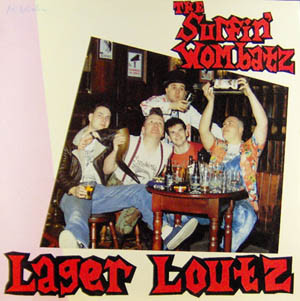 The Surfin' Wombatz – Lager Loutz
Nervous Records – NERD 045 [1989]
Take the Money and Run – Bad Company Blues – Down the Line – Manhunt – The Sound – I Hear the Pounding of My Heart – Dick Turpin – Welcome to the Nightmare – Trapped in My Bottle of Beer – Norman – Moving Down the Street – No More – Wild Man – Make Your Name Count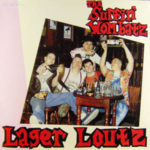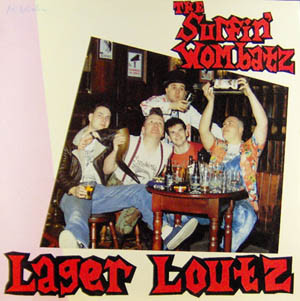 The Surfin Wombatz were formed around 1987. In 1988, they appeared on the Zorch Factor 3 compilation with the excellent I Hear The Pounding Of My Heart. They can also be heard on the compilation I Ain't Lonely No More (Fury Records) with Wild Man, another good track.
In February 1989, the group recorded their first album for Nervous Records titled "Lager Loutz". The band's name and the album's title say it all: the Surfin' Wombatz are a pleasant group, here for having some fun and probably the beer.
They play a traditional Psychobilly, that is to say, with a light guitar (even a little under-mixed at times) and a very present rhythm section. They clearly don't have the ambition to revolutionize the genre, and their Psychobilly, tinged with skiffle at times thanks to the presence of a washboard, is rather enjoyable… up to a certain point. Over the length of the album (fourteen tracks!), the group shows its limits. The singer's voice using always the same mannerisms ends up getting boring, and the compositions lack originality, and all sound a bit similar. The presence of Trapped In My Bottle Of Beer, sung by the guitarist, offers a welcome variation in an album that is a bit monotonous over the long haul. In the end, the Surfin' Wombatz are more of a compilation group, or perhaps they should have, like many bands of this era, released a mini-album more focused on their qualities.
The Radioactive Kid