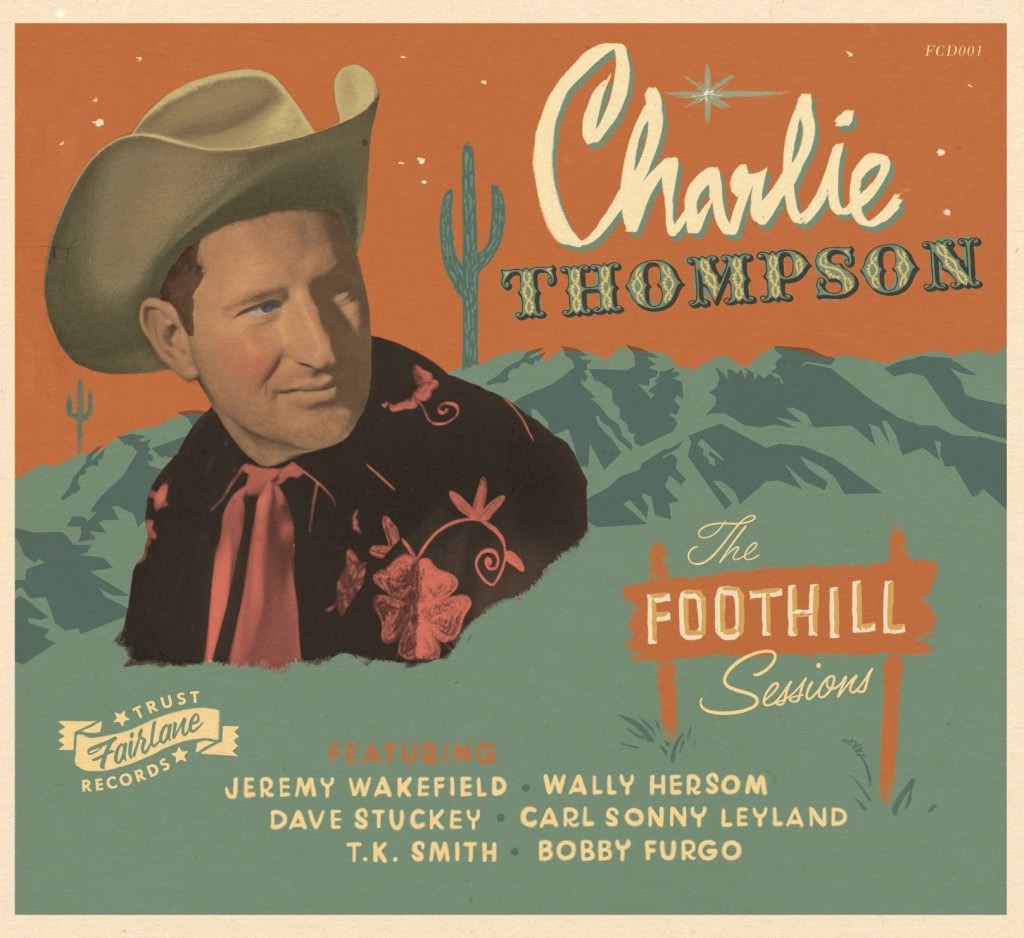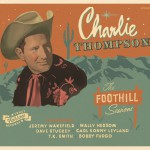 Charlie Thompson – The Foothill Sessions
Fairlane Records FCD001 [2015]
Going Like Wildfire – The Automobile Song – A Blue Million Tears – Boogie Blues – We're Buggin' Out – I Don't Care – Let Me Love You Just A Little – So Long – You Tried to Ruin My Name – Ain't Never Gonna Get Married Again – (We've Reached) The Beginning Of the End – I Miss You Already
Beautiful as a Faron Young ep on Capitol (perfectly designed by Chris Wilkinson of the Bonneville Barons and the Zazou Cowboys), here comes Charlie Thompson's latest output. I believed this one had been recorded a while ago as I heard of these sessions from years now (which makes me feel less guilty for my belated review). It's also a proof that Charlie didn't want to release it until he finds it perfect and boy, IT IS PERFECT.
Helped by what could be best described as a dream team of musicians (Jeremy Wakefield on steel, Wally Hersom on bass, Dave Stuckey on rhythm guitar, drums and harmony, Carl Sonny Leyland on piano, TK Smith on guitar and Bobby Furgo on fiddle) and recorded by Wally Hersom at his Wallyphonic studio this platter not only looks but also sounds as if it came straight from the 50's, a period when country music and honky tonky tonk still meant something.
To put it frankly, this is the best album of traditional country music I've heard in ages. Actually I can't even remember having heard such a good mid-50's honky tonk album played by a modern artist before. The songs choice (coming from the catalogues of Luke McDaniel, Carl Peterson, Webb Pierce, Jim Reeves, Moon Mullican, Pee Wee King and so on) is also very good mixing slow numbers with more rollicking and swinging stuff (it must be hard to resist with a band like this). And of course there's Charlie's voice, sounding like Faron Young, Dave Rich and Marty Robbins all rolled into one but in the same time sounding like none other than Charlie Thompson.
If by now you are not taken by a compelling need to buy it, we both have a problem: me as a reviewer and you with your musical tastes.
Fred "Virgil" Turgis