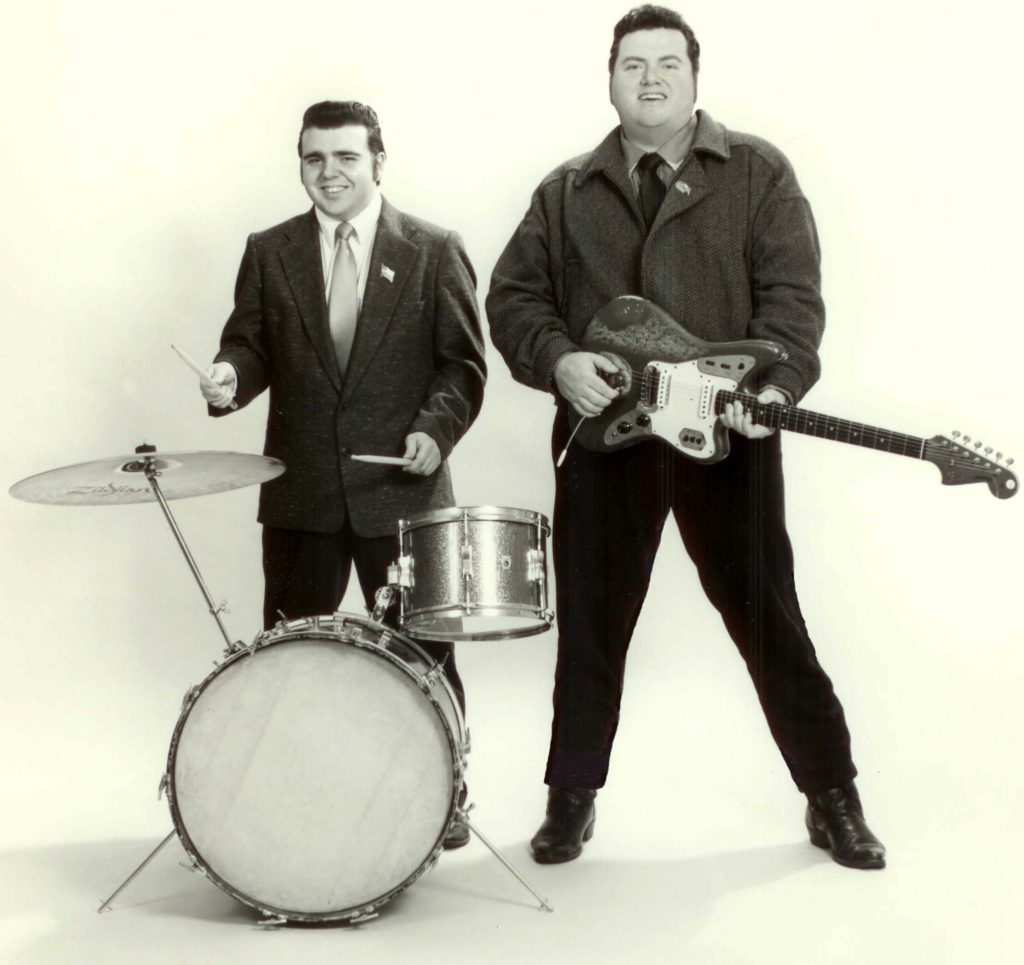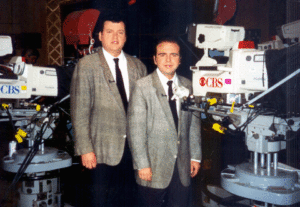 The Sprague Brothers
The Sprague Brothers, Frank and Chris caught my attention a few years ago while I was browsing the catalog of Hightone records. Remember it was a time when Hightone had artists like Dave Stuckey, Deke Dickerson, Big Sandy, Kim Lenz, The Hot Club Of Cowtown… anything a decent fan of today's rockin music (or whatever you want to call it) could dream of. Their references (Buddy Holly, Bobby Fuller, The Everly Brothers), their guests (Deke Dickerson, Eddie Angel, Jeremy Wakefield and Randy Fuller) and, let's admit it, the cover of "Let The Chicks Fall Where They May" decided me to order this album and the second one as well. I enjoyed these albums from start to finish. It could have stopped here as I hadn't heard of new release and the only thing I knew was about Chris who was playing drums with Deke Dickerson. So I thought the band was on hiatus. But one day I made a quick search on the internet to discover not only they were still active but never really stopped, having released a bunch of album on their own Essbee label.
And then everything went fast, new stuff was coming from The Sprague Brothers, El Toro reissued the Essbee albums, Chris started a trucking band and Frank was recording merseybeat albums, not to forget his piano quartet, concerto and symphonic poem. Man, for a band I thought on hiatus, that was a lot !
Their career is so vast and their styles so varied, I quickly realised I couldn't do a short interview without forgetting an aspect of their work. The result is this lenghty, in depth interview and I'll never thank Chris and Frank enough for their time.
by Fred "Virgil" Turgis
I'd like to start, Frank, with maybe a lesser known fact to our readers: you play and compose classical music and have some records out in that genre. Do you have a "classical training" per se?
Frank-Thanks Fred. Well, I actually have studied music throughout my life. I was always checking out books at the library and also reading scores. I am self taught. I never had the thought of there being a difference between classical and other music; a "G" chord is still a "G" chord in classical or pop. Being well acquainted with music though has made me aware of the amount of work that goes into something like a string quartet (around 3 weeks for me) or a symphony (around 3 months for me) while a song takes me a few minutes to write. It's comparable to an architect designing a structure that is considered a work of art and a fella building a patio roof on his house on the weekend; there's just a lot more knowledge about art, form, and techniques required to compose what you call classical music. Hopefully the composer would have some talent to go along with his knowledge, but unfortunately that is often not the case. I hate any music that is made without God given talent. It's easy to recognize and a waste of the listener's time.
I believe your mother had a huge influence on your "classical side."
Frank-Having her records around was great! I used to play those Borodin and Tchaikovsky albums on my little record player along with others like Johnny Cash, Buck Owens, Frank Sinatra, and eventually all the rock'n'roll records she started collecting when my dad eased up a bit. He hated a lot of the rock'n'roll because he was a big band trumpet player. But I think that I was exposed to an incredible amount of music in all the different styles. Like I said; I didn't really differentiate between "Monster Mash" and "Swan Lake." I could enjoy listening to any music that was sincere and not contrived. Our mom is the same way. She listens to a lot of different music.
You said that the first thing that turned you into playing guitar was Dick Dale…
Frank– Yeah! I used to go down to the movies in Garland, Texas in 1963 with just a quarter (the admission was 15 cents so that left a dime for a red sucker) and they started having the "Beach" movies with Frankie & Annette. The first one I saw was Beach Party and although I was already heavily into all music including rock'n'roll (and I was also skateboarding on a metal wheels skateboard) I flipped out when I saw Dick Dale playing and singing in that film! I started asking for a guitar for Christmas and did get one (a Teisco with 3 pickups. It was red.) and I went down to Gibson's department store and got a "007" amp. It had the holes where you plug in the guitar cable inside the "zeros" in "007"! Very cool. I eventually started playing all the surf stuff, as well as classical guitar, flamenco, jazz, and of course every style of rock'n'roll, etc, etc.
What about you Chris, what turned you into music?
Chris– Well, I've been into music as long as I can remember. My father was a musician; my mother had a nice record collection, as well as Frank. So between all of them I've been listening to music my whole life. Frank started teaching me guitar when I was about 5 years old. So I guess growing up with music in the house since I was a child had a major part for getting into music.
Who's the older of you and did the older turn the younger into new records, like "Don't listen to that, you should better listen to that!" as they often do…
Frank– I'm actually the middle brother. We have an older brother Billy, and Chris is the youngest. I was always the one into music although our older brother did play drums for a while. I started playing Hank Williams and Johnny Cash albums for my little brother while he was still in his crib. I taught him the words to various songs when he was old enough to talk. And when I started teaching him guitar at age 5 we began learning my originals and also a lot of different songs by the Beatles and others. We first appeared in public together at his school's talent contest (he was in 2nd grade) in 1975. We did "Rock Around the Clock" with both of us on guitar but with Chris singing. For the next 10 years we practiced and wrote songs together. (I was always trying to get him to start writing songs.) Then in 1985 Chris switched to drums as his serious instrument and the rest is history. We started appearing for family and friends here and there until our first major tour in 1989.
Chris-We both liked the same style of music. Early on in my childhood Frank had a lot of rock and roll records that I listened to. I remember at a young age hating the radio (in the 70's) because of the disco songs they were playing, so I just stuck to music from the early 60's and before. I think these days we both hear old records and say to the other, "Here, listen to this!"
Are there any other members of your family into playing music?
Frank-Our mom plays organ and sings, our Dad is a professional trumpet player to this day, and our older brother plays drums and guitar. We have several relatives that are musical.
I've also seen you were related to Buddy Holly
Frank-Yes, on our mom's side of the family. The last "Holley" that we were close to was our Granny.
You're from Texas, as are many "key" artists" in American music history. Do you think it affects in one way or another your song writing style?
Chris– Well, I think we both grew up listening to Buddy Holly, Bobby Fuller, George Jones, Buck Owens etc. So yes, I think Texas music has definitely influenced our song writing.
Frank-Absolutely. I picked cotton before I was old enough for school and also went bow huntin' with my uncles. The way a person is brought up and the environment they are in has a definite effect on the music they make. I developed my musical style while growing up in Garland and Wichita Falls seeing the various musical acts there which were mostly rock'n'roll. I think being from West Texas gives our music its own personality and style.
Back to your classical background, does it help you when it comes to write "pop" or "rock" songs? I think about unusual chords, progressions etc.? I also think about the use of strings on "Little Star"…
Frank– Well, I never start out to write a classical piece or a pop song; it just comes out as it is. I don't like fake music so I don't force my writing. Love it or hate it, it is natural. I like to think of my music as pure. Whether it is classical or pop I write down the chord progressions and melodies as I feel them. I think that one of the main characteristics of my own style is not only the chord progressions but the effortless modulations from key to key.
And could the reverse be true?
Frank-I suppose that rock and country music finds its way into serious composition now and again. But I don't make a conscious effort to do that.
Chris you're mostly known as a drummer but you can play guitar, steel, and bass (I suppose I forgot some)…
Chris– I love to play classical piano as well.
Let's talk about the Sprague Brothers' latest release, "Changing the World…" You have some prestigious guests on it, namely Randy Fuller and Edan Everly. How did you meet and end up working with them?
Frank-We've known Randy for a long time. We did a tribute to the Bobby Fuller Four in 1996 in Hollywood and Randy came down with Bobby's drummer DeWayne Quirico and they sat in on "I Fought the Law." Randy also played with us on our 1st Hightone release Let the Chicks Fall Where They May in 1999. Edan played with us at a bunch of our shows in 1997 and is a good friend as well. He has a fantastic voice like his dad Don Everly. We're lucky to have very talented people like Randy and Edan as friends.
Did you have the chance and the time to talk about Bobby with Randy during the sessions?
Frank-Randy is a Texas boy like us so we've hung out with him many times and had those 'Texas' type of talks. He's shown us Bobby's Fender Stratocaster and a lot of things that are amazing. He is getting his memoirs together and currently writing an autobiography.
Some of the Sprague Brothers albums are recorded with a band (Let the Chicks Fall, Changing the World…) and some others are recorded with you playing all the instruments. Does it change your approach of the songs and which way do you prefer?
Frank-Nope. The way we originally played was just guitar and drums. That's the way we toured for a decade. We were inspired by Buddy Holly playin' with just Jerry Allison. So when we do a basic track for a song it's usually just me and Chris. Whether we prefer to record a track live with all the musicians or not would depend on the song. Our latest record Changing the World, One Chick at a Time has a track on it called "Wichita Falls Rag" that we recorded live with Deke on rhythm guitar and Jeremy Wakefield on steel and Shorty on Bass.
Chris– I don't think it changes the approach to the song. I really don't prefer one instrument to the other. It's whatever the song calls for.
Now the Sprague Brothers' albums are on your own labels, Wichita Falls and EssBee (with the exception of the best-of on El Toro). Does it give you more freedom? How were your relations with Hightone? Did they try to participate in the creative process?
Frank-We've always maintained our freedom with our music. As the producer I insist on it. Hightone gave some helpful hints that we considered but there was no one that had a better idea on how to do our music than we did. One funny thing; Hightone turned down our original photo for the cover of Let the Chicks Fall Where They May so we used it for our new LP Changing the World, One Chick at a Time! Ha ha.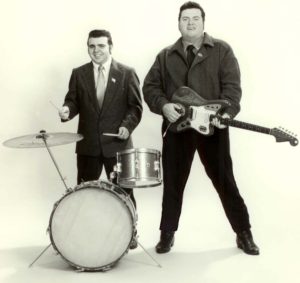 Do you know when the volume 2 is scheduled for?
Frank-It will be released in January 2007 and will feature a lot of songs written by Chris. We will eventually release as many volumes as necessary to cover the main songs that were on the EssBee releases. I don't know if El Toro will release the volumes after Volume 2 this January. The releases from Volume 3 onward would probably be on Wichita Falls Records because we only signed a deal for two releases from El Toro. But we appreciate Carlos and his label doing such a great job on Volumes 1 and 2! We're looking forward to meeting Carlos at the Green Bay Festival that we are playing in May 2007.
When you cover a song with the Sprague Brothers, they are rarely played like the original and you like to mix styles. A Johnny Horton song is played Everly style, Krupa's "Drum Boogie" has a Bill Haley feel and "Harlem Nocturne" is played with a Ska beat. Tell us about that…
Chris-When we record a cover song, we like to make it our own. I think in respect for the original artist, it's best to do your own version rather then just copying someone else's original version.
Frank-The "Drum Boogie" arrangement was something I had always had in my mind since I first heard Krupa's version while listening to my dad's big band records. I knew there should be a rock'n'roll version done somehow, so as I grew up and Chris and I were big fans of Bill Haley's records, I thought of doing "Drum Boogie" like the Comets. The "Harlem Nocturne" song with a Ska beat was another one of my ideas. I learned all of the Venture's songs including their version of "Harlem Nocturne." So I just changed the key to g minor and started thinking of it with a different rhythm which was a good fit as Ska. I come up with arrangements by hearing a song differently and get the idea to do it in a different style altogether. But the implementations of my arranging ideas always come to fruition by trying them out with my brother. And he plays an important role in seeing it through. I wouldn't have been able to do "Drum Boogie" without his great drumming for instance.
It seems that every rockin' band today wants to record on vintage equipment (mics etc.). What do you think about that? How do you work on the recording level?
Chris-From a drummer's standpoint; my opinion is vintage drums just sound better!
Frank-I think that the cats who recorded all the great music that is now considered "old' always wanted the new and latest equipment. Unfortunately nowadays the new equipment is usually outdone by the old. So once in a while there will be something new that can be used, but it's rare. The most important thing is the "feel" put in the playing, writing, and singing. As we like to say; "if it ain't got soul, then it ain't rock'n'roll!"
Do you use different material whether you do a Sprague Brothers or a Merseybeat/Frank Sprague album?
Frank-We play a lot of Merseybeat songs in the Sprague Bros including originals that we both wrote. On my own Merseybeat albums it's all songs that I wrote myself so that would be the difference. Chris is playing drums on my 3rd Merseybeat LP which will be out before December 2006.
Let's talk about your musical projects out of the Sprague Brothers. Chris how did you end up playing with Deke Dickerson?
Chris– Deke has been a long time friend of both Frank and I. Deke played guitar with the Sprague Brothers back in 1996. Then he formed his own band in 1998. I started touring with him about four years ago and recorded with him on The Melody.
You've been playing with him for some time now and it seems you play a bigger part in Deke's sound than maybe other players did. Deke's latest CD, The Melody, shows some of your influences…
Chris– Well, thanks for the kind words. I had a lot of fun recording that record. Deke set out to record songs with a great melody, hence the CD title. And he asked me to write a song or two for him which I thought was a great compliment. I thought that "Give Me Your Sweet Love" turned out to be very nice. I also thought it was a great compliment Deke wanted to rerecord the Sprague Bros. song, "Right or Wrong" as well, too. I also wanted to bring a lot of harmonies to the record.
You also have that Truckin' music project: Sugarballs & 18 Wheelers. Tell us a bit more. Did the constant touring with the Sprague Brothers and with Deke give you the idea of an album about the road?
Chris– Well, I started singing the Del Reeves classic, "Girl On The Billboard" a couple of years ago on a tour with Deke. It was a big hit with the crowd, so I started learning more and more Truckin' songs and decided to do a complete Truckin' CD. And from there decided to form the 18 Wheelers.
What are your references in term of Truckin' music?
Chris– I'm a huge fan of Del Reeves, Red Simpson, Dave Dudley and so on.And I also enjoy writing new Truckin' songs. I think being a musician on the road a lot, and being a trucker have a lot in common.
A second album in that genre is almost recorded I think… A word about it. Your self penned songs on Hammer Down were very good and stood proudly near classics. Did you write songs too for this one?
Chris– Thank you so much! Yes, I have 6 new songs I wrote plus a few that I co-wrote that will be on the new record. I'm really looking forward to releasing the new CD. I think it will top Hammer Down!
Frank, with two albums called Merseybeat and The Cavern, no need to ask if you like the Beatles. How did you discover them?
Frank-I was actually into other Merseybeat bands first. And then in late 1965 we moved from Resistol Street in Garland, Texas to Holme Street and the kids there were amazed that we had not heard of the Beatles. The movie theatre we went to finally showed A Hard Days Night and the Beatles cartoons then came on TV so that, along with borrowing records from kids in the neighbourhood, finally got me into the Beatles. My favourite groups at that time were Gary Lewis and the Playboys, Sam the Sham and the Pharaohs, The Standells, etc. After I started collecting the Beatles records they did become my fav though. When they broke up I had to get a new fav to collect so they were replaced by Frank Zappa.
Merseybeat refers more to their early years (their touring years). Do you like the second period, more "experimental," too?
Frank-Not really. It's a different energy; more drugs influenced. I guess I like their alcohol influenced years. Lol.
Probably because they were the first and they had a good team of songwriters, the Beatles tend today to eclipse some other bands from the same period (Gerry & the Pacemakers, Freddie & the Dreamers) that have good songs too. What do you think about that and what are your favourites Mersey bands?
Frank-Actually, the Beatles were inspired by Buddy Holly so he was the first, also Johnny Kidd and the Pirates, and others. But besides the Beatles some of my favourites would be The Hollies, The Swinging Blue Jeans, The Toggery Five, The Big Three, Herman's Hermits, The Merseybeats, etc.
You also have another project called "Pirate Music". What is it exactly?
Frank-When Buddy Holly was performing with just a drummer (Jerry Allison) they played gigs with just the two of them. And being aware of that, my brother and I got the idea to go out and tour with just me on guitar and him on drums. We played that way for about a decade so that was the basis for Pirate Music. It is supposed to be all instrumental though, with just guitar and drums. (It could also be acoustic guitar and bongos). All of the songs are written as program music which means that the title of each song gives the listener something specific to think about while they are listening to each piece. The titles to the Pirate Music songs are always based on historical acts by the Pirates themselves; it's not based on any fantasy but actual occurrences from the golden age of piracy, 1690-1725. It's a new style of rock'n'roll, and it's all instrumental.
Where can we get these records?
Frank-They haven't been released yet. We'll let you know when they are. Lol
What are your plans for the future? I believe there's a new Sprague Brothers album scheduled for real soon. What can we expect?
Frank-Yes, just a couple of weeks from now at the end of October 2006. The new Sprague Brothers' album is a concept album with only songs that Chris and I wrote. There will be new versions of songs like "She's Gonna Leave" and others. And there will be new tracks of songs we both wrote that have never appeared on a previous record. The name of the LP is Songwriters.
A last word?
The Sprague Brothers-Thanks to all of our fans and thanks to you Fred for this interview. We appreciate it! We hope you will enjoy our music that will come out in the future as much as you have enjoyed it in the past.
Party on.!