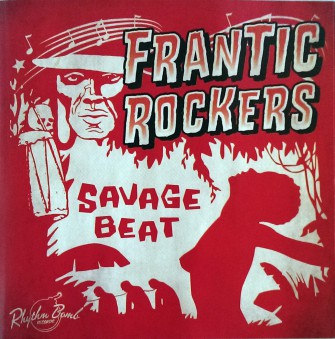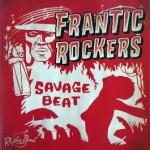 Frantic Rockers – Savage Beat
Rhythm Bomb RBR5784
I Wanna Boogie – Hoodoman Blues – Rolling Stone – Crying And Pleading – All Through The Night – Tears I Cried – I'm Gone – Drive Me Insane – Rumors – Howling – All Night Long – Have Some Fun Tonight – Crazy
Rhythm Bomb has just launched a LA branch and this one is one of the first two new release. And believe me firends, that's what I call a hot platter. Beware it's gonna burn your player down.
Take some classic harmonica driven Chicago blues, add a good dose of neo-rockabilly (their upright bassist, Jorge, is really a frantic rocker) and sprinkle it with a punkish attitude reminiscent of the Sonics or the Downliner Sect, and maybe you'll have a close idea of how this four guys from Los Angeles sound. The rhythm section is tight as hell, powerfull slap bass with Diddley beat, their guitar player is an ace and the singer has the perfect gravelly and threatening voice.
I couldn't recommand this album enough.
Fred "Virgil" Turgis