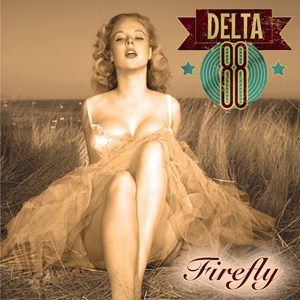 Delta 88 – Firefly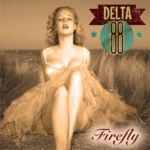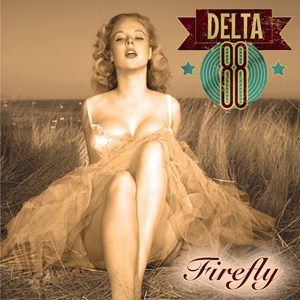 Western Star [2019]
Cherry Pie Until I Die – I Fell In Love On The Wall Of Death – Damsel In Distress – She Does Me Good – High Heeled Boots – She's Hot To Handle – Massachusetts Firefly – Rockin' On A Sunny Afternoon – Patient Man – Panther In The Night – Return Of The Girl With A Ray Gun – Gonna Get Me A Motorcycle – Satisfaction Guaranteed – Please Don't Send Me Home
Delta 88 are a British Rockabilly trio consisting of Simon Clews on guitar and vocals, Nikki Clews on stand-up drums and vocals and Julian Wood on upright bass. Both Simon and Nikki sing with Simon taking the lion's share.
Like their previous albul, Firefly is produced by the expert hands and ears of Alan Wilson (the Sharks.) And let me tell you that if you dig your Rockabilly with a good dose of neo in it, this is definitely a "look-no-further" album for you.
Their sound is anchored by a solid rhythm section with Wood providing a strong backbone on doublebass (and thanks to the production you can hear both the notes and the slap) and miss Clews' simple yet effective drumming. When I say "simple" please don't read "poor". Rockabilly drumming doesn't have to be played on a gigantic drumkit drowned behind drum rolls and a dozen of cymbals. On the front you find and hear the crisp sound of the guitar with solos that are both traditionnal and original (the song She's Hot to Handle illustrates this perfectly.)
The songs (all penned by the Delta 88 by the way) are varied and the two singers ad even more diversity.
Panther in the Night is almost psychobilly (well 80's psychobilly that is…), Return of the Girl with a Ray Gun is pure 80's neo bliss while Massachusetts Firefly ads a welcome touch of hillbilly. The core of the albul is good old Rockabilly played with a very fresh and natural approach. I mean they play the music they like the way they like without thinking "Can we do that? Did they play it like this in the 50's." Instead they take that music and its code to play them their way.

Available at Western Star and on the Delta 88's website.
Fred "Virgil" Turgis