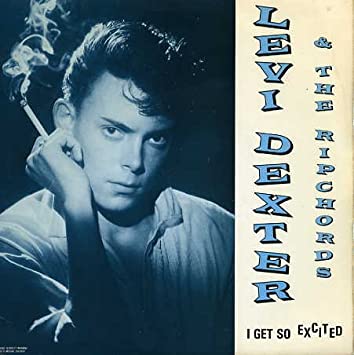 Levi Dexter and the Ripchords – In the Beginning
Mistral Records BLOW 1 [1980]
I'm Gone – It's The Beat – Cat Fight – 21 Days in Jail
Sometimes when a band splits, it's a colossal waste of talent. On the contrary, the split of Levi and the Rockats gave us two great bands: the Rockats and Levi and the Ripchords. A bit like the original Blue Cats' split gave us Dave Phillips and the Blue Cats with Clint Bradley.
Anyway, back to Levi Dexter. When he parted ways with the Rockats, he quickly searched for potential members to form a new band. Dexter approached different musicians for the Ripchords, including Brian Setzer and his brother Gary. Still, the line-up finally settled on Danny B. Harvey on lead guitar, Jimmy Reed on rhythm guitar, Dave Curry on bass, and Pat Brown on drums.
This hot combo cut this EP in April 1980 at Alaska studios in London. It features three originals and one cover.
Danny Harvey penned two songs: I'm Gone and Cat Fight. The former is a superb fast-paced Rockabilly number, the latter has a menacing mood, which carries the theme of the song. You'd expect the violence to erupt anytime. Also, it features a fine slide guitar on the solo.
It's The Beat, written by the singer, is a mid-tempo dancing tune with drums to the fore, not surprisingly with such a title.
The fourth track is Magic Sam's 21 Days In Jail. Dexter and the Ripchords turned the song into a superb Rockabilly with a powerful double-bass and Harvey's guitar galloping (or should I say "galluping") behind the melody.
In 1980, the band managed to capture the excitement of the Fifties while keeping it relevant for a contemporary audience that saw the arrival of Punk. Forty years later, it still sounds fresh.
---
Levi Dexter & The Ripchords – I Get So Excited
Fresh Records – FRESH 40 [1981]
I Get So Excited – The Other Side Of Midnight
Recorded in July 1981, Levi and the Ripchords' second single shows a slight departure from the band's debut effort. After Curry and Reed decided to return to Los Angeles the previous Summer, the band recruited Bobby Brennan on double bass, and Danny Harvey remained the sole guitar player. It's also produced by the expert hands and ears of Richard Gottehrer (Blondie, Robert Gordon, the Strangeloves, Holly and the Italians). It finds Dexter and the Ripchords leaving the traditional Rockabilly idiom to flirt with Neo-Rockabilly. Suffice to compare the Other Side of Midnight's version recorded by Levi and the Rockats on their Louisiana Hayride album with this one. The former is played in a medium train beat and sounds traditional, whereas the latter is slightly faster, the vocal is meaner, and the guitar sound is more modern. Those differences may sound subtle, but in the end, you almost have an entirely new song.
I Get So Excited is from the pen of Danny Harvey, and drummer Pat Brown is in the same vein. I always get chills when the song stops and Harvey erupts into an amazing, yet brief, guitar solo.
---
Levi – The Fun Sessions
PVC Records – PVC 5905
I Get So Excited – The Other Side Of Midnight – Victim Of Kool – Let Er Roll – Jitterbop Baby
Both I Get So Excited and Other Side Of Midnight were released as a single in 1981. Victim of Kool comes from the same session (July 1981) produced by Richard Gottehrer. It sounds like a modern version of Gene Vincent's Dance In The Street.
The remaining two songs, a cover of Hal Harris' Jitterbop Baby and Sid King's Ler Er Roll, come from a Trident Studio session in London in November 1980. The sound is more traditional and closer to the band's debut single in terms of sound.
---
Levi Dexter – Pomp!
Jappin' and Rockin' JRCD3 [1992]
Other Side of Midnight – Just Go Wild – Hot'n'Cold – Lolita – Joint Jumpin – Dub-Scratch Boogie – Crazy Blues – Everytime – Stealin Corn – Motorhead Baby – All Night Rockin'
In 1985 Levi Dexter gathered a fine array of musicians and did what he does best (and better than many): ROCK! The result was Pomp!
Actually there's more than just rockabilly here and everyone who likes good music will find something on this platter that is sure to please him . Of course the amateur of Neo-rockabilly as defined by Dexter with the Rockats and the Ripchords will be knocked off by his new version of his classic "Other Side Of Midnight" – that plays in the same league as, say, everything the Blue Cats recorded on the Tunnel in term of modern Rockabilly – or by his interpretation of classics like "Hot'n'Cold". But there's also a good dose of good old Rock'n'roll with saxophone, a jazzy ballad (Lolita) with a great solo that is worth the price of the album itself (even if it sells for big money on the internet now!) a rockin' blues with steel guitar (Crazy Blues) and a bit of western swing influence (Everytime) too. There's even an instrumental in the Bakersfield style.
As I said before, "Pomp" is not that easy to find but definitely worth the hunt.
---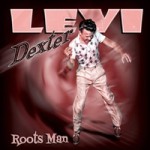 Levi Dexter – Roots Man
Dextone Records/Rhythm Bomb records RBR5776 [2014]
Roots Man – Honey Bun – Completely Sweet – Oakie Boogie – Boppin' Bernie – Rollin' To The Jukebox Rock – Hadacillin Boogie – I'm Laying It On The Line – Put Your Cat Clothes On – Move Around – The Man Who Counts – Hurricane – Restless – Cannibal Party
Levi's back! Not that he was really gone – though he's a real gone cat but that's another story – but his latest album released jointly by his own label Dextone records and Rhythm Bomb records sounds like a sonic bang and a slap in the face. A shoot of Rock'n'roll directly injected through your ears to your feet. Boppin' fever guaranteed.
Roots Man, quite an appropriate name, was recorded live mostly o n vintage gear and it shows. One can hear the emergency and the excitement that make the essence of Rockabilly. Special mention also to the perfect backing band: Buzz Campbell (Hot Rod Lincoln, Lee Rocker) sets his guitar on fire while Johnny Bowler (Guana Batz, Head Cats and many others) and Stinky provide the beat.
Among the 14 songs, three are Dexter originals. The title track is a hot rocker with stop-starts arrangements with Levi naming his favourite rockers while Campbell answers with the appropriate riffs. Boppin' Bernie (I wonder who this Bernie can be?) has a slight Gene Vincent feel and is sure to make you… bop! The third song, quite possibly my favourite track, is the humorous Cannibal Party that sounds like a mix between Jungle Rock and the Meteors' Voodoo Rhythm.
The remaining songs are covers from the songbooks of Larry Donn, Eddie Cochran, Carl Perkins, Don Rich & the Buckaroos, Jack Guthrie, Benny Joy, Hank Penny and, that's a good point, contemporary artists like Bob Butfoy( Jack Rabbit Slim) and Steve Bloomfield. Dexter assimilates them, mixes them with his own influences (Do I hear a bit of Cavan on Oakie Boogie?) and in the end the songs are what I call "Dexterised", sounding 100% Levi.
A must have.
Fred "Virgil" Turgis