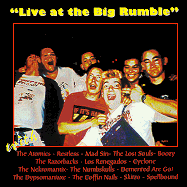 Various Artists – Live At The Big Rumble
Nervous Records – NERCD 066 [1991]
Atomics: I do declare – Restless: New Orleans – Restless: Shake Your Moneymaker – Lost Souls: Devil in Disguise – Lost Souls: Prisonner of Love – Mad Sin: Moonlight Shadows – Mad Sin: Walltown Kid – Razorbacks: Hot rod man – Boozy: Boozy – Los Renegados: Soy un renegado – Cyclone: Bates motel – Cyclone: Cyclone Shock – Nekromantix: Alice in Psycholand – Nekromantix: Motor Psycho – Numbskulls: Psychophobia – Demented Are Go: Anal Wonderland – Dypsomaniaxe: Bad Habit – Coffin Nails: Loose Woman – Skitzo: Empty Room – Spellbound: Legend of the Past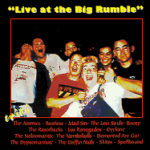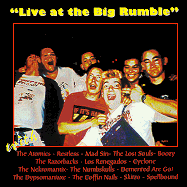 Live At The Big Rumble presents some bands recorded live at the 2nd Big Rumble in October 1990. The whole thing is uneven. Nevertheless, it offers some interesting moments.
The Atomics is an American band playing energetic Neo-rockabilly. Although convincing on their albums, their live performance here is quite messy.
The Razorbacks, another group from the United States, play a supercharged cover of Tex Rubinowitz's classic Hot Rod Man.
Los Renegados mix their Neo-Rockabilly with a touch of Hillbilly for a fairly average result.
Boozy came from Belgium and was one of many bands that seemed more interested in partying than working on songs and recording albums. This is felt in their performance, which is confused and musically poor.
Restless lives up to its reputation. Always professional and at the top musically, the group, then with Steve Whitehouse of Frenzy on double bass, played two perfect versions of New Orleans and Shake Your Money Maker. Faced with such a performance, one can just regret the absence of Long Black Shiny Car or Ice Cold.
The Psychobilly from Lost Souls is fast and powerful. They're one of the only bands on this compilation to sound better live than on the album.
This is unfortunately not the case with the Cyclone. Both songs are excellent, but the sound is confusing and can't fully convey the album's energy. On the contrary, Mad Sin, still a trio at the time, displays impressive energy. Even more impressive, Nekromantix perfectly reproduces the arrangements and the power of two songs from their second album. 
Dypsomaniaxe was formed by four colourful girls with impressive quiffs who played a fast, quite crazy, outrageous, exuberant, and fun Psychobilly. Everything to seduce! I would have easily exchanged half of this album for five or six more tracks of them. 
Much in better shape than on Link's Live and Rockin', the Coffin Nails launch into an epic five-minute version of Loose Woman, full of fun and humour.
If Skitzo's performance is of interest, it is not musical but historical. It was the last concert given at the time by the group. It's powerful, with a fairly marked Punk influence, although not as noisy as one might fear. However, the whole thing lacks a little accuracy and coherence.
Numbskulls play that brand of Psychobilly with a heavy Punk influence that I'm not too keen on. That said, they play it well.
Demented Are Go are in great shape, as demonstrated by the always very subtle Anal Wonderland. The pleasant surprise comes from Spellbound, whose version of Legend Of the Past is superior to the studio version.
Ultimately, this compilation is a strange catch-all between wild Psychobilly and Neo-Rockabilly, established groups and other more amateur ones, which makes us regret the absence of groups present during this edition (Quakes, Nitros, Polecats).
The Radioactive Kid