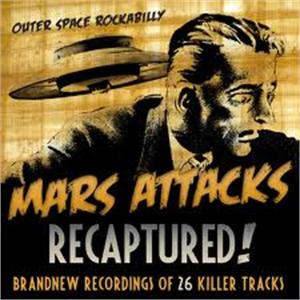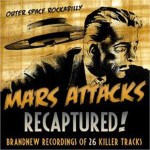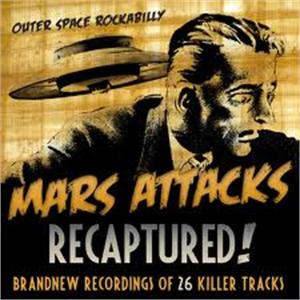 Part Records PART-CD 696.001 [2011]
Man From Mars – Snatch It 'N' Grab It – All Nite Boogie – I'm Gonna Buy Me A Ticket – Doggin' My Steps – Please Can You Say – Pepperhot Baby – The Way I Bop – That's The Way I Feel – Four Tired Car – Lies – Why, Jimmy Bill – You'll Never Break Me – Honey – Dirty Tricks – I Guess It's Meant That Way – Rocket In My Sky – Shotgun Wedding – A Gal Of My Kind – Ninety Nine Ways – You Talk Too Much – Sputnik (The Satellite Girl) – Tattoo Bop – Mars Attacks – High School Ceasar – Leavin' It All Behind
Mars Attacks are one of the best ambassadors of Rockabilly music in Europe. For this album they have re-recorded some of their favourite songs (including the covers!) from their earliest releases. Though surprising at first, it turns out to be a good idea, most of their old material being is only available on vinyl or out-of-print. So why not reissuing it with today's sound? The result is 26 killer tracks. It's no use to write a song-by-song review, you just have to know that these guys are top musicians.
If you already know Mars Attacks, you know what I mean, if you don't, this is the perfect album to begin witht.
Fred "Virgil" Turgis