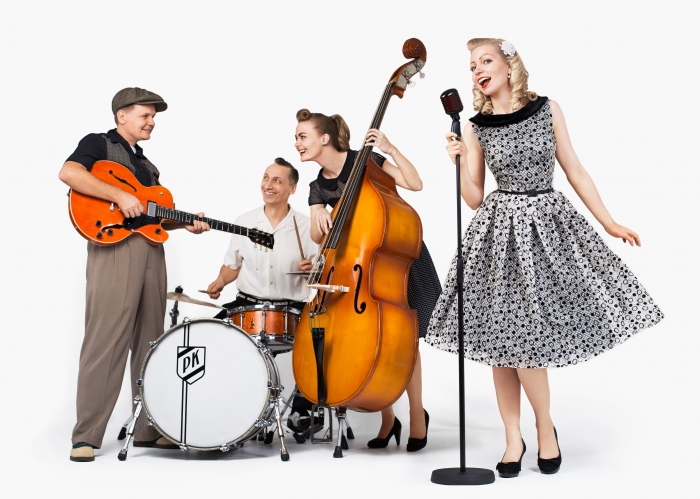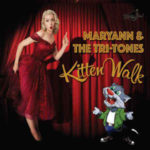 Maryann and the Tri-Tones – Kitten Walk
Rhythm Bomb rbr 5833 [2016]
Hold Me Tight  Heartbeats – Love Me Tonight – Dance With My Baby – Got You On My Mind – When I See You – Ain't Gonna Love You Anymore – Kitten Walk – Don't Touch – Chevrolet – Looking Glass – Wolf Man – If I Had You
Hot on the heels of their excellent debut album, Maryann and the Tri-Tones return with a brand new platter and the result is once again very good. This girl is a mighty good singer and her band rocks! This is all you need to know, believe me.
There's not a big difference of style between this one and Supersonic Gal except that one can now hear a steel and a pedal steel on five song. It expends their style and adds a hillbilly bop flavor (Ain't Gonna Love You Any More), or a Patsy Cline vibe (think Crazy) with When I See You. It also works perfectly on their cover of Red Foley's Looking Glass. They nail that Honky Tonk sound perfectly and you wish they'd do more in that style. Kitten Walk, The title track has an obsessive beat that reminds of Funnel Of Love. One thing is sure, this kitten sure knows how to strut.
Of the thirteen track, eleven are from the pen of Maryann and Artur Skropnik the guitar player with only two covers: the aforementioned Red Foley's tune and an instrumental version of the classic jazz number "if I had You" that closes the album on a jazzy mood.
Once again, credit must be given to Ike Stoye (who also guests on sax on Wolf Man) and Axel Prafcke for the perfect sound they gave to this album. It seems that everything they touch turn to Rockabilly gold.
Also kudos to Rhythm Bomb who still believe in new artists and works hard to release beautiful objects. Like most of their releases now, this album comes in a beautiful digipack.
Fred "Virgil" Turgis
---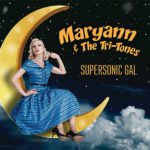 Maryann and the Tri Tones – Supersonic Gal
Tritone Music TCD 1501 [2015] / Rhythm Bomb RBR 5832 [2016]
Honey Baby – I'm Moving Up – Back To Me – Cruisin' Around – Lonesome Moon – Supersonic Gal – If I Could I Would – I'm Gonna Leave You – Angel Of The Desert – We're Gonna Rock'n'roll Tonight
This excellent surprise comes from Estonia and has been recorded in Berlin by Ike Stoye and Axel Praefcke. If you dig your Rockabilly as if it came straight from the fifties, Maryann and the Tri Tones is the band for you. Supersonic Gal was first self released by the band and only a few hundreds copies were made. it was too good to be lost and thanks to Rhythm Bomb has been reissued to a larger audience.
Maryann (not to be confused with Miss Mary Ann from the Netherland) has a strong voice and sings with her own style, contrary to many of her counterparts who too often try to mimic Wanda Jackson.
The Tri-Tones are a solid band with a special mention to their guitar player who assimilated the styles of Hal Harris and Grady Martin. Axel Praefcke guests on guitar and brings a Cliff Gallup touch to Supersonic Gal which has a strong Gene Vincent influence.
With only ten songs (all originals penned by the lead singer and the guitar player) and 26 minutes, this is a very well rounded affair with no filler. A band to follow closely.
Fred "Virgil" Turgis