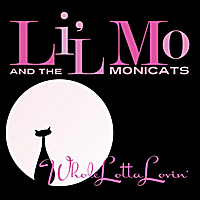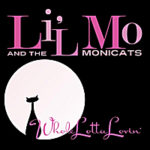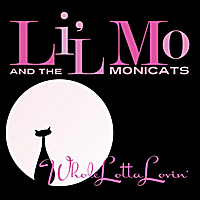 Lil Mo and the Monicats – Whole Lotta Love
[2012]
Whole Lotta Love – Little Heart Attacks – When Girls Sings – Pain and Misery – Waiting and Wanting – Lovely Miranda – Three Cool Cats – Real Gone Jive – I Can't Help Myself – Trouble In Mind – Too Much Time With Your Tears
Monica Passin (aka Lil Mo) and her deliciously sweet voice are back for another terrific album and, like on her previous recordings, she's backed up by her partner in rhymes Hank Bones who plays a wide array of instrument (guitars and basses of all kinds, bongo, snare, cornet, dobro…). Another key element is Drina Seay who lends her voice to the beautiful harmonies you can hear on this album. This is really amazing how the voices of the two singers perfectly blend together! (so much that to be honest I first thought that Passin had doubled her vocal track). Russ Wilson completes the line-up.
The singer penned five originals and the remaining songs come from Marty Robbins (Pain and Misery), the Coasters (Three Cool Cats) and the Nettle Sisters (Real Gone Jive). One can also find a cover of Trouble in Mind (that is hard to associate to just one artist).The team Arty Hill and Linda Hill (who also wrote Mascara Tears for Marti Brom's latest album) and Austin songwriter Terry Joyce have contributed one song each.
It is a very varied and rich album. Musically you cross the land, from the country to the town, from the Honky Tonk sound of Little Heart Attacks to the direct-from-the-Brill-building melody of When Girls Sing (with reference to Ellie Greenwich in the lyrics) and Too Much Time With Your Tears. There's also some Texas hillbilly swing with I Can't Help Myself, Hillbilly bop and Rockabilly with Real Gone Jive and the Everly Brothers/Buddy Holly influence can be heard on Whole Lotta Lovin and Waiting and Wanting. Lovely Miranda and its Latin beat tells a little slice of life settled in New York. That's funny how simple but well crafted lyrics can create pictures in your head.
I love this album so I wouldn't mind writing more but Bill Kirchen has said it better than me on his introduction: "Monica is a rare triple threat, a chanteuse who can rock and write songs that you swear you grew up with." I couldn't agree more.
Fred "Virgil" Turgis
---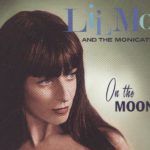 Lil Mo and the Monicats – On the Moon
Cow Island Music CIM013 [2009]
I Could Get Used To This – Rockin' Chair On The Moon – The Boy Who Loves The Blues – Dance Crazed – Why Don't You Love Me? – Baby Be Good – I Really Love (To Love You) – I'm Here Today – I've Got A New Heartache – He's A Handful – Dreamy
10 years after "Hearts In My Dreams" which is a bit too long for me but I guess this time was necessary to make such a rich and accomplished album and write this perfect songs (9 of the 11 are from Lil Mo's pen), Monica Passin released On the Moon.
And the good folks at Cow Island with their soon to be legendary good taste didn't miss the chance to release it on a superb digipack.
The outcome is a very versatile album and perfectly backed by the multi talented Hank Bones (drums, basses, guitar, dobro, steel, piano, cornet…), Lil' Mo offer a journey through American music from the 30's to the 60's.
You find timeless Honky Tonk (I Could Get Used To This and Wayne Walker's I've Got A New Heartache), muscled hillbilly with a rockabilly hint on Bill Haley and The Saddlemen's Rockin Chair On the Moon and He's a Handful on which Monica's voice reminds me of the best sides of Rosie Flores.
Lil Mo (aka Monica Passin) also delivers a poignant appalachian ballad (the Boy Who Loves The Blues with a nice mandolin part and a heartbreaking fiddle) and good ol' Cajun music with Dance Crazed featuring Steve Riley of the Mamou Playboys fame. Why Don't You Live With Me is a beautiful pre-war blues with dobro and cornet. Fans of rhythm'n' blues/soul will rush on Baby Be Good (with a horn section) and those who are in a 60's mood will be delighted by I'm Here Today that features an amazing organ solo. Another highlight (but which song isn't?) is I Really Love To Love You a Spector styled pop song (still with Hank Bones in charge of the wall of sound). And what a better way to say goodbye than Dreamy, an acoustic ballad, featuring just Monica's crystal clear voice and Bones on guitar with some latin and jazzy echoes.
Fred "Virgil" Turgis