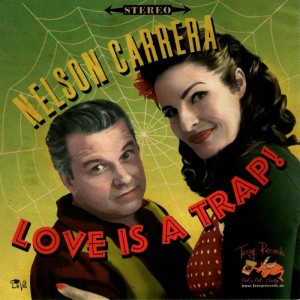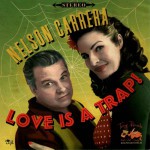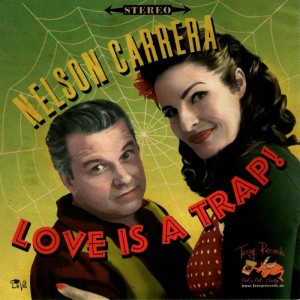 Rhythm Bomb Records – RBR 5773
Love is a Trap – Cold Heart Baby – But She's Not You – I'll Be A Bachelor Till I Die – Who's Gonna Love Me Now – Crying Time – Honey Bop – Train To Jackson – Proud Of You – Thanks A Lot – Hey Santa Claus – As Long As Lon As You Love Me Too – Knockin' On The Wrong Door – When My Baby Left Me – Still Around
Love is a trap is a good album of traditionnal rockabilly and honky tonk with a fine sound that seems to come directly from the fifties. You'll find a majority of self-penned songs and a couple of well chosen covers from Hank Williams, Buck Owens, Ernest Tubb, Sid King…
Carrera used two different backing bands bon this record. Songs one to ten were recorded in France by Steve Rydell who also played guitar with Pascal Freyche on upright bassn Jean Pierre Cardot on piano and Gael Peletin on drums. The remaining five tunes come from two different sessions with the Dixie Boys in Portugal. Both are excellent though I do prefer the mix of the songs recorded by Rydell.
There's no musical revolution here and Love is a Trap won't probably change the way you see Rockabilly. But that's not what you expect from this kind of records and if you ask for half an hour in company of a competent rockabilly singer and with a solid backing band, look no further.
Fred "Virgil" Turgis