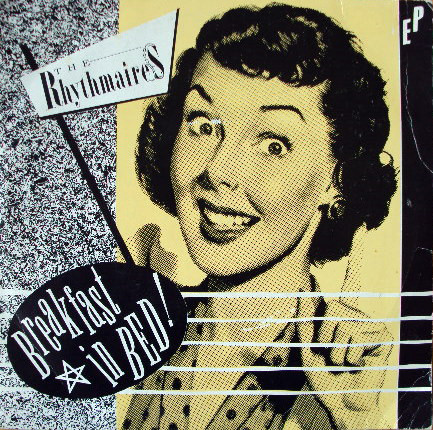 Rhythmaires (the) – Breakfast in Bed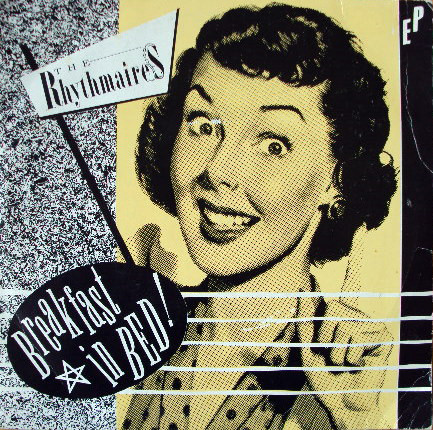 Pink and Black PWB 001 [1985]
Breakfast In Bed – Stormy Weather – Drivin' To My Baby's House – Trans-Europa Express (Live)
The Rhythmaires started around 1981 under the name of White Lightnin', with Stuart Warburton on vocals, guitar ad saxophone, Phil Morris on double bass, Gary Leach on drums, and Paul Murphy on lead guitar. Murphy later joined the Crawdads. They took the name of Rhythmaires when Big Dave Machin joined the band on drums. This line-up lasted one year before the group split to reform as a six-piece combo. By 1984 the Rhythmaires were Warburton still on vocals, tenor saxophone and harmonica; Cyril Chadwick on alto and tenor saxophones; Ian park on rhythm guitar; Jeff Pilkington on lead guitar; John Wilton on double-bass and Dave Machin on drums.
With two saxes and two guitars and the solid rhythm section formed by Machin and Wilton, it was a compelling band that recorded this ep at Twilight Studio, Salford.
Penned by Warburton, the title track is a solid jive number, quite similar in the style to the Stargazers with a touch of jazz. Their cover of Stormy Weather is in the same vein, with some doo-wop backing vocals thrown in for good measure. Nice. B-side opens with another rockin' original that leaves plenty of room to the musicians. A live cut completes this excellent ep.
Fred "Virgil" Turgis