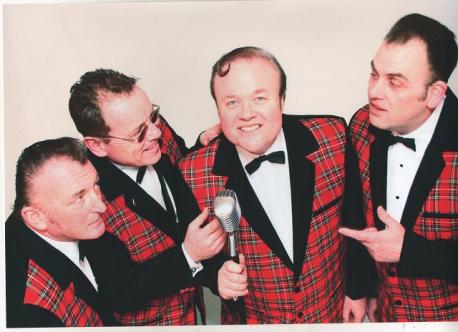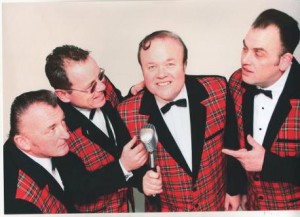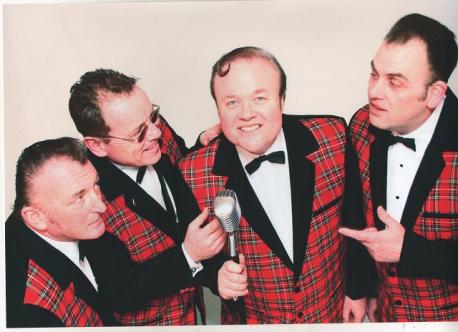 How did you get into rockin music?
Phil Haley: I started playing early sixties. My first playing job was supporting Johnny Kidd and the Pirates. I listened to the Shadows,Elvis, Eddie Cochran etc.
I then played with sixties band Unit 4 +2 (of Concrete and the Clay fame – ed), various local bands and duo's playing all types of music.
Do you remember the first time you heard Bill Haley?
Phil Haley: I first heard and saw bill haley at the local cinema (saturday morning), on Pathe news, showing his first visit to the uk in 1957. I was 9 years old. The entire cinema were singing along to Giddy Up a Ding Dong, the experience knocked me sideways!!!!
How did you get the idea to form the band?
Phil Haley: I was appearing as a guitar vocalist in manchester singing Rock Around the Clock.  After the performance a lady took me to one side and suggested that I do a Bill Haley tribute show as I looked and sounded just like him.  The seed was sown.
In addition to Bill's Decca and Essex hits, you also write your own material?
Phil Haley: I wanted to add another dimension to the show making it much more than your average tribute band. I decided to have a go at writing my own songs and they have been well received. We also do some of the later material, but he had such a wide and diverse catalogue it would be impossible to cover everything. Personally I prefer the earlier classics.
Have you ever met or played with the Comets?
Phil Haley: Alan Paris the saxaphone player saw them play a few years ago, he introduced himself to them and they signed one of our photo's.This has pride of place on the wall at home.I also made contact with Bill Haley's son Jack Haley when we started out. He sent us 4 signed copies of the book sound and glory which he co-wrote and he also sent us some old footage of his father's early performances.
To finish, did Al, Brian and Martyn ever consider forming the Albrimart?
Phil Haley: That's an interesting idea!!!