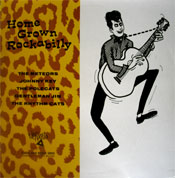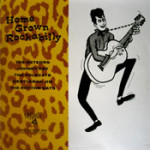 Alligator / Nervous
Crazy love – The Meteors / London is my hillbilly home – Johnny Key And The Kool Kats /Rockin' this joint tonite – The Rhythm Cats /Hi ho fiddle dee dee – Gentleman Jim Mealey /I'm on my way – The Rhythm Cats /Tears fallin' down like rain – Johnny Key And The Kool Cats /Go away – The Meteors /Move over baby – The Rhythm Cats /Rockin' all nite – The Polecats /Little confused – Gentleman Jim Mealey /My baby loves me – The Meteors /My baby's gone – The Rhythm Cats /Second hand information – Gentleman Jim Mealey /Fallin' for you – Johnny Key And The Kool Kats /I'd find you – Gentleman Jim Mealey /Keep my big wheels turnin' – Johnny Key And The Kool Kats / Make you realise – Johnny Key And The Kool Kats /Rockin' on down the line – Gina And The Rockin' Rebels /Thinkin' on you – Gina And The Rockin' Rebels
This compilation first issued on Alligator records in 1980 captures the British rockabilly scene at a key moment of its evolution. It was produced by Terry Earl, Pete Pritchard and Niggsy Owens, respectively drummer, bassist and guitarist of Flying Saucers. They were also the "house band" of the label appearing under the moniker of the Kool Kats on some sides.
The Meteors tracks are three Fenech originals that he sings too. It's first class Rockabilly with a touch of skiffle on "My Baby Loves Me (Yes She Does)". We're far from the sound that 'd be latter found on "In Heaven". Actually these three songs were recorded during the transition between Raw Deal (who featured Terry Earl and Pat Panioty who later went on to form the Deltas) and the Meteors. By the time this compilation was released their sound had changed.
Another band who had a lasting influence on the Rockabilly scene was the Polecats. They only recorded one song for this album as they wanted to keep their material for a major record deal.
Before joining the Polecats, Neil Rooney played with the Rhythm Cats along with Peter Davenport and Anders Janes who later formed the Stargazers another rockin' band to get a deal with a major. The recorded four songs of rural hillbilly bop mixed with rockabilly and early Bill Haley. "Move Over baby" was later reworked by the Stargazers and is/was available on "Rock that Boogie" on Vinyl Japan.
Gentleman Jim (Mealey) played solid rockabilly in the Sun/Meteor style while Johnny Key leaned more toward the hillbilly side of things with mandolin, banjo, fiddle and dobro.
The cd and mp3 version contain the other singles released by the label. Gina and the Strollers released two hot rockabilly numbers. "i'd Find You" is a solid western swing with sax and fiddle by Gentleman Jim while Johnny Key produced "Make You Realise" in the style of Johnny Cash and "Hillbilly Music" covered by Kitty Daisy and Lewis nearly 30 years later on their debut album.
Fred "Virgil" Turgis