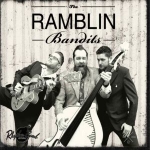 The Ramblin Bandits – On A Hill
Rhythm Bomb RBR5841 [2016]
Why Why Why – Gamblerman Blues – Going Places – Rock Bop Bop – Bankrobber Joe – Ghetto Bash – Knock Knock – On a Hill – Painkiller – Shoot Shoot – Talk Dirty – Wasted Time – Bahama Mamma
The Ramblin Bandits come from Denmark. They are Lasse Eriksen on double bass and vocals, Michael Skandov on drums and Andre Preuthoun on guitar whom, some may remember as the formar guitarist of the Wild Wax Combo.
Led by the powerful voice of Eriksen that reminds me of Sonny Burgess, they rip through a set of self penned songs not for the faint at heart. Their own brand of modern Rock'n'roll shows a bit Johnny Cash influences (Gambler Man Blues) and some rockin' blues too (Going Places)
On the most traditionnal side, one will find Shoot Shoot and on the other end of the rockin' spectrum there is the punk sounding Parksville.
All through the album the influences of Link Wray, Billy Lee Riley and Johnny Burnette dominate but they totally assimilited them to create their own Ramblin' bandits sound.
A solid slice of Rockin' music.
Fred "Virgil" Turgis