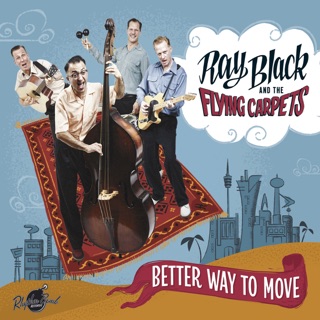 Ray Black & the Flying Carpets – Better Way To Move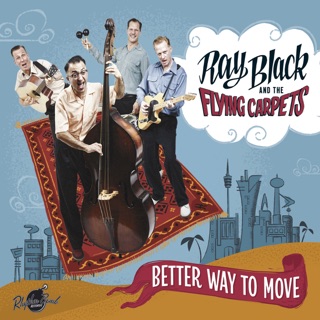 Rhythm Bomb – RBR-5883 [2018]
Favorite Doll – Rolling Stone – Secret Lover – Big Boy Rock – Better Way To Move – It Ain't Right – Shakey Heart – Something Blue – Little E – She's Gone I'm Fine – Rollerskating Girl – Guy Fawkes Blues
Ray Black & the Flying Carpets is a German quartet. The bandmembers are Ray Black (Singer, Upright Bass), Martin Bone (Lead Guitar), Howlin' Herbst (Rhythm Guitar, Baritone), and Boz Doz (Drums.)
This album covers a wide range of musical genres. If they don't convince me with their brand of wild electric Rockabilly, I find them more interesting when they explore other styles. They've got a couple of blues bopper and blues-oriented numbers with harmonica and piano that are quite good as well as their more traditional stuff like It Ain't Right.
I also enjoyed Little E, an early '60s rocker ala Bertha Lou.
The main problem is that you jump from one style to another, but in the end, the whole album lacks coherence. It's hard to find the real identity and personality of the band within all those styles. They really should stick to one genre and develop their own style.
Fred "Virgil" Turgis