The Razorbacks – S/t
Tradition ‎– TJD 101
Calling My Name – Born too Late – I'm In the Doghouse – So Much Fun
---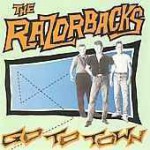 The Razorbacks – Go to Town
WEA {1988}
It's Saturday Night – Knock Knock Bim Bam – Talk To You – Long Rolling Nites – Lower Beverly – Can't Keep My Baby In Shoes – So Much Fun – All I Need – Calling My Name – Scariest Night Of My Life -Razorback Boogie – Just This Short Of Crying – Stood Up – Strings Breaking Thing – Beverly Dub Mix
Not to be confused with the New jersey Rockabilly band of the same name, the Razorbacks formed in the second half of the 80's and came from Canada.
Their debut album "Go to town" was originally released through Warner records in 1988. This is an excellent platter that benefits of the the solid production (yet very 80's sounding at places) of guitar ace Chris Spedding (known for his work with Robert Gordon among many others) and a batch of solid originals penned by singer/guitarist Tony Kenny.
All acoustic (guitar, double bass, brushed snare), their brand of neo-rockabilly lean on the melodic side of things as if Stray Cats met Buddy Holly with a touch of skiffle that evokes at times the sound of the Shakin' Pyramids.
Some occasional harmonies also show the influences of the Everly Brothers and there's enough additional instruments (second guitar, accordion, piano, percussions) to bring variety the the whole album.
The cd reissue features four extra tracks including a honky tonk number with steel guitar and a cover of Ricky Nelson's Stood Up.
A very good album that needs to be rediscovered.
Fred "Virgil" Turgis
---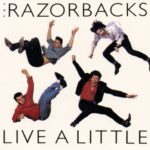 The Razorbacks – Live a Little
WEA [1989]
Times Like These – Didn't Your Mamma Tell You – Night and Day – Can't Blame Me for Trying – Rocket – Be My Train – My Way or Highway – Where'd You Learn to Kiss Like That – I'm in the Doghouse -There Ain't Room for Two -Maybe It Do -Who Slapped Joe – Not Fade Away – Trouble in Town -End of the Day -I'll Get By -Am I High -Times Like These – Didn't Your Mamma Tell You – My Generation