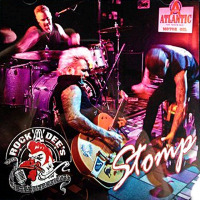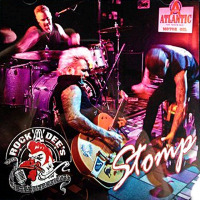 Self released
Rock 'a' Dee's Stomp – Baby Blue Eyes – Something Else – Frames – Black Cat Woman – Flying Saucer Rock And Roll – Lonesome Tears In My Eyes – High Heel Creepers – I'm On Fire  – I Don't Like You No More – Train Kept A Rolling – Memphis Town  – Jeanie Jeanie Jeanie – Your True Love – Won't Take Me Alive – C'mon Everybody  – Gonna See My Baby Tonight – Memphis Tennessee  – Please Don't Touch  – Luck Of The Devil  – Real Wild Child
The rock-A-Dees are a neo-rockabilly trio from Melbourne, Australia. On can hear in their brand of high-octane Rockabilly the influences of the old masters like Gene Vincent, Eddie Cochran and most ofall the Stray Cats.
"Stomp" contains 21 tracks (good value for money!) with roughly 2/3 covers and 1/3 originals. If the covers are mostly well known classics, some borrowing the arrangement the Stray Cats made of those songs (C'mon Everybody), they are well played and enjoyable. Their own songs are more interesting. Rock'a'Dee's Stomp has some elements of Gene Vincent's Dance to the Bop in it mixed with Cochran's 20 Flight Rock and must be a hit when played on stage. Black Cat Woman reminds of Stray Cat Strut (or is it Blank Generation?). High Heel Creepers is excellent with a s superb intro and a solo in the style of Cliff Gallup. Memphis Town is a tribute to Sun records, Won't Take Me Alive is a Psychobilly track that could easily be on a Quakes album and Luck of the Devil is more on the Hillbilly side.
More infos at www.rockadees.com
Fred "Virgil" Turgis