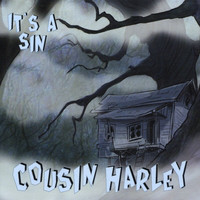 Cousin Harley ‎– It's A Sin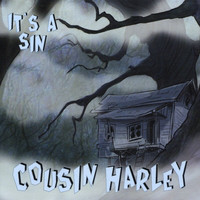 Little Pig Records ‎– LPR002 [2010]
Conductor Man – She's Comin' Back – Beaver Feaver – It's A Sin – The Ballad Of El Swartho – 2 Bottles Of Booze – Hoss' Hoedown – I'll Keep My Old Guitar – Swingin' Like A Mofo – Red Hair Baby – Spooks – Sweet Little Angel – Spaghetti No Sauce
Cousin Harley is the hard-rocking side of Paul Pigat. The other band members are Keith Picot (double bass) and Jesse Cahill (drums). The album is engineered by Marc Lesperance, who worked with Ray Condo and Ronnie Hayward.
The opening track is a hard-hitting neo-rockabilly song in the lines of Runaway Boys in terms of melody. The next one is a Rockabilly-blues meets jazz number, and sounds like Brian Setzer meets the Paladins. An explosive combination if there is one.
Next is Beaver Fever is a superb Travis picking instrumental. The title track has more of a dark western feel, with a surf edge. The Ballad Of El Swartho is an instrumental with an exotica touch.
2 Bottles of Booze is a rocking blues number that reminded me of Pigat's fellow Canadians, the Nervous Fellas. Hoss Hoedown sounds like Rawhide or Bonanza on speed.
It's time for some hillbilly-jazz with their cover of Adoph Hofner's I'll Keep My Old Guitar. They take it at an almost frantic pace, but it works well, though it doesn't allow the song to fully swing.
Another instrumental follows. Do you remember those fast-paced instrumentals by Jimmy Bryant and Speedy West when you think "Oh the poor rhythm section!", well, this one falls in that category. Pigat should fine his own Speedy West and record a full album in that style.
Back to rockin' blues with Red Hair Baby, followed by another instro, a slow one this time, that would be the perfect soundtrack for a spooky Film Noir.
Sweet Little Angel is another western swing influenced song which, I must say is not his strongest point. This one sounds more like Asleep at the Wheel than Bob Wills.
The closer could be the theme of a modern western, mixing ingredients of classic movie themes, surf and a dash of Morricone thrown in for good measure.
Fred "Virgil" Turgis