SaraLee – Heart of Stone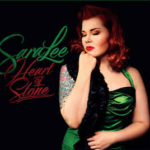 Rhythm Bomb RBR-5877 [2018]
1-2-3 He's Mine – I'm a Lover – Trouble Knows I'm Coming
In – Wasting Time – Runaway Bride – Heart of Stone – Black Widow – Hey Bartender! – Let Me Love You – I Can't Tell You I Love You – Third Man Down – Black Roses
Heart Of Stone is SaraLee's second album. This is a Rock'n'roll album with a modern sound aiming at a larger audience than the usual Rockabilly crowd. In that, SaraLee is not dissimilar to Imelda May. Heart Of stone covers a wide range of genres and styles like Rhythm'n'Blues, Diddley beat, Rock'n'roll, Rockabilly Boogie and even a country ballad featuring the one and only Lester Peabody of the Barnshakers on steel guitar.
The modern production and some arrangements could stop those who prefer their music played in a more traditional way. That said, the curious listener who's not against a slight commercial edge to its Rock'n'roll will find plenty to enjoy here. The musicianship is very good and SaraLee's vocal, despite some mannerisms, is quite powerful and enjoyable.
Fred "Virgil" Turgis