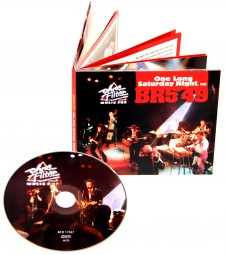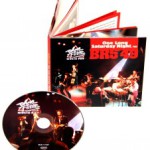 BR5-49 – One Long Saturday Night, plus
Bear Family BCD 17347
Even If It's Wrong – Long Gone Lonesome Blues – Heartaches By The Number – Bettie Bettie – Right Or Wrong – Hometown Boogie – Honky Tonk Song – Go Boy Go – Lonesome 7-7203 – My Name Is Mud – I Ain't Never – Little Ramona (Gone Hillbilly Nuts) – Big Mouth Blues – Cherokee Boogie – Ole Slewfoot – Crazy Arms – Gone, Gone, Gone – One Long Saturday Night – Take Me Back To Tulsa – Hillbilly Tramp – Settin' The Woods On Fire – Knoxville Girl – Sweet Georgia Brown
BR5-49 came like a breath of fresh air in the musical landscape of Nashville. Sure they weren't the first to play traditionnal country, others played it on a smaller level, but they managed to get signed on a major lbel and for a while this music was at the place it deserved in the country music industry.
But though I like their songs and style a lot, I always thought that their studio albums sounded a little bit too clean and would have been better with a little more grit. Just imagine how they would have sounded had they been recorded by Wally Hersom at his Wallyphonic studio.
On this live album, recorded in Germany (and four bonus tracks recorded in Japan) in 1996, they show that the stage whether it's a honky tonk in Dallas or a German TV show was the place where they belonged.
With no pression but the sheer joy of playing for an audience, the band felt free to play whatever they wanted from western swing (Bob Wills' Right Or Wrong and Take Me Back To Tulsa) to 60's country rock (Graham Parson's Big Mouth Blues) with a solid dose of classic Honky Tonk and Rockabilly in between. This is fun from start to finish. Both Mead and Bennett are mighty fine singers and their harmonies are superb (without mentionning their guitar skills), Don Herron is a wizard with anything that has strings while Wilson and McDowell provide the beat with a subtility that too often lacks in modern country. In the end "One long Saturday Night" could possibly be the band's best album (and as usual with Bear family it comes with a thick booklet including many pictures and liner notes by Chuck Mead).
And for those who think that the experience can't be complete without Jay's smile, Chuck's legs, Gary's hat, Shaw's mustache and Don's overall, Bear has a also released a dvd from the same live.
Fred "Virgil" Turgis