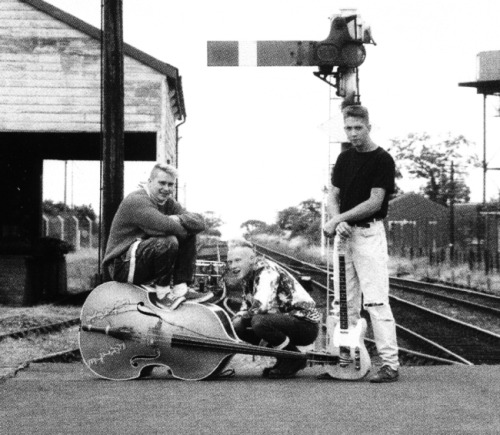 Stage Frite
Country: UK
Genre: Psychobilly
Clive Perchard: vocals, double bass
Dave Rounce: guitar
Stevie Death: drums
Stage Frite began their relatively short career as a rockabilly band in 1988 but soon opted for a more agressive sound and Psychobilly.
They supported bands like the Griswalds, Skitzo and the Frantic Flintstones and developped a friendship with Chuck Harvey who at that time was scouting band for Link. The result was two tracks recorded for the compilation album "Kats Keep Rockin'". This gave them a wider exposition and audience and it wasn't long before Link proposed them to record a full album.
Thus, in August 1988, they found themselves in studio with Mark Hunt (who at that time recorded most of the Frantic Flintstones albums) to cut their debut album "Island Of Lost Souls". "Island…" is not a masterpiece but it's a good album. They have good originals like the title track, Black Magic or the Ripper.But the final result  is somehow wasted by the covers that are not very convincing (to say the least). Produced and engineered by Marc Hunt, it's not a surprise to hear some ressemblance with late 80's albums of the gang of Chuck Harvey.
It sold relatively well and as a result they played bigger gigs and appeared on the bill of a few all-dayers. But when the band was working on a possible second album they split in the Spring of 1991, each member having different ideas about the style they should play.
They remained active musically, Rounce later joined the Roswell Invaders, Stevie drummed for punk outfits and Perchard played bass for the East Coast Bluegrass band and the Ugly Dog Skiffle Combo.
Adapted from the liner notes of the CD reissue of Island Of Lost Souls (Anagram-CDM Psycho 48) written by Alan Wilson.