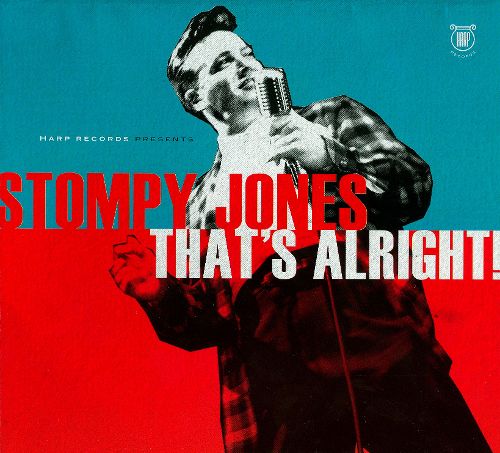 Stompy Jones – Stompy Jones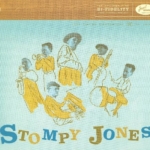 Jewel Records JR-0403
Oh Marie – Mary Had a Little Lamb – Whistle Stop – A Woman's Intuition – Close Shave – Without You Here – You Can Depend on Me – That's Earl, Brother – Mondine – That Wig's Gotta Go – Boogie Woogie on a Saturday Night – Can't Find My Baby – Rug Cutter's Swing – Dream – Knock Me a Kiss – Juke Box Judy – Along the Navajo Trail
Stompy Jones is a sextet (bass, drums, piano, trumpet, saxophone and vocal) known formerly as The Swing Session, and even this cd is not exactly a new one (it's been released in 2003).
What kind of stuff do they play? Imagine Louis Jordan's Timpany Five playing a jam with Fletcher Henderson and Louis Prima as a guest. The "swing" is something not that easy to describe: you have it or you don't. Saying this boys have it is an understatement, just listen to their rhythm section: subtle and efficient. From the second this album opens with "Oh Marie" (a song so much heard you thought it was hard to give it something new but they do) you're hooked by "Pops" Walsh's voice, bluesy and warm with a feeling that is very hard to find today.
They don't just play this music right, they write it too. From the Jordanish «A Woman's Intuition» to the humourous «That Wig's Gotta Go» à la early Ray Charles and the beautiful instrumental ballad «Without You Here», Stompy Jones shows once again they have it. I could also mention «Can't Find My Baby» a superb bluesy number with Pops litterally speaking with the muted trumpet, «Dream» originally a ballad given the Prima/Butera's treatment and «Along The Navajo Trail» with its Roy Milton meets The Sons of The Pioneers style. And cherry on the pie, this record is wonderfully packaged with informative liner notes about each song. Make yourself a favour, go to www.stompyjones.com and order it.
Fred "Virgil" Turgis
Stompy Jones – That's Alright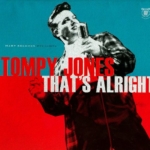 Blowin' To California – Don't Lie To Me – Lost Mind – Born To Love Her – That's Alright – Hot Sauce Boss – If You Love Me Baby – Wakin' Up Baby – After Hours – Highway 99 – Hand Clappin'- Keep A Knockin'- Spiderweb – Ain't Nobody Here But Us Chickens
A decade or so ago, the swing craze took the USA by storm. All of sudden everybody and his cousin dressed like Jim Carrey in the Mask, discovered the sweet taste of martini and blew in a sax. But few bands played this music right and even fewer really understood it.
Stompy Jones (formerly known as The Swing Session) weren't made of the same (young) wood. This guys have roots. They perfectly assimilated the elements of the small bands from the 30's to the 50's like Louis Jordan of course or Count Basie and have put the science of the arrangement to its highest point.
Buy when this album (their fourth) arrived, I was surprised to see that Pops the original singer of the band was no longer there (I later heard he had to quit due to health problems) and had some apprehensions about the newest one. Will he be as good as his predecessor? I only had one thing left to do : put the cd in the player. After a few bars of "Blowin' To California", the first song, my doubts quickly vanished. If different – and we didn't expect a impersonnator, didn't we? – the young was equally talented as his glorious elder. The band faced some minor changes too, but man they're always incredibly tight and though they're only six on stage they make you believe you listen to a whole big band. Like Louis Jordan did before, they swing the boogie, they rock the blues, they jump the jazz – always with class – and at the end they leave you breathless with a big smile upon your face.
Now that most of the swing bands have moved to a new trend, Stompy Jones is still here, alive and well and ready to shake your shack.
Fred "Virgil" Turgis