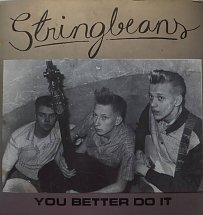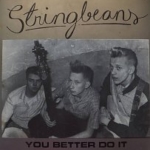 Stringbeans (the) – You Better Do It
Raunchy FREP-002 [1985]
You Better Do It – I Just Keep Loving Her – Stomp and Climb the Walls – Born to Love One Woman
The Stringbeans was a Finish trio. They play a brand of fast neo-Rockabilly that showed the influences of Restless, Blue Cats, and Dave Phillips.
You Better Do It and Stomp and Climb the Walls are originals penned by Sami Roine, lead singer and guitarist of the band. The former is kinda wild and has a bit of Psychobilly vibe in it à la early Batmobile while the latter is more in the style of Dave Phillips solo stuff.
The other two, I Just Keep Loving Her and Born To Love One Woman are covers, respectively of Little Walter and Don Johnston.
Fred "Virgil" Turgis