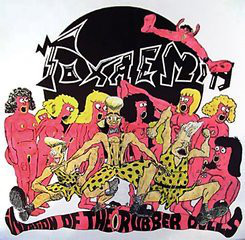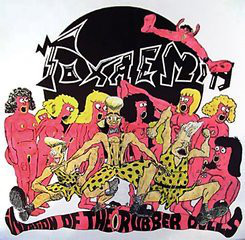 Toxaemia – Invasion Of The Rubber Dolls
Jungle Noise – APECALL 003 [1990]
Pig Headed Woman – Get Out You Crazy Bitch – Friday Night 8 P.M. – All Alone – I Still Love You – Space Invaders – Doll(e) Nellie – Defloration – You And I – Midnight Cruise – Down In Memphis – Badge Of The Assisin – Toxic Blood
Even if Psychobilly was not a commercial genre compared to mainstream music, it sold well enough to see labels sign bands, even when the musical level of those bands was not up to the standards one can expect from a recording project. One of those bands was Toxaemia, a combo from the Netherland whose line-up consisted of Marco 'Bigfoot' Emmerig (Guitar, Lead Vocals), Frank 'Fried' Jager (Double Bass) and Björn 'Yeti' Cremer Drums, Backing Vocals.
There are very few things to save from their debut album.
Their singer sings with a high-pitch and croaky voice; imagine Mark Phillips mixed with Olga of the Toy Dolls but with the talent of none.
The band is not better, especially the guitar player, who is particularly uninspired. The songs are predictable, and for a band that doesn't have many ideas, they manage to record songs that go beyond the four-minute mark (and they seem even longer.)
The final result sounds more like a joke between friends than an actual album.
The Radioactive Kid