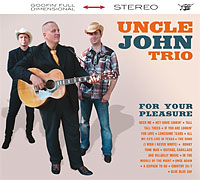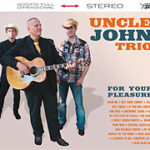 Uncle John Trio – For Your Pleasure
Goofin – GRCD6170
Beer Me – Hey Good Lookin' – Tall Tall Trees – If You Are Lookin' For Love – Lonesome Tears – All My Ex's Live In Texas – The Song (I Wish I Never Wrote) – Honky Tonk Man – Guitars, Cadillacs And Hillbilly Music – In The Middle Of The Night – Once Again – Sixpack To Go – Country 24/7 – Blue Blue Day
This is the debut album for this drummerless trio from Finland but playing for 20 years they are far from being beginners..
Eight of the songs are covers and the remaining six are from the pen of singer John Peter Lemstrom (aka Uncle John). His songs are very good and never suffer from the comparison with the covers which is a good point considering that they come from the pen of Hank Williams, George Jones, Johnny Horton, Dwight Yoakam, Johnny Burnette and Don Gibson.
Musically you could compare them to High Noon, especially in the way the instruments are recorded. I suppose that Janne Haavisto who mixed this album and also produced the Texas rockabilly trio is no stranger to that. But Uncle John Trio are more on the Honky Tonk side of things (though there's a bit of rockabilly here and there too). If another comparison could help you to define the sound, I'd say that they sound in places like a stripped down and acoustic version of Dale Watson.
Good songs, good band, good singer… good buy!
Fred "Virgil" Turgis