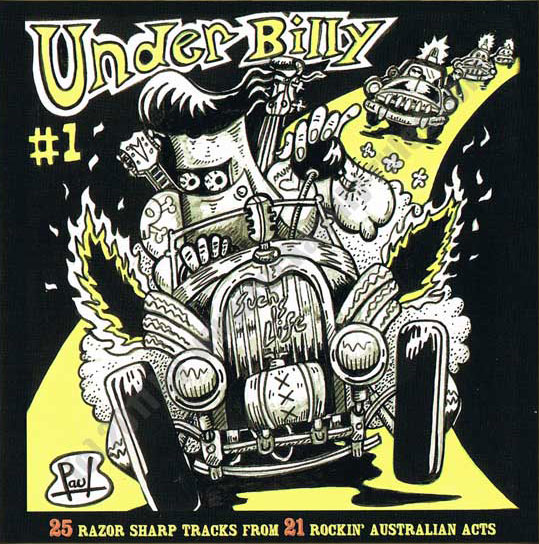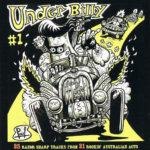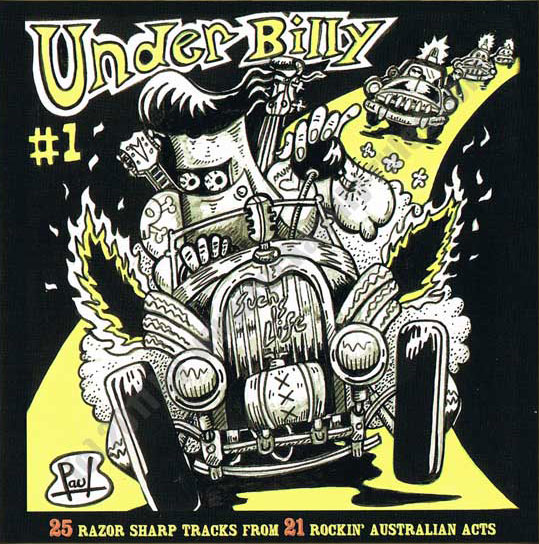 Various artists – Underbilly
Tedesco BAR-002
Wes Pudsey & The Sonic Aces – There's Gonna Be A Rumble / The Rechords – Take the Line / The Retro Rockets – Hey! El Diablo / Warren Earl – Real Cool Cat / No Brakes – Jump From 6 to 8 / The Satelites – Have Mercy / The Flattrackers – Devils Playground / Atomic Hi-Tones – Wolf Cat / Hank's Jalopy Demons – Hot Rod Spaceman / The Infernos – Heart of Stone / Paulie Bignell – Busted / The Rattlesnakes – Johnny Suede / Sin & Tonics – Down he Goes / Jump & Jive – Batmobile / Flatfoot Shakers – Greasy Hair / The Ten Fours – Midnight Mover / The Sugar Shakers – Ain't My Girl No More / The Exotics – Locomotive / The Flattrackers – Swapmeet / Warren Earl – Hot Rod Queen / Rockbottom James & The Detonators – Close The Book / Sin & Tonics – Lucky 7 Bar / The Satellites – Wrong Move / Manic Pistoleros – Wrong Side of Town / The Fireballs – Real Evil
Underbilly is another killer album to come from Australia. This one has been released by Tedesco a label that also released the Rechords' debut album. This compilation gathers with 21 bands and 25 songs the whole spectrum of the "billy" related musics.
At one end you'll find the hillbilly sound of the Rechords, on the other there's the modern brand of psychobilly with heavy metal guitars of the Fireballs'Real Evil. In between one will find authentic rockabilly with Warren Earl (his two songs are the highlights of the album), Hank's Jalopy Demons or the Flatfoot Shakers, neo-rockabilly with the Retro Rockets, the Atomic Hi-Tones and the Rattlesnakes 'whose sound has a very strong 80's feel), modern rockabilly (the Ten Fours, the Exotics), High octone rockabilly (the Flattrakkers), jump blues with saxes (No Brakes ) without forgetting psychobilly, some with an old school feel like they played it in the 80's (the infernos) other clearly influenced by the Reverend Horton Heat (Sin & Tonics). The talented Paulie Bignell plays an amazing cover of Johnny Cash's Busted and also performs solid country rock with Rockbottom James & the Detonators.
It's a very well made compilation full of good surprises and it's a great way to discover new bands. One can only regret the absence of a detailed booklet to give more infos (websites, line up etc.) about the bands.
Fred "Virgil" Turgis