Al Foul – The One & Only
Rock'n'Roll Purgatory RRP009
Flat Broke – Oh My Lover – Gonna Be A Fight – Wanted Man – Ruthless Information – Singing The Blues – 10 Bucks – Lonesome Tears – Bo-Wang – Ever Been Hit By A Flying Saucer – Dropping Quarters For Jane – Rock Island Line
Being unable to say "yeah" without loosing a beat when I play drums, I'm kinda fascinated by the one-man-bands. Recorded totally live (except for one song, Wanted Man, that have a guest fiddle) with raw and powerful sound, Al delivers a fine collection of Rockabilly-Blues-Country tunes. Apart from his voice, a powerful and soulful growl, Foul's strength has to be found in his lyrics. In "Flat Broke" he explains the good side of being a one-man-band : "There ain't no use in me having a band anyhow / just a couple guys I got to learn to pay somehow / 50 dollars divided three ways". Money, or the lack of it, is also the theme of "10 Bucks" where the poor guy finds himself hanging on the telephone and telling lies to his girl to get 10 bucks cause "10 bucks will get me two six packs and a half pint of old crow". But the best tune, one that has an immediate addictive effect is "Dropping Quarter For Jane". This "romantic song" tells us about the singer's love for… a peep show dancer. The one man band format isn't a musical limit (like often) for Al, as the songs' structures are diverse and sometimes rather complex. Add to the mix a couple of covers like Burnette's Lonesome Tears, Endsley/Robbins'Singing The Blues and the traditional Rock Island Line and you have one hell of album.
Read more and listen to soundclips at www.alfoul.net
Fred "Virgil" Turgis
---
Al Foul – Keep the Motor Running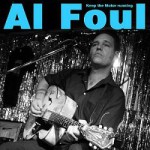 Keep the Motor Running – I Wanna Know – The D.A.W.N.- Baby Clothes and Dishes for Sale – Been Through This Before – Memphis – Phoenix – Bring Me a Little Water Sylvia – Call Me When You Get to Dudleyville – 3 O'clock in the Morning
There are quite a few one man bands out there but Al Foul is one of my very favourite. Actually if you keep the late Hasil Adkins aside, he's on top of my list. I dig his mean vocals combined with dirty guitar and hypnotic beat (or is it hypnotic vocals, mean guitar and dirty beat, you'll be the judge).
In fact it would be a mistake to attach too much importance to the one man band format – it's only the vehicle he chose to express his art – and you'd miss the main point: the songs. They're always original, varied, melodic and surprising. And this guy really can craft lyrics that are like little slices of life. Songs like Baby clothes and dishes or Phoenix are not that far from the poetry of one Sam Shepard.
But the poetry doesn't prevent it from being a great rock'n'roll album and his cover of the Skiffle classic "Bring A Little Water Sylvie" is totally insane and is a breath of fresh air for all those who, like me, thought that crazyness in Rock'n'roll had died with Lux Interior.