Johnny 7 and the Black Crabs – Gold Digger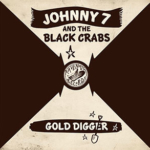 Ravenous Records – 2019
Gold Digger – Careful, Baby – All I Can Do Is Cry – Lurky McGee – Betty Gasoline – Go Get 'em Boys
Never miss an opportunity to have fun! That's what I always say. And the latest Black Crabs is exactly this: an excellent opportunity to have fun.
Like on their previous albums, the Black Crabs don't stick to just one style but range the whole gamut of the rock'n'roll spectrum (in just six songs!) to play they own brand of Rock'n'Roll, traditionnal yet modern.
The title track is a western tinged song complete with haunted steel guitar Two saxes join the band for Careful Baby. This stroller leaves plenty of room for the solos. Great!
The band returns to good old Rockabilly with their cover of Wayne Walker's All I Can Do Is Cry (the other five being all originals by the way.) This song has been heavily covered over the years but the Black Crabs version, with a powerful and brilliantly recorded slap bass, stands out as one of the best.
Lurky McGee brings a touch of jazz and swing to the ensemble: nice chord progression, brushed snare and another hot guitar solo from Johnny 7.
This way-too-short mini-album end with two great rockers that leave you breathless.

Fred "Virgil" Turgis
Johnny 7 and the Black Crabs – Shake It Loose
Ravenous Records – 2017
Shake It Loose – Thank You, Heart Attack – Flexi-Flyer – Broken – Hey Little Sister – Rockin' In The Station – Felon Love – Stupid Games – Sunday Drive – Wife Of The Party
The Black Crabs return with a brand new album with 10 exciting new songs, all from the pen of Johnny 7 (aka Jonathan stuart), the band's guitar wizard and singer.
On this platter, he's joined by Wesley Amundsen on double bass and Mike Daugherty and Tom Forster (who played on the band's first two efforts) share the drummer's seat.
What I like with Stuart and the Black Crabs, it's their attitude. These guys don't believe in labels and tags. It was true with Blast Off and 13 Times, and it's truer with Shake It Loose. They have that "whatever works as long as it rocks" philosophy that is quite refreshing in those times of "I'm more Rockabilly than you" era. Sure, they like Rockabilly, no doubt about that. Suffice to listen to the guitar or the superb slap bass sound (by the way, it's the moment to say a word about the excellent recording work made by Stuart at his own Cleopatra Studios.) But they use the genre as a starting point to create their own brand of music. On that Rockabilly skeleton, they graft elements of jazz (it's so good to hear some different chords variations), bop, western swing (lot of steel guitar on that one), Beatles sense of melody and plain old rock'n'roll. All that rolled into one makes the Black Crabs sound.
Open minded and more than able with their instruments, they have no boundaries to stop or refrain their creativity and the result is always imaginative and surprising.
Fred "Virgil" Turgis
---
The Black Crabs – 13 Times
Black Cat Boogie – Say Mama – Romeo's Teacher – Nothing Ever Happens – Three Cool Cats – Caravan – Not Knowing How – Congratulations – Messin' Around / Corndog – Give It Up – Thirteen Times – Going Home – Hidden Track
This is their second album and I have to say that I love The Black Crabs. Who wouldn't? They have one talented singer/songwriter/guitar player that mixes rockabilly, blues, surf, twang, in one word a true rock'n'roll player, an excellent rhythm section with a drummer who swings the rock and rocks the jazz, and one of the coolest and gifted bass player. Like their previous album it mixes various influences, the modern with the old, the whole thing being very well produced and recorded. Along with rockabilly (Black Cat Boogie), you'll find an excellent rocker with a 60's vibes and a farfisa organ (Romeo's Teacher), a stroll ("Three Cool Cats", that has a bit of a "spy-movie" sound on the guitar), an uptempo jazzy/pop number (Thirteen Times), a kinda Les Paul instumental (Caravan), a jazzabilly duet between Kirsten and Tom (Messin' Around with slap bass to the fore and rich drums breaks) and plenty of rock'n'roll in between (including Gene Vincent's Say Mama, Going Home). A superb album and a perfect demonstration for anyone who still believes that rockabilly and rock'n'rol means "retro".
Fred "Virgil" Turgis
---
The Black Crabs – Blast Off
Self-Released
Blast Off! – Pickup Line – Can't Find the Doorknob – Shelton Express Cat's Pajamas – Sweet Sweet Girl Dangerous Curves – I Do – Rink Lay – Poor Jenny – Stink Bomb – Dirty Old Man – Singin' The Blues – Ready Ready Ready
Coming from Seattle, The Black Crabs are The Donettes minus Rebecca the singer. Originally the band was formed for a short time to back the legendary Wanda Jackson but they're still together playing their brand of modern rockabilly and that's a good point for us. Guitar player and lead singer Jonathan Stuart wrote eight songs and the remaining six are covers, ranging from Don Gibson to The Sonics via The Everly Brothers. With such different covers you're not surprised to hear more than just rockabilly (well represented throughout this album with Kirsten's effective slap bass) in their influences. A little bit of Link Wray here (the instrumental named… "Rink Lay"),jazz ("Cat's Pajamas"), 60's stuff ("Stink Bomb" with twangy electric bass) and a pitch of country. The whole album is played with a positive "don't look back" attitude (very nice production work) which is a good way to take a fifty year old musical tradition into the new century.
Fred "Virgil" Turgis
---
Find these fine platters on the band' website : http://www.theblackcrabs.com/store/store.html
Share the post "The Black Crabs"