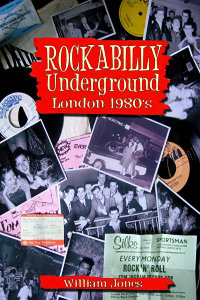 Rockabilly Underground London 1980's – William Jones
With bands as different as the Blue Cats, the Stargazers, Restless, the Meteors, the Deltas, Red Hot'n'Blue, the Riverside Trio (and many many more) London was in the early 80's a creative bubble for all things rockabilly. That's what I expected to find in this book, after all the title sounded promising. But, from the second I opened it I was hugely disapointed. First the layout is very poor, in fact there is NO layout at all. The same goes for the pictures. Some could be interesting but they are of such poor quality that one can barely see anything. But the main problem is the content of the book. There is little or no informations about the bands but mostly recollection from the authors of his friends and the girls he dated. There's no real construction and you go from personal memories to interviews with Mac Curtis and Ray Campi (very London, uh!) or a trip to Finland without transition. In that mess there are some bits of infos you can pick from Mouse (Red Hot'n'Blue), Paul Roman (the Quakes) or Rob Glazebrook (Rochee & the Sarnos) but that's pretty all you can save from this book.
---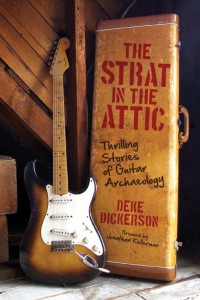 The Strat In The Attic – Deke Dickerson
Regular writer of liner notes for cd reissues, most notably for the German label Bear Family, guitarist extraordinaire Deke Dickerson presents his first book. And guess what? It's about guitars.  Guitarcheology to be exact, the art of finding beautiful and rare models on flea markets, second hand stores, ads or any other way one could ever imagine.
You want to hear the stories and the often strange journeys of  Bob Dylan's Stratocaster, Link Wray's Danelectro, Deke's trademark TNM guitar or Scotty Moore's Echosonic amp that was used for the recording of Mystery Train? All these stories and more from models you've never heard before are in this book.
But what makes this book so interesting is  that you don't have to be a guitarist to enjoy it. You read it like you read a book about the discovery of Tutankhamun's tomb by Howard Carter (and you'll agree that you don't have to be an Egyptologist or an archaeologist- to enjoy it). It's a book about passion and the excitment of finding or just holding a rare guitar – sometimes a piece of history. Being a great storyteller Dickerson knows how to translate all those feelings into words and describe a setting very vividly.
A great book and definitely looking forward a volume 2.
Learn more about this book by reading this interview of Deke Dickerson by Dollie DeVille here.he Strat In The Attic is available almost everywhere but you can also order it directly on Deke's website and get iy autographed.
---

Still Rockin' Around the Clock – Marshall Lytle with Michael Jordan Rush
I respect Marshall Lytle a lot. I worship every side he recorded with Bill Haley as well as the Jodimars. I enjoyed a lot his recent musical ventures like Marshall & The Shooting Stars and the fact he was still being able to play on stage at an advanced age forces the admiration. So I bought this book with great expectations, hoping to read the story of one of the greatest rock'n'roll band from the point of view of someone who actually lived it.
The first things you notice when you have this book in hands is that it's printed very big and with a mere 200 pages you read it very quickly.
The main problem is not that it's not very well written (after all he's a bass player not a writer) but it's not very interesting either. Marshall never goes deep into details and doesn't seem very interested by the music (you'll find more info about his incomes as a real estate agent than about the recording of Shake Rattle & Roll).
And when he gives some details you doubt about them. For example he says that they never played Rock Around The Clock before the recording session except for one rehearsal the day before though many books say they used to play it on stage and had a great success with it. This minor things aside, the main thing you remember when you finish this book is a deep feeling of bitterness. Maybe Bill Haley wasn't the best boss on earth, I don't know I wasn't here (but Marshall was! you'll object), but it seems that in every chapter you read Marshall saying "Bill never gave me credit for Crazy Man Crazy", "Bill never paid us this", "Bill was jealous of my talent", "Capitol never promoted the Jodimars", "I was never credited for writing Clarabella so I never saw a cent for the Beatles cover" and so on.
It's not very expensive so you can try it but don't expect to learn anything on the musical side.
---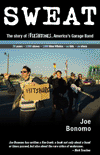 Sweat the story of the Fleshtones – Joe Bonomo
How can't you love the Fleshtones? For three decades, no matter of the bad luck they could have encountered, they never failed to deliver your dose of "super-rock". The other band with the same integrity that comes in mind is The Cramps. But in a cruel twist of fate, the Fleshtones reputation has never been further than a bunch of devoted fans who recognize themselves with such enigmatic words as "Speed Connection", "Roman God", "Hexbreaker" and so on. This is their story that Joe Bonomo relates in his book "Sweat" rightly subtitled "30 years – 2000 shows – 1000 Blue Whales – no hits – no sleep". Bonomo made countless interviews with band members and relatives to explore every single detail. Many anecdotes are revealed. Bonomo sure is a fan of the band (you have to if you write a 400 pages book about such a band) but he's objective though and he's never compliant.
The Fleshtones have released numerous good albums all through the years but the place where they shine is definitely on stage, and the same way it's hard to capture them on wax (or tape, or whatever…) you could wonder how a book could transcript the "bigger than life" characters of the band. But Bonomo's style is lively and you're with them looking for a record label, in the studio or in a van heading for the next gig. When rock critics think that The Strokes are the last hope of rock'n'roll and records labels build from nothing pre-made stars the Fleshtones are precious. And if you consider them as the ultimate rock'n'roll band "Sweat" could possibly be the ultimate rock'n'roll book.
Fred "Virgil" Turgis
Share the post "Rockin' Books reviews"