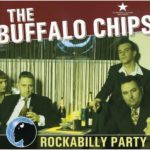 The Buffalo Chips – Rockabilly Party
Cosmic Star Records CSR022
Supersonic mama – Tornado – Everybody's Trying To Be My Baby – Red Eyed Handsome Man – Lonesome Train – Nervous – No Heart To Spare – Walk Like An Egyptian – She Will Come Back – Nobody But You – Doghouse Tripple – My Steady Baby – Hip Hip Hurray – Woodpecker Rock – Sag Drag & Fall – Cucumber Beat – Who Slapped John?
This German trio gives you the recipe for a good Rockabilly party. Take a large dose of neo-rockabilly with a solid beat (excellent slap bass and drums works) and a talented singer/guitarist. Spice the melange with a touch of psychobilly, a dose of blues and a small quantity of garage rock (Doghouse Tripple seems to come from a lost Billy Childish album)
Write some solid originals and add some carefully choosen covers from the catalog of Carl Perkins, Sid King, Johnny Burnette, Gene Vincent, Little Walter as well as contemporary rockabilly bands like The Jets, the Big Barn Combo and Cave Catt Sammy and even a reved up version of the Bangles Walk Like An Egyptian.
Sprinkle the whole thing with a fine production and the solid dose of personnality required when you mostly play covers and here it is, the recipe of the new musical cocktail that'll rock your house and move your feet: the Rockabilly Party.
And like an olive on top of your cocktail, you have a short but raw version of Pipeline as a bonus track hidden at the end of the cd.
Fred "Virgil" Turgis
PS -Booze not included, BYOB!