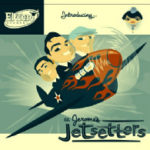 CC Jerome's Jetsetters – Introducing…
El Toro ETCD6042
Hot Rod Party – Oh Baby – Mohair Sam – I'm on Fire – Wine and Roses – I'm Ready – Getting Drunk – I'm in love with you – Trouble up the road – Sugarbee – Hi Fi baby – Where can I get some stuff – Honey Hush
Dutchman CC Jerome has spent a decade in the USA, working with Lee Rocker, Pep Torres and Levi Dexter. He recently returned to Europe where he recorded this album.
It opens with one of the four originals penned by CC Jerome/Jerome Van Gasteren, a wild rockin' blues tune with sax. Next is a soulfull cover of Barbara Lynn's Oh Baby. Ex-Blasters Gene Taylor guests on Hammond organ on Charlie Rich's Mohair Sam. Still with Taylor, this time on full Jerry Lee mode, the killer's I'm On Fire is less convincing, like Fats Domino's I'm Ready. Sure this songs are pleasant but they don't have that little extra that transforms a good cover into a great song.
I find them more at ease on blues numbers like the second tune written by Gasteren, Wine and Roses a solid Chicago blues number, featuring Big Pete on blues harp (a very well known figure on the blues scene) or Johnny Guitar Watson's Getting Drunk. I'm In Love With You is a superb ballad with horns, another Gasteren original and probably one of the strongest cut of this album. Their cover of Jackie Brenston's Trouble up the Road is played a little bit too fast for me and loose the menacing aspect of the original. Big Pete returns on Cleveland Crochet's Sugarbee, also featuring nice bluesy licks from Jerome. Where Can I Get Some Stuff, another originals, is a Mexican inspired number with trumpets and spanish guitar. The set closes with Big Joe Turner's Honey Hush featuring the boogie woogie piano of Gene Taylor and some saxes too.
"Introducing…" is a good album but I believe they should stay focused on the blues idiom and write more originals, the four included here being by far the best songs of the album..
Fred "Virgil" Turgis