Gonna Shake This Shack Tonight! – From the Vaults of Decca and Coral Records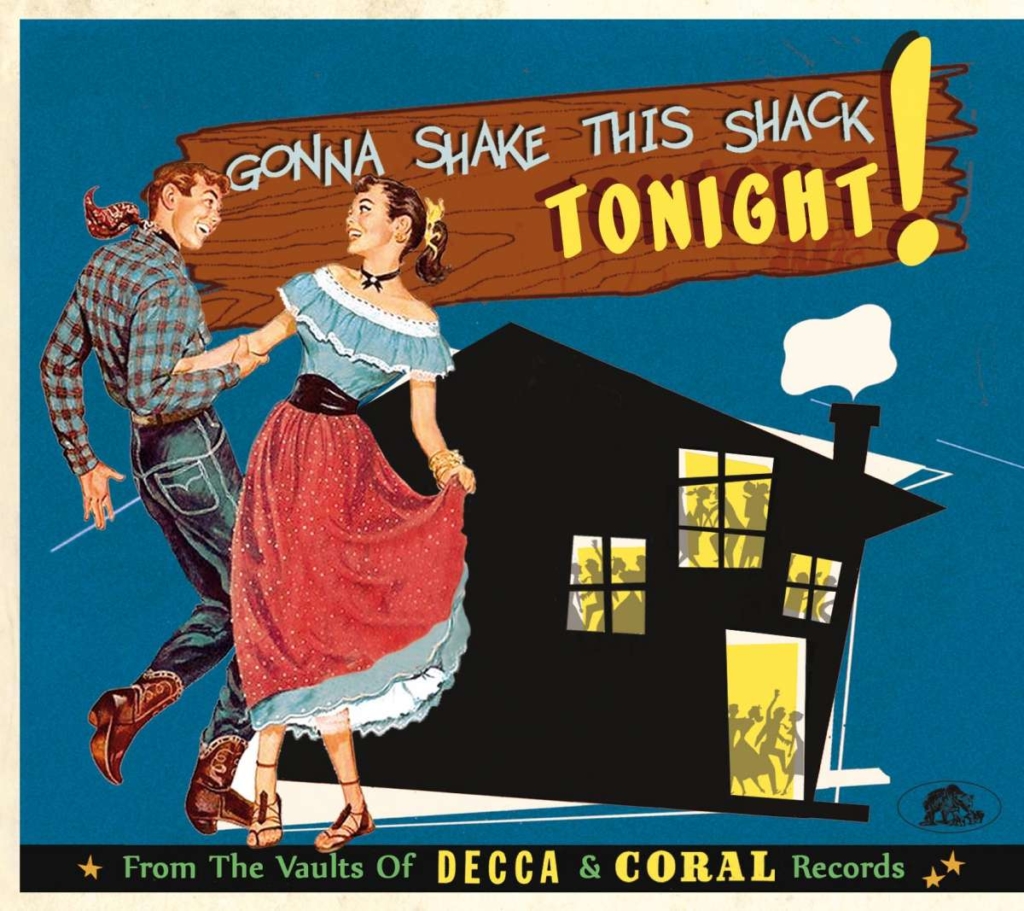 Bear Family BCD17602 [2020]
Jimmy Atkins & His Pinetoppers – I'm A Ding Dong Daddy (From Dumas) / T. Texas Tyler – Hot Rod Rag / Tabby West – Chat Chat Chattanooga / Lonnie Glosson – Pan American Boogie / Tex Williams – Big Bear Boogie / Autry Inman – Happy Go Lucky / Grandpa Jones – Eight More Miles To Louisville / Roy Duke – I Mean I'm Mean / Hank Penny – Bloodshot Eyes / Tabby West – Texas Millionaire / Hardrock Gunter / Texas Bill Strength – Paper Boy Boogie / Gene Stewart – Empty Seat In The Bar Room Booth / Rusty Keefer – I'm Just Here To Get My Baby Out Of Jail / Tex Williams – Rancho Boogie / Jimmie Davis – Cherokee Boogie (Eh-Oh-Aleena) / Tommy Sosebee – All Night Boogie / Kenny Roberts – I'm Looking For The Bully Of The Town / Hardrock Gunter – Honky Tonk Baby / Chuck Murphy – Blue Ribbon Boogie / Hank Garland – Guitar Shuffle / Tabby West – Inchin' Up / Grady Martin – Long John Boogie / Tommy Sosebee – The Barber Shop Boogie / Hardrock Gunter – You Played On My Piano / Jimmy Atkins & His Pinetoppers – Juke Joint Johnny / Tabby West – Pretty Little Dedon / Arlie Duff – Courtin' In The Rain / Wayne Raney – 40th And Plum / Roberta Lee & Hardrock Gunter – Sixty Minute Man

Jimmy Atkins cut a superb double-sider for Coral. Without surprise, Ding Dong Daddy is a hot western swing while Juke Joint Johnny is an excellent hillbilly boogie with searing solos, including twin guitars.
Tabby West is a very versatile singer. As said in the liner, her voice could appeal to both rural and urban audiences. Despite a bunch of excellent recordings, she never made it big. Pretty Little Dedon has a bit of a Cajun flair, Texas Millionaire is pure hillbilly with fiddle and also features a hot guitar solo by Hank Garland, while Chat Chat Chattanooga is a swinging country bopper that showcases her clear diction. Inchin' Up is more average, but the guitar break from Chet Atkins is worth mentioning.
The Delmore Brothers' Pan American Boogie sounds like the epitome of the Hillbily Boogie genre. Lonnie Glosson's version, on which the Delmore Brothers and Wayne Raney back him, doesn't differ much from the original.
Tex Williams is, with Jimmie Davis, probably one of the best-known figures on this compilation and needs no introduction. Big Bear Boogie is a pleasant though dispensable novelty tune. The best being the scorching country boogie instrumental Rancho Boogie, featuring accordion, twin fiddles, steel-guitar, and piano. You'll also find Wayne Raney on this compilation performing an excellent Hillbilly number.
At the exact opposite of Williams' laid-back croon are Autry Inman and his nasal voice. His Happy Go Lucky is a superb country bopper.
Grandpa Jones was neither a grandpa nor a genuine hillbilly. It doesn't prevent his Eight More Miles to Louisville to be a joyful and fast hillbilly tune.
Roy Duke's I Mean I'm Mean is one of the highlights of this compilation. His vocal sounds like Ernest Tubb singing the blues while the backing is closer to Rockabilly as it can get, thanks to Hank Garland on guitar.
Talking about highlights, you'll find nothing less than four Hardrock Gunter's songs, including Sixty Minute Man in duet with Roberta Lee. In case you wouldn't know him, Gunter played a brand of Country Boogie, influenced by Western Swing, especially by his idol Hank Penny (who is present here with his classic Bloodshot Eyes.)
Not much to say about Texas Bill Strength, except that the song is good, his voice is good, and the playing is equally good!
Gene Stewart was the brother of Redd Stewart of Pee Wee King's Golden West Cowboys, for which he also played bass. Not sure if the Golden West Cowboys back him on Empty Seat In The Bar Room Booth, but the song is a hot swinging country boogie.
Rusty Keefer's name might right a bell to Bill Haley's fans. He wrote or co-wrote songs like The Walking Beat, R.O.C.K, or Rockin' Through The Rye. I'm Just Here To Get My Baby Out Of Jail falls halfway between Bluegrass and electric Honky Tonk.
Tommy Sosebee's All Night Boogie, reminiscent of Oakie Boogie, is just average, while The Barber Shop Boogie seems more inspired by Chattanooga Shoeshine Boy.
If you're looking for some uptempo hillbilly, I'm Looking For The Bully Of The Town by Kenny Roberts is what you need. Blue Ribbon Boogie is a solid boogie-woogie performed by Chuck Murphy and his piano.
Two great guitar player, Hank Garland and Grady Martin have their solo spots. Guitar Shuffle is an excuse to showcase Garland's prowess on guitar (and it works), whereas Grady Martin's Long John Boogie is more sophisticated, even pop-tinged, and features a saxophone.
Courtin In the Rain is a mostly spoken hillbilly by Arlie Duff in the rural comic tradition.
All in all, despite one or two less inspired tunes, you have a solid slab of Hillbilly and Country Boogie, with hints of Western Swing. Don't miss it.
Available here
Fred 'Virgil' Turgis