The Highspeed Heartaches- Runnin' on an empty heart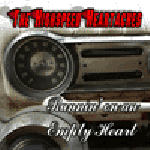 Self Released [2004]
Shot Rod – Highspeed Heartaches – Forever's Gone – Agent Peter's Secret Gun – All These Chicks – Who's The Dealer – Broken Glass – Blowing Me Away – Devil's Overture – Runnin' on An Empty Heart – Walking The Other Way – Trailer Park Reunion – Let's Go -Charlie & Jack
The Highspeed Heartaches came from Corpus Christi, Texas. They played a mix of rockabilly, country, surf and even some latin influences.
The opening song has female backing vocals and is not far from "King Of The Drape" by The Cramps. Good drums and slap bass breaks in this one. "Agent Peter's Secret Gun" is one of the three instrumentals you'll find on this album. This one and "Broken Glass" both have a twangy electric bass and will delight all The reverend Horton Heat fans as would do "Devils Overture".
You have good changes of paces with more neo-rockabilly anthems like "Let's Go" (this one also have drums and slap bass solos) or "Who's the Dealer" and the bluesy "All These Chicks". The album closes on the nice "Charlie & Jack" or so you think cause you have more : a very good acoustic country ballad where the singer is only backed by a light guitar and a slap bass.
Fred "Virgil" Turgis
Share the post "Highspeed Heartaches"