Johnny Carlevale – That Ain't No Way To Spend A Friday Night
JC02
Give it up – My Baby Aint Home – Hi Tail, Then Boogie – Mean mean Thing – Tongue Tied – Alabama Woman Blues – Whiskey Like Water – Love Me – You Wore Me Out – You Talk Too Much – Put Out The Lights – The i-80 Blues – That Ain't No Way To Spend A Friday Night – You Ain't Puttin' Out Nuthin' But The Lights
Known for his stint with rockabilly bands (Dana Stewart & The Old Howards, Ace Brown) Johnny Carlevale is also an avid blues and rhythm'n'blues fan (he also wears some of the greatest sideburns I've ever seen). After one mini album recorded in 2005, he's back with a full length which is, paradoxically, more varied and less repetitive.
Almost all aspects of blues music can be find on this platter. The opening track one of the two covers of the album is a tasty and groovy jump blues ala T Bone Walker with appropriate sax and guitar licks. Also backed by saxes is "You Ain't Puttin' Out Nuthin' But The Lights" – a six minute tour de force with a nod to "Loveless Love" in the sax solo – which brings a bit of New Orleans style. The harmonica led "My Baby Aint Home" is reminiscent of the Chicago Blues style and so is "You Wore Me Out". Carlevale's vocals is always true and never sounds fake like many who tries to sing the blues but are only caricature of what they think a bluesman is… This guy is the real deal and he proves it with two Delta Blues influenced acoustic tunes "Alabama Woman Blues" and "The I-80 Blues". Both of those songs sure awake the hobo that sleeps in you. "Hi-Tail, Then Boogie" is a jumpin' boogie with a rockabilly beat perfectly supplied by the slappin bass of Jack Hanlon (The Stumbleweeds) and guitarist Greg Burgess (ex Amazing Royal Crown) literally jumps in his chorus. This guy is really amazing on songs like "You Talk Too Much", a fast paced swing tune about a girl who cant stop talking which he illustrates with brilliant and fast guitar licks. And his job on "That Ain't No Way To Spend A Friday Night" reminded me, not exactly the same style maybe but the same virtuosity, of Little Charlie Baty. Another fine song is "Mean Mean Thing" . Have you heard about Rumba blues? Probably not but I haven't found any other word to describe this one and I guess you can imagine how it'd sound. And last but certainly not least, coming from the all girl garage band "Ghouls Night Out", Amy Latka tries herself at blues singing on "Love me" and she's more than convincing. A faultless album rounded in a damn fine packaging, who could ask for more?
Fred "Virgil" Turgis
---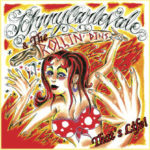 Johnny Carlevale and his Rollin Pins – That's Life
Roppin' records
Cry Baby – Love Sick Spell – Baby Names – Evening Time – Love Me – I Think I'm Goin' Crazy – Black & Blue Baby – Just One Kiss – The Tunnel Of Love – Tease Me – That's Life – Rollin' Pin Mim – She Gives Me Love – You Better Stop – Madi Jane
Wild, frantic, desperate, that's the words that come to mind when you hear Johnny Carlevale's latest output with his new band The Rollin' Pins (Ace Brown on guitar, Derek Moniz on bass and Jeremy Kroger on drums). The name of the band is an indication of the music you'll hear: raw rockabilly / rock'n'roll in the great tradition of the North Eastern artist like Gene Maltais and the Event label roster like Scotty McKay, Curtis Johnson and of course Ricky Coy who recorded "Rollin' Pin Min" (see That'll Flat Git It vol 20 on Bear Family). This song and McKay's Evenin' Time are the only two covers here, the remaining 13 are Rollin' Pins' originals. Carlevale's voice, that I previously knew in a more bluesy vein perfectly suits the genre, reminding sometimes of Billy Lee Riley, and Ace Brown guitar on fire is the perfect complement. More recommended to those who like their rockabilly served hot rather than the Ricky Nelson's afficionados, this album grabs you by… (do I need to say where) from start to finish.
Fred "Virgil" Turgis
Share the post "Johnny Carlevale / Johnny Carlevale and his Rollin Pins"