Ruth Brown – Mama, He Treats Your Daughter Mean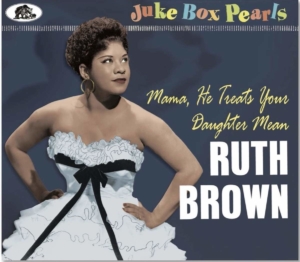 Bear Family Records BCD17542
This Little Girls Gone Rockin' – Lucky Lips – Hello Little Boy – It's Love (24 Hours a Day) – Mambo Baby – 5-10-15 Hours – Jim Dandy – Smooth Operator – Mama, He Treats Your Daughter Mean – Sweet Baby of Mine – Wild, Wild Young Men – Bye Bye Young Man – I Want to Do More – I Can't Hear a Word You Say – As Long As I'm Moving – Papa Daddy – I Gotta Have You (With Clyde McPhatter) – Anyone But You – I Can See Everybody's Baby – I Don't Know – Walk with Me, Lord – Don't Deceive Me – I Burned Your Letter – The Door Is Still Open – Why Don't You Do Right – I'm Just a Lucky So and So – Sea of Love – Teardrops from My Eyes (Live) – Tears Come Tumbling Down (Live) – Oh What a Dream (Live) – Mama, He Treats Your Daughter Mean (Live)
The newest addition to the Juke Box Pearls series is all about Miss Rhythm herself, the great Ruth Brown. Following her hit Teardrops From My Eyes, she was also named "the girl with the tear in her voice," referencing the squeak in her voice, a thing that Little Richard fully integrated into his style.
The sides presented on this compilation were recorded between 1953 and 1962. And except for three songs recorded for Philips by Shelby Singleton, those tracks were issued on Atlantic, also known as "the house that Ruth built." That says it all.
Brown had a powerful and unique voice with an impressive range of emotions. The songs go from Blues, Rock'n'roll (including the very wild "Hello Little Boy"), torch songs, ballads, Mambo, Gospel, and Jazz. She could sing everything.
Four amazing live cuts, full of raw energy, complete the set.
If you don't know where to start with Miss Brown, this collection is an excellent introduction to her vast talent.
It comes in a superb digipack with a thick booklet.
Available here.
Fred "Virgil" Turgis